All You Need to Know About PAN Card for Students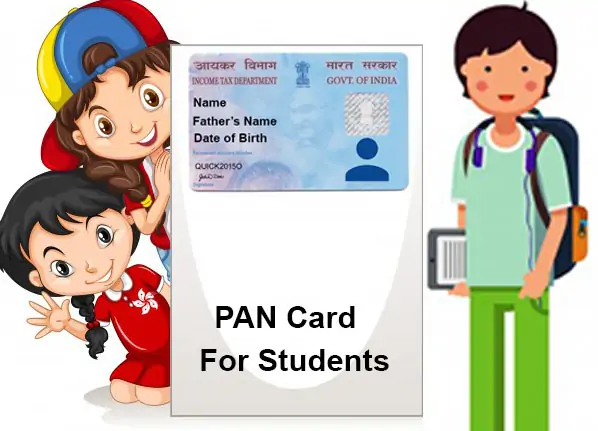 Permanent Account Number commonly called PAN is one of India's official documents of identity proof which is used by all the income-earning individuals or non-individuals. Also, it can be further accessed by the students who are above 18 years of age. The government of India has made it mandatory for all the individuals to possess a PAN card that includes a PAN card for students as well. This can act as an identity proof and can also be used for taking education loan for the students to further study domestic or abroad.
As PAN card can be possessed by both the adults and minors, PAN card for students can act as an alternative identity proof of the school identification card. Therefore, it is advisable for the students to get a PAN card issued as it is very important from a future point of view.

Get FREE Credit Report from Multiple Credit Bureaus Check Now
Here's How Students can apply for PAN Card Online
PAN card comes with numerous advantage for the students to get an improved life and also plays a significant role from future prospect. PAN card is issued by the Income Tax Department of India under the supervision of Central Board of Direct Tax. For online process of PAN card, UTIITSL and NSDL are the most authentic platforms to apply for students. Below mentioned steps are required to be followed to apply for PAN card online:
Step1: Visit the website of NSDL or UTIISL through
https://tin.tin.nsdl.com/pan/index.html or https://www.myutiitsl.com/PANONLINE
Step 2: If you are a new applicant, you have to fill Form 49A. After carefully filling up the required information and submitting the same, applicant will receive an acknowledgment number of 15-digits. Applicant needs to save and get the form printed for future steps involved.
Step 3: Applicant needs to submit the fees for processing of PAN card. If applicant is from India, they need to pay Rs. 107 [including taxes] & students applying outside of India need to pay Rs. 1017 [including taxes]. Payment for getting Pan card issued can be processed through Debit/Credit card or Demand Draft payable at Mumbai. Do note that these charges are applicable when you apply for PAN by visiting a PAN centre or when you apply online but submit the PAN documents physically. Click here, to find out the complete list of PAN card fees and charges
Step 4: Affix your two-recent passport sized photos with the form printed out (acknowledgment copy) along with the necessary signatures or thumb impression. Attach your documents of ID proof, Address proof, Proof of date of Birth and proof of payment of the PAN and send it to Income Tax Department.
Step 5: After successful submission, applicant needs to get ensured that it reaches Income Tax Office within 15 days after submitting the form.
Step 6: After it reaches the Income Tax Office, it will only be issued by Income Tax Department under the supervision of CBDT.
Applicant can also get their PAN updated through the same procedure. As applicant need to click on the "Changes or Correction in PAN details" to execute the process. Applicant can get their name changed, if misprinted or address or date of birth through visiting the website of UTIITSL or NSDL and get the new printed PAN card.
Procedure of Applying PAN Card for Students Offline
Students who are willing to possess PAN card but not aware of online facility can get the same done offline. Applicants need to fill the same Form 49A if residing in India. Traditional paper method is followed by many of the individuals seeking to get a PAN card. Below mentioned are the steps for applying PAN card offline for students:
Step 1: Download a copy of Form 49A from the website of NSDL or UTIITSL
Step 2: Depending on the age at the time of applying the form, tick the option for a Minor PAN card as given in the form.
Step 3: Carefully fill the form and submit along with the documents required and duly signed or with thumb impression at the nearest TIN facilitation center.
Step 4: You will receive an acknowledgment copy from the center and PAN card will be issued by the Income Tax Department of India after the application is verified and processed by the concerned authorities.
Documents required for possessing PAN Card for Students
For availing PAN Card, students should carry following documents:
Passport-sized photograph
Proof of Identity-
Students can submit any of the following documents as a proof of identity:
Passport Copy
Aadhaar Card Copy
Driving Licence Copy
Voter ID copy
Ration Card Copy
Bank Certificate duly signed by Branch Manager
Proof Of Address –
Any one of the following documents can be submitted by students as a Proof of Address:
Passport Copy
Aadhaar Card Copy
Driving Licence Copy
Voter ID copy
Ration Card Copy
Bank Certificate duly signed by Branch Manager
Bank Account Statement (Not more than 3 months)
Electricity/Gas connection/ Telephone Bill (Not more than 3 months)
Post office pass book containing the applicant's address
Credit Card Statement

Get FREE Credit Report from Multiple Credit Bureaus Check Now
Benefits of Having PAN Card for Students
1. Proof of Identity: PAN card act as an official document for identification proof that one belongs to country of India. It is one of the universally accepted proof both by government institutions as well as private institutions.
2. Applying for loan: Many of the students who want to study further or want to go abroad and suffer from financial crisis, can use PAN card for raising loan from banks or any financial institutions. For getting loans PAN card requirement is a must.
3. Validity: Once a student applies for PAN card, it goes unchanged and does not require any change or replacement. This document individuals to link all their financial transactions through one single identity card.
Other Kinds of Pan Card