Permanent Account Number (PAN) is required for each and every entity/individual carrying out business (or employment) or financial transactions in India. PAN Card contains the name, gender, date of birth and PAN of the cardholder. There may be chances that any details in the card may be misspelt or incorrectly written. It is important that all details mentioned in the card are correct otherwise it may cause issues in future. Women generally add titles to their names after marriage. In this article, we will talk about how to change the name in PAN card after marriage.
Steps to Change Name in PAN Card after Marriage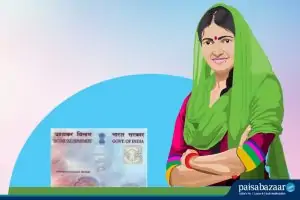 A woman generally adds her husband's title behind her name after marriage. Once it is done, it is important that she updates it in her document proofs such as PAN card, Aadhaar card, driving license, etc. as well. Such applicants should follow the steps mentioned below to change PAN name after marriage:
Fill the form diligently and mention the details as in the supporting document proof
Do not forget to mention your PAN in the form and tick only the cell that is in front of your name
Click on "Validate" to check each and every information is correct in the form
Once confirmed, click on the "Submit" button
Now, make payment for processing your request
You can make the payment through net banking, debit/credit card, cash card, etc.
Once the payment is completed successfully, download the PAN application form and take its print out
Affix two passport-sized photographs on the form and sign across it
Attach required document proofs (self-attested) with the application form
If applied through NSDL, send the application to NSDL through post or to UTIITSL if the form was filled through UTIITSL portal
You can use the application reference number to track the status of the PAN application
Also Know: How to Change Photo and Signature in Existing PAN Card

Paperless e-KYC for PAN Name Change after Marriage
An applicant can go for paperless e-KYC at the time of filling the form. If you follow this process, you neither have to submit additional documents nor have to send the application form to NSDL or UTIITSL through the post. You can carry out paperless e-KYC through any of the following processes:
Aadhaar based e-KYC with e-Sign
Using scanned documents/DigiLocker docs with e-Sign
Using scanned/DigiLocker docs with Digital Signature Certificate
Documents Required for Changing Name in PAN for Married Women
A married woman has to furnish any one of the following as a document proof for changing the name in the PAN card on the account of marriage only:
Marriage certificate or marriage invitation card
Publication of name change in the official gazette
Copy of passport showing husband's name
Certificate issued by a Gazetted officer (only for the change in the applicant's name)
Also Know: PAN Card Update/Correction

Points to Remember
Tick only those boxes that are to be changed/updated
The form can be filled both through TIN-NSDL website and UTIITSL
You can apply through the all-online method by e-Signing using Aadhaar OTP
Even though the process is online, you have to send self-attested copies of the form and document proofs by post
A fee of ₹ 107 has to be paid if the delivery address is in India and ₹ 1017 in case the address is outside India
Also Know: How to Change Name in Aadhaar Card after Marriage
Frequently Asked Questions
Q. I have filled PAN name change form through NSDL portal. Is it compulsory to send documents to NSDL or the documents can be sent to UTIITSL as well?
A. You have to send the application form along with the documents to NSDL if the form was filled through NSDL and to UTIITSL if the form was filled through UTIITSL.
Q. Can I apply for both PAN card and e-PAN? If yes, what is the process?
A. Yes, you can apply for both PAN card and e-PAN or any one of the variants as well. You have to select the correct option at the time of filling the form through UTIITSL/NSDL.

Q. How much do I have to pay for PAN card and e-PAN?
A. You have to make the payment online for the PAN and e-PAN as per the table mentioned below:
Type of PAN Application
Address in India
Address outside India
PAN +e-PAN (offline application/documentation)
₹ 107
₹ 1017
PAN +e-PAN (Paperless/Aadhaar e-KYC)
₹ 101
₹ 1011
Only e-PAN (offline application/documentation)
₹ 72
Only e-PAN (Paperless/Aadhaar e-KYC)
₹ 66
Q. At which address of NSDL should I send my PAN name changing application?
A. Send the PAN name change application to NSDL through the post at the address mentioned below:
INCOME TAX PAN SERVICES UNIT (NSDL e-Governance Infrastructure Limited)
5th Floor, Mantri Sterling, Plot No. 341,
Survey No. 997/8, Model Colony,
Near Deep Bungalow Chowk, Pune-411 016.
Q. Where should I send my application if I have filled the form through UTIITSL?
A. You can send the PAN name change application filled at the UTIITSL portal to the regional office. The addresses of four regional offices are mentioned below:
PAN PDC Incharge – New Delhi Region,
UTI Infrastructure Technology And Services Limited
1/28 Sunlight Building, Asaf Ali Road,
NEW DELHI -110002
Tel No:(011) 23211262/23211273-23211274
PAN PDC Incharge – Mumbai Region
UTI Infrastructure Technology And Services Limited,
Plot No. 3, Sector 11, CBD Belapur,
NAVI MUMBAI – 400614
Tel No:(022)67931300
PAN PDC Incharge – Kolkata Region
UTI Infrastructure Technology And Services Limited,
29, N. S. Road, Ground Floor,
Opp. Gilander House and Standard Chartered Bank,
KOLKATA – 700001
Tel No:(033) 22108959 / 22424774
PAN PDC Incharge – Chennai Region
UTI Infrastructure Technology And Services Limited
D-1, First Floor, Thiru-Vi-Ka Industrial Estate,
Guindy, CHENNAI – 600032
Tel No:044-22500426/044-22500183