North East Small Finance Bank has been recognised as a scheduled bank by the RBI, which makes its depositors eligible for deposit insurance provided by the Depositor Insurance and Credit Guarantee Corporation (DICGC). The deposit insurance cover from DICGC, an RBI subsidiary, insures cumulative deposits up to Rs 5 lakh made by each depositor, including his fixed deposits, savings, current, and recurring deposits, in each scheduled bank in case of the failure or merger/amalgamation of a scheduled bank.
North East Small Finance Bank FD Interest Rates (p.a.) Highlights 2022

Highest slab rate
7.00% (for 1111 days)
For 1 year
5.00%
For 2 years
6.75%
For 3 years
6.50%
For 4 years
6.50%
For 5 years
6.25%
The interest rates are updated as of 7 July 2022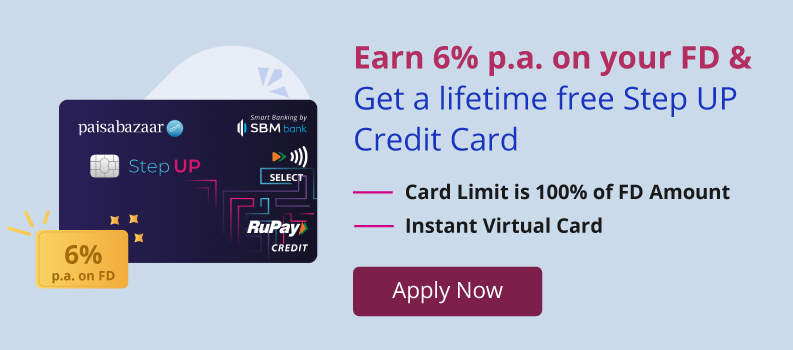 North East Small Finance Bank FD Interest Rates

FD Rates on Domestic deposits of up to Rs 2 crore w.e.f. 1 April 2022
Tenure

Interest Rates (% p.a.)

Regular Citizens
Senior Citizens
7-14 days
3.00
3.50
15-29 days
3.00
3.50
30-45 days
3.00
3.50
46-90 days
3.50
4.00
91-180 days
4.00
4.50
181-365 days
5.00
5.50
366 days-729 days

6.75

7.50

730-1095 days
6.75
7.50
1096-1110 days
6.50
7.25
1111 days
7.00
7.75
1112-1825 days
6.50
7.25
1826-3650 days
6.25
7.00

North Small Finance Bank FD Scheme
Regular Fixed Deposits (With Reinvestment of Interest Component)
Minimum deposit amount: 1,000
Tenure: 7 days to 10 years
The interest on the deposits is credited to the depositor's savings account on a monthly basis or on a quarterly basis
Partial withdrawal and auto-renewal facility is available
Loan and overdraft facility is also available
Get a lifetime FREE Step UP Credit Card with a credit limit of 100% of your FD
Premature Withdrawal of Fixed Deposits
The bank allows premature withdrawal of fixed deposits, subject to a penal rate of 1% on interest
Fixed Deposit (FD) Calculator
Customers are advised to estimate their returns well in advance when before investing in a fixed deposit. To do so, fixed deposit calculators are available online. Paisabazaar's FD calculator helps customers easily plan their investment, taking not more than a few minutes.
Simply enter the deposit amount, FD tenure, and the applicable rate of interest and hit that Calculate button. In seconds, the online calculator shall give the customers an approximate total interest that they will earn based on the rate of interest. One can use it for different periods, like 1 year, 1.5 years or 5 years, etc., and check how fairly their investment rewards them.
FAQs
Q. What is the highest North East Bank FD rate?
At present, the bank is giving a 7.00% rate of interest for deposits maturing in 1111 days. For senior citizens, it is 7.75%.
Q. What are the modes of depositing money in FD?
The bank allows deposits via bank cheques, internet banking, credit/debit cards, etc.
Q. Do staff members get additional interest on fixed deposits?
Staff members of North East Small Finance Bank are given a preferential rate of interest. Also, the spouse of the staff member enjoys additional interest rates.