Eligible Entities who can apply for Mudra Loans 
Individuals, Startups, Business Owners, Entrepreneurs, and MSMEs
Traders, artisans, shopkeepers, vendors, small manufacturers, retailers, and other business entities engaged only in the Trading, Services, and Manufacturing Sectors
Women Entrepreneurs, as well as People belonging to SC/ST/OBC category
Applicants with No past loan default(s) with any financial institution shall be preferred by Banks/NBFCs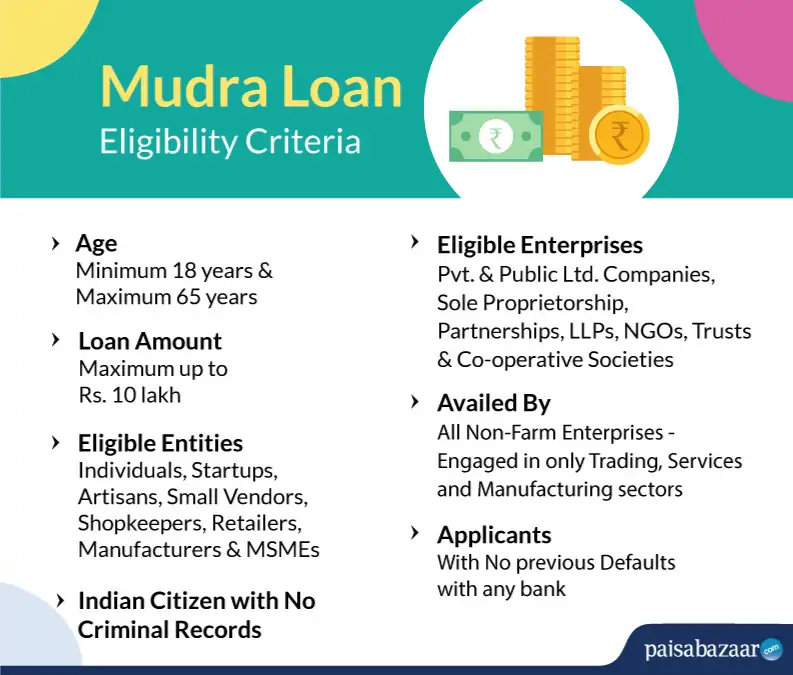 Micro-Units Development and Refinance Agency (MUDRA) Scheme is an initiative by the Government of India under Pradhan Mantri Mudra Yojana (PMMY) to promote small businesses, startups, micro-units, and MSMEs by offering funding support with the help of various Banks/NBFCs to start  a new business, to meet daily business requirements, for business expansion purposes and much more.
The maximum loan amount offered by Banks under the MUDRA scheme is up to Rs. 10 lakh with a repayment tenure of up to 5 years. Applicants are not required to submit any collateral/security with the Bank to avail Mudra loan. Even the processing fee and foreclosure charges are Nil to nominal.

Get Business Loan for Startups at Lowest Interest Rates Apply Now
Documents required
Duly filled application form with recent passport size photographs
KYC documents of the applicant, such as Passport, Aadhar card, PAN card, Voter ID card, Driving License, Birth Certificate, Utility Bills (Water & Electricity)
Proof of belonging to special categories, such as SC/ST/OBC/Minority, etc.
Business incorporation certificate, if applicable
Business address proof
Last 6 months' bank statement
Any other document required by the Bank/NBFC
Mudra Loan Interest Rates – 2023

Appy for Business Loan starting @ low interest rate Apply Now
Loan amount offered under Mudra Yojana
Mudra loan scheme is categorized into 3 loan types, named Shishu, Kishor, and Tarun. The minimum loan amount to borrow has no limit and the maximum loan amount is up to Rs. 10 lakh.
Shishu: Max. Loan amount up to Rs. 50,000 (For Startups and business owners)
Kishor: Loan amount from Rs. 50,001 to Rs. 5,00,000 (To meet working capital requirements and business expansion for new and existing enterprises)
Tarun: Loan amount from Rs. 5,00,001 to Rs. 10,00,000 (For established enterprises to manage business cash flow)

Best SME/MSME Loan offers are just a click away Apply Now
FAQs
Q. How can I improve my eligibility for Mudra loan?
A. Mudra Loan eligibility can be improved by enhancing your source of income, maintaining good repayment history, having no past loan defaults, and improving your creditworthiness.
Q. How can I check my Mudra loan eligibility?
A. You can check Mudra loan eligibility by visiting the official website of the desired bank and filling in the required details to clear the eligibility criteria.
Q. Will I be eligible for a Mudra loan, even if I have bad credit score?
A. Generally, banks do not check credit scores before sanctioning Mudra loans. However, it is recommended to maintain a good credit score to secure your financial future.
Q. Do I need to have an account in the same Bank to get a Mudra loan?
A. No, it is not mandatory to apply for a Mudra loan from a bank where you hold an account. However, having a bank account in the same bank might improve your chances of getting a Mudra loan approval.
Q. I want to start a business, which Mudra loan should I apply for?
A. Mudra loan can be availed up to Rs. 10 lakh and is categorized into 3 loan schemes. Depending upon your business requirements you can opt for a loan scheme. Loans up to Rs. 50,000 are offered under the Shishu scheme and from Rs. 50,000 to Rs. 5 lakh under the Kishor scheme. Loan under the Tarun scheme can be applied if the loan requirement is from Rs. 5 lakh to Rs. 10 lakh.
Q. Is a credit score required by Banks/NBFCs for a Mudra loan?
Ans. No, the credit score is not checked by Banks/NBFCs, if an applicant is applying for a Mudra loan.
Q. Are MUDRA loans available for buying a tempo, taxi, or auto?
Ans. Yes, only if the applicant is going to use these vehicles, such as tempos, taxis and auto-rickshaws for commercial purposes.