Eligibility Criteria for availing MUDRA Finance/ Loan
Applicants with minimum age of 18 years and maximum 65 years
Applicants with good financial and repayment history
Individuals, Startups, Small business owners, micro units, MSMEs
Traders, Artisans, Manufacturers, Startups, Retailers, etc. are also eligible
Applicants with no loan defaults or irregular repayment history
Indian Citizens with no criminal background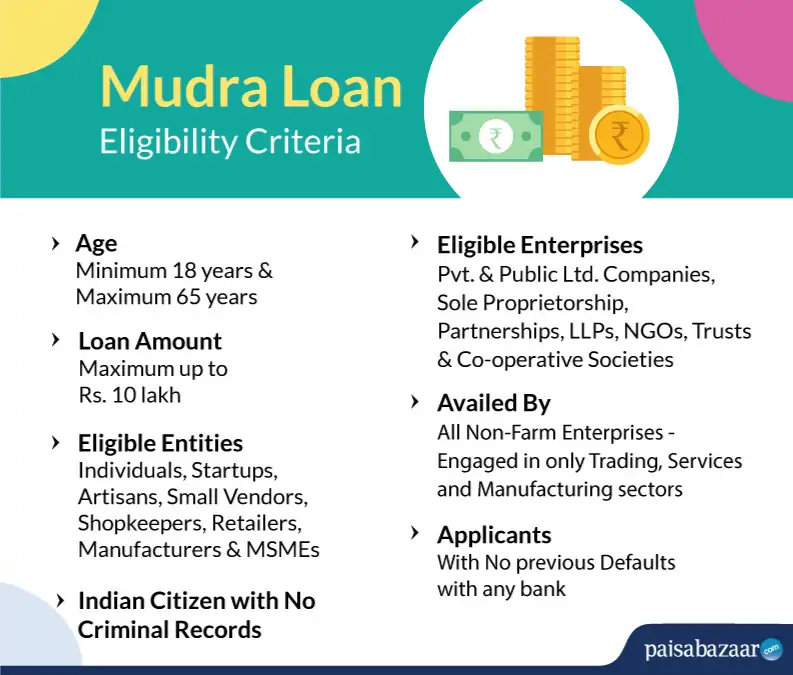 Micro-Units Development and Refinance Agency (MUDRA) Scheme is an initiative by Government of India under Pradhan Mantri Mudra Yojana (PMMY) to promote small businesses, micro units and MSMEs by providing funding support with the help of various banks for their business expansion and growth. The maximum loan amount offered under MUDRA scheme is up to Rs. 10 lakh with repayment tenure up to 5 years. Further, let's discuss some of the key factors of Mudra Loan Eligibility.
MUDRA Loan Scheme has been one of the crucial steps taken by the Government to ensure that self-employed professionals, small business owners, micro units and MSMEs do not have to rely only on personal networks and private lenders. These small business owners, micro units and MSMEs can avail the Mudra loan from eligible Government recognized financial institutions at comparatively lower interest rates. Another benefit is that borrowers are not required to submit any collateral / security or any third party guarantee to apply for a Mudra loan.

Get Business Loan for Startups at Lowest Interest Rates Apply Now
Mudra Loan – Bank List – 2021
Note: The mentioned interest rates, fees and charges are subject to change and depend on the sole discretion of the bank, PMMY and RBI. GST and service tax shall be levied extra on the mentioned charges
Types of Mudra Loans
Mudra loans are divided into three categories, named as Shishu, Kishor and Tarun to cater to different funding requirements of micro business units and MSMEs at different stages of business development. The Mudra loan amount offered under each loan scheme is mentioned below:
Maximum Loan Amount: Upto Rs 10 Lakh
| | |
| --- | --- |
| Under SHISHU Category | Loans upto Rs. 50,000 |
| Under KISHOR Category | Loans from Rs. 50,001 to Rs. 500,000 |
| Under TARUN Category | Loans from Rs. 500,001 to Rs. 10,00,000 |
Shishu Loan: The Shishu loan is the child category of the Mudra loan and is perfectly suited for small start-ups. A micro business owner can apply for a loan of amount up to Rs. 50,000. The Shishu loan can help a business owners get a small capital to get started in the MSME sector
Kishor Loan: The Kishor loan in the Mudra loan category is best suited for small business owners who have already started a business and need capital to establish it as a larger enterprise. The business owners can apply for a loan amount starting from Rs. 50,000 up to Rs. 5 lakh under this category
Tarun Loan: The Tarun loan is targeted towards small businesses that have been established for some time and need capital for expansion, as well as micro units that need funds for the purpose of set up. The business owners can apply for a loan of Rs. 5 lakh to Rs. 10 lakh.
The loan amount is fixed for each category of Mudra loans, however, there can be a slight variation in the interest rates of different financial institutions.
Also Read: Documents Required for Mudra Loan
What are the factors that affect Mudra loan eligibility?
Below mentioned are the factors that affect your eligibility for a Mudra Loan:
Age: Your age should be above 18 years and below 65 years
Income: The loan amount shall depend on your total income to check repayment capability
Nature of business: Your businesses should be engaged in non-farm income generating businesses only in manufacturing, trading and services sectors
Loan Defaults: If there is any past loan default, then it affects your chances of Mudra loan approval
Indian citizen with no criminal past will only be considered by banks in providing Mudra loan
Sectors Eligible to Take MUDRA Loan
Non-farming income generating businesses engaged only in Services, Trading and Manufacturing Sectors will be considered by financial institutions.
Eligible Borrowers Under Mudra Loan Scheme
The below mentioned entities are eligible to apply for Mudra loan under PMMY:
Individuals, artisans, retailers, manufacturers, traders, Startups, MSMEs, private and public limited companies, sole proprietorship, partnership firms, Limited Liability Partnerships (LLPs), etc.

Best SME/MSME Loan offers are just a click away Apply Now
FAQs on Mudra Loan Eligibility
Q1. Who is eligible for Mudra Loan?
A. Mudra Loan can be availed by applicants who fulfil the eligibility criteria as mentioned below:
Minimum age of 18 years and maximum up to 65 years
Indian Citizen with no criminal record
Should not have defaulted in any loans or credit cards in past, if any
No minimum loan amount criteria and maximum loan amount up to Rs. 10 lakh
No collateral or security required
Q2. How to Improve your Mudra Loan Eligibility?
A. Mudra Loan eligibility can be improved by enhancing your source of income, maintaining good repayment history, having no future loan defaults and improving your creditworthiness.
Q3. How can I check my mudra loan eligibility?
Ans. You can check Mudra loan eligibility by visiting the official website of the desired bank and filling in the required details to clear the eligibility criteria.
Q4. Will I be eligible for a mudra loan even if I have bad credit?
Ans. Generally, banks do not check CIBIL score before sanctioning Mudra loan. However, it is recommended to maintain good credit score to secure your financial future.
Q5. How does my income affect my eligibility?
Ans. If your combined family income is high, then it becomes easy for banks to sanction Mudra loan, considering that you shall be able to repay the loan on time.
Q6. Do I need to have an account in the same bank to get a Mudra loan?
A. No, it is not mandatory to apply for a Mudra loan from a bank where you hold an account. However, having a bank account in the same bank might improve your chances of getting a Mudra loan approval.
Q7. I want to start a business, which Mudra loan should I apply for?
A. The Shishu loan is the best option for start-ups. All you need to do is present your business idea along with the application form and relevant documents to meet the Mudra loan eligibility requirements and apply for the loan.
Q8. What is the maximum limit of the Mudra loan?
Ans. There is no minimum loan amount limit for Mudra Loan.
Q9. What are the documents that I need to apply for a Mudra loan?
A. You need to go to the bank of your choice that offers mudra loan to get the application form. Here are the documents that you need to provide if you apply for a mudra loan and want to meet all Mudra loan eligibility prerequisites.
Business Plan
Duly filled application form
2 recent passport size photographs
Proof of Identity of the applicant
Proof of Residence of the applicant
Proof of belonging to a special category such as SC, ST, OBC, Minority, etc.
Proof of Identity, Address, Licences of the Enterprise (if any)
Quotation of items to be purchased for business use (if any)
Registration and Licenses along with valid Certificates

Get Your Free Credit Report with Monthly Updates Check Now
Q10. What is the contribution of recent scheme named as 'Atmanirbhar Bharat Abhiyan'by Government of India?
A. As per 'Atmanirbhar Bharat Abhiyan' or 'Self-reliant India Scheme', Government of India introduced various benefits under MUDRA Shishu Category:
Relief of Rs. 1500 crore to MUDRA Shishu loan borrowers
Rs. 1500 crore Interest subsidy for MUDRA Shishu Loan category
Government of India shall provide Interest discount of 2% for fast recipients for a period of 12 months
Q11. Does CIBIL score affect Mudra loan eligibility?
Ans. No, CIBIL score is not checked by banks, if an applicant is applying for Mudra loan.
Q12. Are handicapped persons also eligible for loans under PMMY?
Ans. Every Indian citizen is eligible to avail Mudra loan, irrespective of their physical condition.