Following are the Business loan eligibility criteria that most banks and NBFCs require their applicants to meet before loan sanctioning. Business loan eligibility criteria shall differ from lender to lender. These details can also be checked with the help of business loan eligibility calculator.
What are the Eligibility Criteria for Business Loan?
Age Criteria
Min. 18 years and Max. 65 years
 

 

Eligible Entities

Individuals, SMEs, MSMEs, Sole Proprietorship, Partnership firms, public and private limited companies, limited liability partnerships, retailers, traders, manufacturers engaged in only services, trading and manufacturing sectors
Business Vintage
Min. 2 years and in profit
Business experience
Min. 2 years, business location to remain same
Annual Turnover
Min. Rs. 25 lakh and above
CIBIL Score
700 or above
Nationality
Indian citizen, should not have defaulted on any previous loan with no criminal background
Additional Criteria
Applicant must own either a residence, office, shop or go down
Note: The following criteria are for indicative purposes only. Actual eligibility criteria can vary from bank to bank for business loan eligibility check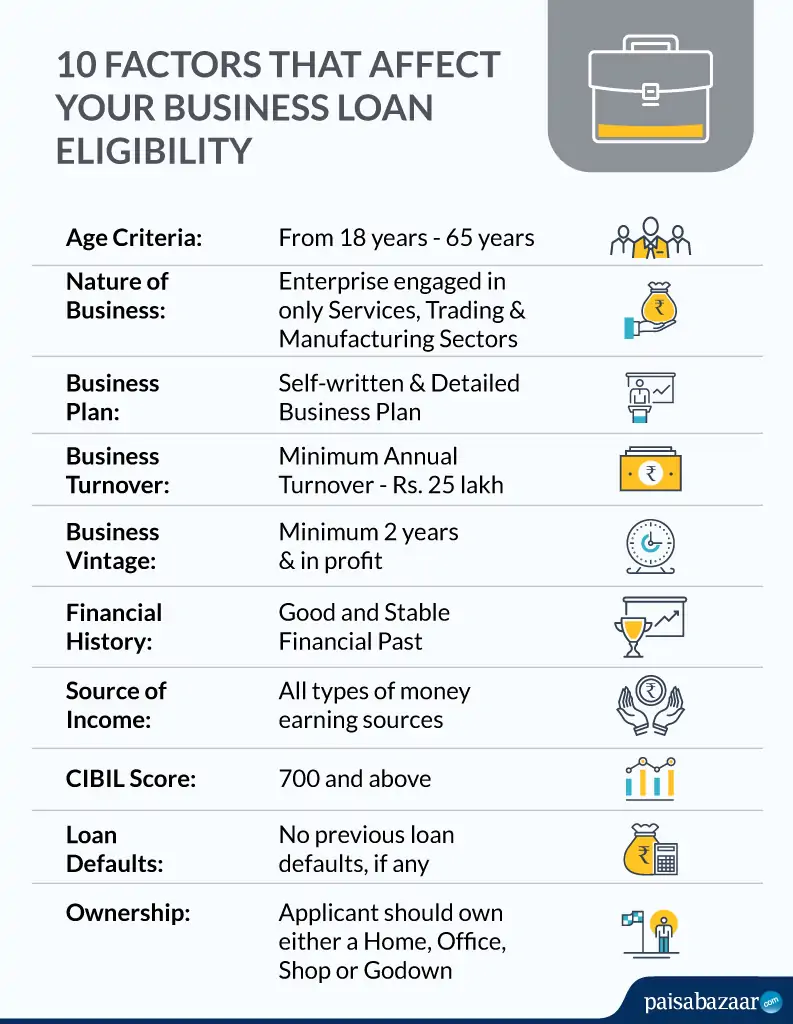 Business loan can come to the aide of individuals, business owners, startups, self-employed professionals, entrepreneurs and MSMEs who want additional funds to meet working capital requirements, to buy machinery/equipment or for business expansion purposes. However, there are certain business loan eligibility criteria that applicants must qualify for the successful business loan application.
Also Know: How to calculate a business loan EMI

Apply for Business Loan @ 11.90% onwards per annum Apply Now
How is Business Loan Eligibility Calculated?
Business Loan eligibility is calculated on basis of various factors as mentioned:
Applicant's Age
Nature of Business
Financial History
Business Turnover
Business Vintage
Source of Income
CIBIL score/Credit Report
Repayment Capability
Creditworthiness
Business stability or profitability
Loan defaults, if any
Documents Required to Apply for a Business Loan
Document verification is done by banks to ensure that the customers are meeting the required business loan eligibility criteria defined by the respective bank. The following documents are required to verify business loan eligibility criteria.
Business Plan
Duly filled application form with Passport-sized Photographs
KYC documents of applicants, partners, co-applicants
Business address and vintage proof
Permanent Account Number or PAN Card
Bank statement for the previous 6 months
Latest Income Tax Returns (ITR), income, balance sheet, and profit and loss account for last 2 Years (audited by a chartered accountant)
Proof of continuation which includes; ITR, trade license, establishment, sales tax certificate
Mandatory Documents: Sole Proprietor Declaration, Certified Copy of Partnership Deed, Certified true copy of Memorandum, and Articles of Association which must be certified by Director and original copy of Board resolution
Along with this certain Know Your Customer (KYC) documents are also required. These are mentioned below:
| | |
| --- | --- |
| Identity Proof | Aadhaar Card, Passport, Voter ID Card, PAN Card, Driving License |
| Address Proof | Aadhaar Card, Passport, Voter ID Card, Driving License |

Get Your Free Credit Report with Monthly Updates Check Now
How to Improve Eligibility for Business Loan?
If a client's business loan application is rejected then they can improve their eligibility through the following ways:
Error-free Documentation
One of the reasons a client's business loan application can be rejected is missing or fake documents. Applicants must ensure that they submit all the requisite documents at the time of application. Indeed, the bank will reject the application if KYC or any other documents are missing.
Business Profitability
Banks typically extend loans to businesses that are running profitably. So, if your business is running on loss then the bank will reject the application. In this scenario, it is best advised that the client seek a secured loan.
Regular Tax Payments
Defaults on tax payment can lead to loan rejections. Thus it is absolutely essential that customers pay their taxes on time
Future Financial Security
Banks extend loans to those clients who seem able to repay the amount. For example, if a customer seeks a business loan to renovate a rented shop. The bank will require that the lease of the shop expire at least 3 years after the end of repayment date. Also, if the industry for which the loan is applied for is too volatile then the bank might reject the loan application or give it at a high interest rate.
How to Apply for Business Loan with Paisabazaar.com?
Prospective clients can apply for a business loan through the following ways:
Online Application Process
Customers who seek a business loan can apply for one through Paisabazaar.com. Simply follow the steps written below:
Visit paisabazaar.com and go to its business loan application page
Mention the requisite details
Fill out the comprehensive form and click on View Best Offers
Suitable business loans deals will be displayed
Select the business loan of choice and fill out the details
An agent will call and set a date and time to pick up the documents for verification.
Once the documents are verified, the loan will be sanctioned
Post-loan sanctioning, the loan amount will be credited to your bank account
The Bank or NBFC will scrutinize the documents and ensure the client meets the business loan eligibility criteria. Finally, the bank or NBFC will revert back to the customer with the verdict on loan approval.

Get Business Loan for Startups at Lowest Interest Rates Apply Now
FAQs
Q. How does your income affect your business loan eligibility?
Ans. Income of the applicant is vital to get a business loan, as it gives a sense of security and reliability to the lender that the borrower shall be able to repay the loan on time, without getting defaulted.
Q. What is the minimum annual turnover required to apply for a business loan?
Ans. The minimum annual turnover required to apply and qualify for a business loan varies from lender to lender.
Q. What is the minimum interest rate offered by banks or NBFCs?
Ans. The business loan interest rate starts from 11.90% onwards and can exceed depending on the requirements.
Q. What is the loan amount offered under business loan?
Ans. The minimum loan amount offered under business loan has no limit, however the maximum loan amount can go up to Rs. 2 crore which may also exceed as per the requirements.
Ques. Who is eligible for Business loan?
Ans. Business loans can be availed by traders, retailers, manufacturers, startups, self-employed professionals, entrepreneurs, business owners, micro-small and medium enterprises, sole proprietorship, partnership firms, limited liability partnership, etc.
Q. What is the preferred credit score for business loan eligibility?
Ans. The preferred CIBIL score that banks seek is 750 onwards out of 900. At the time of loan application, the bank will scrutinize the credit history of the applicant. If the credit score is lower than 750 then the bank might charge a higher rate of interest.
Q. Does background information affect the chances of loan approval?
Ans. Yes, background information can severely hamper the chances of loan approval. If the bank finds out there are convictions of fraud or other criminal records then they will reject your loan application.