Difference Between A Khata & B Khata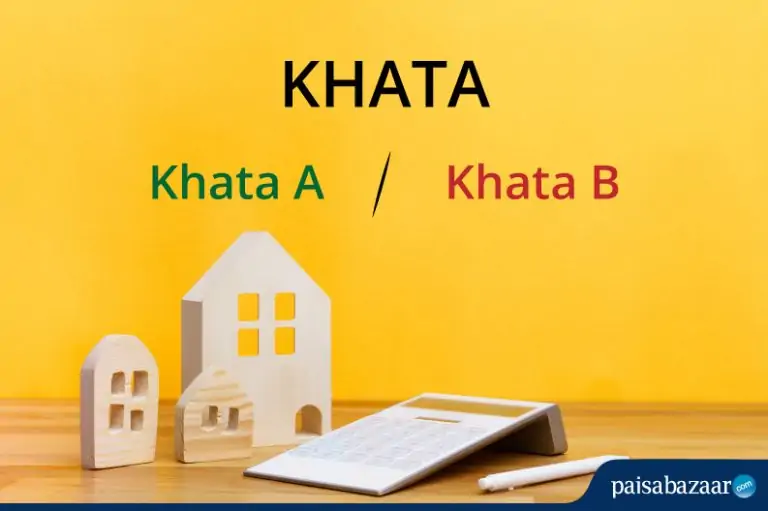 Almost each one of us must have had heard the word 'Khata' by now, irrespective of its use, significance, meaning or importance. In simple terms the word 'Khata' means account but actually it is a legal document that identifies a specific property and contains important details regarding the ownership of the property. It is also termed as legal revenue documents and is required while authorizing any property for trade. The concept of Khata came into existence in 2007 after the formation of Bruhat Bengaluru Mahanagara Palike (BBMP) to simplify the property tax collection process in Bengaluru.
Click Here to Apply for Housing Loan in Bangalore
Majorly, this legal document is issued to the property owner. Khata majorly consists of property's size, location, area, etc. which helps in filing and paying property tax. These details are used at the time of payment of tax. Khata helps people in getting trade licenses, building licenses and much more. This document also helps people in availing loans and credit cards from various financial institutions, including banks and Non-Banking Financial Companies (NBFCs).
In the current scenario, Khata is an account of an individual owning property in Bengaluru. The Khata or account is maintained and managed by the Municipal Corporation of Bengaluru. Khata is exclusively used and operated in the city Bengaluru. Nature of the property is also mentioned in Khata document like the property being residential or commercial.
Features and Benefits of Khata:
Applicable for the people of Bengaluru
Decides evaluation of the property's owner
Provides detailed property information
Helps in getting trade licenses, house loans, etc.
Khata Helps you in filing and paying property tax.
Helps in obtaining electricity and water connections

There are two types of Khatas which are used that include A Khata & B Khata. Further we have elaborated the differences between A Khata and B Khata
Difference between A Khata & B Khata

A Khata

B Khata

Property is considered as legal
Property is considered as illegal or semi-legal
Falls under BBMP Jurisdiction
Comes under local jurisdiction
Property Reselling is Possible
Property expansion or selling not permitted
Transferring ownership possible
Not allowed under B Khata
Properties can have trade licenses
Denies trade licenses
Given Construction permits
Construction permits are prohibited
Loans can get availed
Do not get loans
Do not require to obtain B Khata
Can obtain A Khata by paying Betterment fees
Khata document consists of name of the owner and important property details such as:
Property's type, location, size, area
House/Plot/Apartment number
Number of floors
Property's date of establishment
What is A Khata?
A Khata document attests that the applicable property taxes have been correctly paid by the property owner to the BBMP. A Khata signifies that the property obeys to all government regulations and building bylaws related to properties in Bengaluru. The ownership of A-Khata document permits property owners to apply for building plan approvals, trade licenses, building licenses, and availing bank loans on the property.
What is B Khata?
B Khata document signifies that owner's property in Bengaluru is illegal or is in violation of government regulations. Property owners who have their property listed under B Khata cannot sell their property, loans are denied to them, not given construction or home extension permits and moreover their property is termed as illegal or semi-legal. B Khata holder even face difficulty is getting electricity and water connections.
List of properties listed by BBMP those come under B Khata:
Buildings constructed in violation of bylaws
Constructions carried out on revenue land
Properties built on unauthorized land
Buildings without completion or issuance certificates 
What is BBMP?
Bruhat Bengaluru Municipal Palike (BBMP) is an administrative group that maintains and manages civic amenities and several infrastructural assets of the Greater Bangalore metropolitan area. BBMP is also responsible for the property tax collection in Bengaluru. BBMP has the right to collect taxes from buildings constructed illegally in Bengaluru.
How to apply for a Khata?
Bruhat Bengaluru Mahanagara Palike (BBMP) is an administrative group of Bengaluru where you can submit the application form to obtain Khata. Applicant should submit the Duly filled application form to the concerned revenue officer of the respective area with attached property tax declaration documents. BBMP ideally takes 5 weeks to provide Khata.
Steps to register for Khata:
Get copy of sale deed – Attested by notary
Apply for Encumbrance Certificate (EC) – EC is issued within 7 days
Get the application form – Download from BBMP's official website or visit BBMP office
Fill up application form – Enclose all related documents
Submit the application form  – To the nearest BBMP office
Check the status of your application – Visit BBMP office in every 15 days
File RTI in case of no response – File RTI after no response for 2 months
Property assessment –Performed by revenue officer from BBMP
Pay registration fee – 2% of property value, as mentioned in sale deed
Get Khata – Receive Khata in next 5 weeks
Check Also: Tamil Nadu Encumbrance Certificate
There are few negative point of B khata. Therefore any property owner will not like to see his/her property under B Khata. However, property owners have an option of transferring their B Khata to A Khata by paying 'Betterment Charges'. A Khata with all benefits will always be the foremost preference of any property owner in Bengaluru.