Home Loans: Floating vs Fixed Interest Rates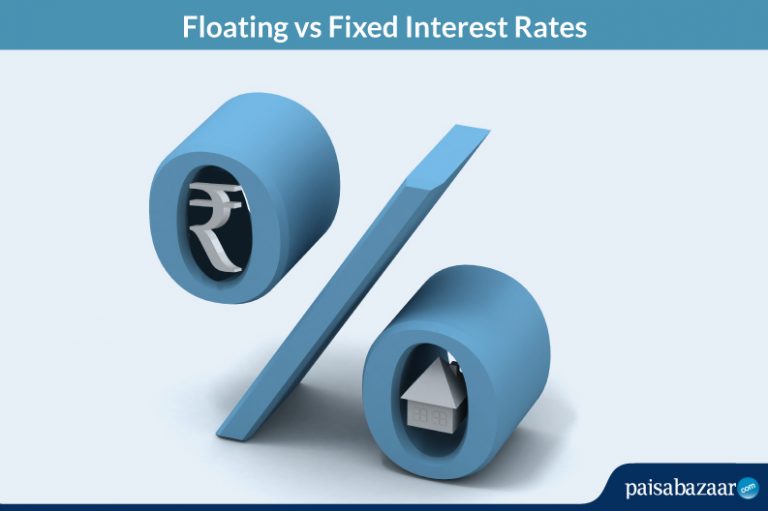 Home loan interest rates are one of the most important factors that every prospective borrower considers before apply for the loan. Interest rate offered by financial institutions is one of the most important factors to be considered when finalizing the desired home loan deal. As we all know that taking a home loan is the biggest financial decision of one's entire life. Likewise, choosing the best interest rates is also a part of your decision making before taking home loan.
Finalizing on just the interest rate percentage does not make things simple because interest rates are further categorized into two types named as Fixed interest rates and Floating interest rates. Customers opting for home loan have the option to choose either type of interest rates. Therefore, we need to understand about fixed and floating interest rates in detail.
Comparison between Fixed and Floating Interest Rate
| | |
| --- | --- |
| Fixed Interest Rate | Floating Interest Rate |
| Higher Interest Rate | Lower Interest Rate |
| Not affected by financial market conditions | Affected by changes in the financial market |
| Fixed EMIs | EMIs change as per interest rate or MCLR |
| Budget planning possible | Difficult to budget or manage financials |
| Sense of security | Generates savings |
| Suitable for short/medium term (3-10 years) | Suitable for long term (20-30 years) |
| Lesser risk | Higher risk |
What is Fixed Interest Rate?
People who opt for Fixed Interest Rate mean that they have to repay the home loan is fixed and equal installments as per the loan tenure. The advantage of fixed interest rate is that it would not change even if there are fluctuations or changes in the Indian financial market conditions or trends. Fixed Interest rate becomes the first preference when the financial market is down. Consumers take the opportunity by blocking or fixing the interest rate as per their preference. In simple terms, if you think that financial market will not drop down below a certain point or foresee a rise in the interest rates, then choosing fixed interest rate shall be the best option to avail.
What is Floating Interest Rate?
Interest rate which is volatile and keeps on changing as per market scenario is termed as Floating Interest Rate. This type of interest rate depends on the base rate offered by several lenders, so whenever the base rate changes, the interest rate gets automatically revised. As compared to fixed interest rate, floating rates are comparatively cheaper. Fixed interest rates are 1%-2.5% higher than the floating interest rate. The increase and decrease in the floating interest rate is temporary, as it varies as per the market trends. As home loan is a long-term association with the lender, sometimes it becomes difficult to plan for the financials.
Nowadays, floating interest rate is becoming more popular and is considered as the first choice of home buyers. Even banks and NBFCs are offering home loan interest (floating) at a low and attractive rate.
Read Also: Home Loan Tax Benefit
Let's take a look at home loan interest rate offered by leading banks, NBFCs and HFCs.
Banks/NBFCs/HFCs
Interest Rate
Processing Fee
SBI
6.95% onwards
Full waiver for homebuyers in approved projects
HDFC Bank
6.90% onwards
Up to 0.5% of loan amount or Rs. 3,000, whichever is higher
ICICI Bank
6.90% onwards
0.50% of loan amount
LIC Housing Finance
6.90% onwards
As applicable
DHFL
8.75% onwards
Salaried/Self Employed Professional – 0.5% of loan amount (Min. Rs. 2,500)
Self Employed Non Professional – Net PAT: 0.5%, Others: 1.0% of loan amount
Axis Bank
7.75% onwards
Up to 1% of the loan amount (Min. Rs. 10,000)
Kotak Mahindra Bank
7.20% onwards
Up to 2% of loan amount
YES Bank
8.85% onwards
2% of loan amount or Rs. 10,000, whichever is higher
Indiabulls Housing Finance
8.99% onwards
Up to 2% of loan amount
PNB Housing Finance
7.90% onwards
Up to 1% of loan amount
Note: Interest Rates offered by banks and NBFCs are subject to change as per the directives of RBI and lenders discretion.
Is it possible to shift from Fixed to Floating Interest Rate or vice-versa?
Yes, it is possible to shift or change from floating to fixed interest rates and vice-versa. To shift from fixed to floating interest rates or vice versa, conversion fee of up to 2% of the total loan amount is charged by lenders.
Loan Prepayment charges: In case you have extra funds and want to pre-pay the balance loan amount, you just need to pay the prepayment penalty that ranges between 2% – 2.50% of the principal outstanding. Pre-payment charges may differ from lender to lender.
[
Read Also: Home Loan Prepayment
]
Age Groups:
Fixed Interest Rate is preferred by customers who are in their late 40's as they have a decent time in hands before their retirement. As they are safe with respect to rise in the interest rate or equated monthly instalments (EMIs). Moreover, they are no longer debt-ridden by this time of their age.
Whereas in case of floating interest rate, people who are in their late 20's should opt for a floating rate of interest as they have plenty of time to repay the loan, as well as they may witness a decrease in interest rate several times during the loan tenure.
At Paisabazaar.com you can check, compare and pick from best available home loan options offered by leading banks and NBFCs. You can also check your home loan eligibility. There you can pick the type of interest rate whether fixed or floating as per your choice and requirement. Also, you can check your EMIs as per the selected interest rate type from Paisabazaar's online tool of Housing Loan EMI calculator.