Bhulekh MP is an online portal where the residents of Madhya Pradesh can view land records, khasra, khatauni, Records of Rights (ROR), maps of various districts of the state and other vital land-related details. Let's take a step-by-step approach to learn how to view land records and other related information through the Bhulekh MP portal.
How to View Land Record/Khasra/Khatauni/Map in MP
Follow the below-mentioned steps to view land record/Khasra/Khatauni/Map in Madhya Pradesh.
Visit the Bhulekh MP land record official website:http://landrecords.mp.gov.in/.
On the map, select your district.
To view the present data of the district, click on the website link. To continue on the current website, click on the'mp.gov.in IN Website' button.
If you click on the button, next page will appear where you will select your 'जिला'and 'तहसील' and then click on the 'OK' button.
A list of villages will appear. Find your 'गाँव' and click on the corresponding 'चुनें' button to make the selection.
Select your 'जिला', 'तहसील', 'रा.नि.म.', 'हल्का', 'ग्राम'and 'वर्ष'.
Enter the captcha code.
Select your choice of land-related information and click on the 'चुनिए' button.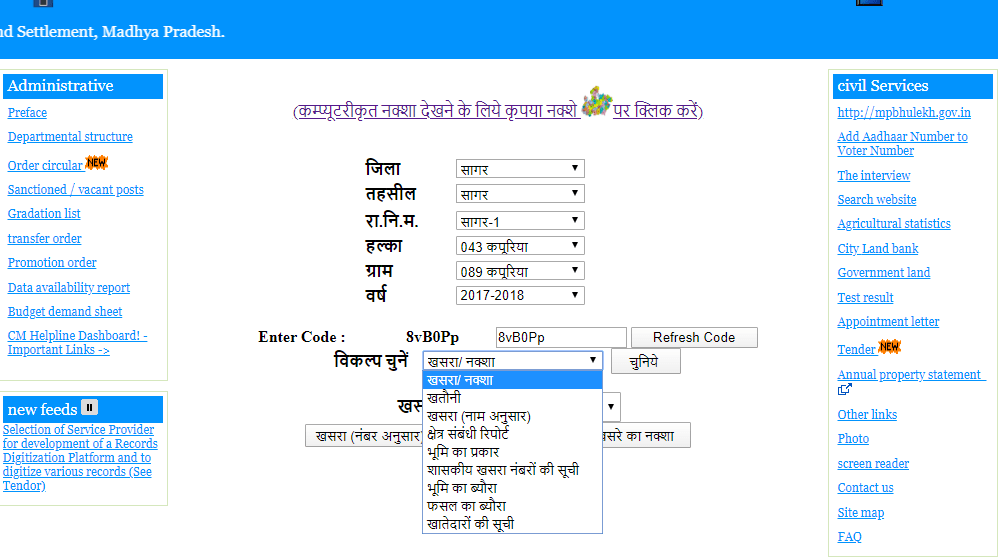 Once you perform the last step, the desired land-related information will appear. However, it is important to note that additional information may be required basis the type of information to be obtained.
Check state wise Land Records
Check Also: RERA MP