A Complete Guide to Travelling Abroad with Your Credit Card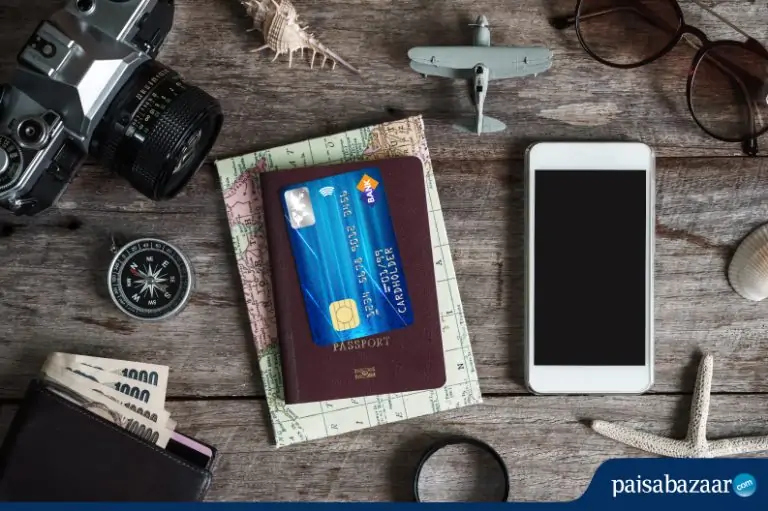 Do you remember your dad's good old travel advice to divide cash in multiple wads and keep them in different bags? This was quite a clever hack to save you from a cash-crunch if you lost your wallet. But those days of relying solely on cash are long gone. Plastic money, especially credit card, has made travelling so much easier for everyone. Not only do they make purchases convenient, but you can also save a lot in the form of rewards, cash-backs or direct discount with select partners.
However, the hassle of keeping your money secure still exists. Also, most of the users do not completely understand the benefits on their credit cards so they cannot strategize their travel expenses and later they complain about the debt spiral. Credit cards have been designed to offer numerous benefits to the users but how you can make the most of it depends on how wisely you use it.
When you plan an international vacation, you can use your credit cards and save on the airline expenses, hotel bookings and at the same time earn more rewards. Here we will talk about the important things to consider before putting travel expenses entirely on your credit card.
Pre-Vacation Preparations
We understand that before the trip actually happens all your attention would be on what to wear and what all popular destinations you can cover. But you should also pay equal attention to finances. If you are travelling on a credit card, make sure you cover the following grounds before the trip:
Make a Budget- You would have definitely set a budget for your travel but with credit cards, it may get difficult to stay within the budget. When you have ample credit limit at hand, it seems easier to go a little overboard with the expenses. But it is not a good practice. You can set a budget with respect to the credit limit and not just in terms of numbers. For example, if you have 1 Lakh credit limit free in your card, you can set a limit of say ₹ 40,000. When you are about to reach this spending threshold, you should hold back on some expenses.
Pick the Right Credit Card- All credit cards do not offer the same benefit. When you have 2-3 credit cards, it is important to pick the right credit card for the right usage. If you are travelling to a foreign location, make sure that the cards you take are accepted abroad, even better if some extra privileges are offered on international usage. Also, memorize a few common benefits on the cards and use them accordingly.
Understand the Fees and Charges- It is not just the annual fees and late payment charges that you need to understand. When travelling abroad, you should know about the charges pertaining to international usage. Foreign exchange markup fee is an important thing to consider. It is charged as a percentage of the transaction amount and can range between 1% and 3% or go even higher. There may be wide variation between the foreign transaction fees charged by different banks so it is important to consider the same before putting international transactions on a particular credit card.
Read More: 7 Credit Card Fees and Charges You Must Be Aware Of
Keep Contact Details Handy- You must learn how to contact your credit card issuer when travelling abroad as toll-free numbers would not work. Check the website of your bank to find out such contact details. If you cannot find any such information, call up your bank, tell them about the countries you would be travelling to and ask for an emergency contact number. Note down the number and keep it handy.
During the Vacation
Amidst all the fun and excitement of travelling to a foreign location, a little carelessness can cause much trouble. So, it is better to stay alert and avoid mishaps. Consider the following strategies:
Keep All Receipts- Every time you use your credit card abroad, ask for a receipt and keep it safe. This will help you in case you have been charged wrongly by the merchant and need the extra amount refunded. Also, if any mysterious charges show up on your credit card after you are back, such documents will help you shortlist the places where it could have happened.
Be cautious with ATMs- We cannot emphasize more on the fact that cash withdrawal should be avoided on your credit cards as it attracts heavy interest and other charges. And the cash advance fee at international ATMs can be really steep. Also, you may think that ATMs in developed countries would be more secure but taking a little precaution would not hurt. If you must use an ATM, choose one that is associated with a legitimate bank, as opposed to some random ones.
Carry More than One Credit Card- You would have planned on putting your entire international expenses primarily on one card but it is advisable to keep an extra credit card for an emergency. Keep one card with you and hand the other one to your travel companion so that even if your bag or wallet is lost, you still have enough money to live through the day or get back at your hotel accommodation.
Keep your Card in Sight- Try not to lose sight of your credit card. Avoid transactions where the cashier takes your card away as this would make it easy for him to steal your credit card information. Also, avoid less than secure transactions such as street vendors.
Post-Vacation Round-up
After you return from the international vacation, firstly you will post all those memories on social media but the next thing to do is waiting for the day of reckoning- your credit card statement date. The bills will show you that a breakfast of simple burgers and fries that cost you a mere $50 when converted makes around ₹ 3,500 plus the foreign exchange markup fee. Seeing these figures in actual black and white gives a harsh reality check but if you planned perfectly there is not much to worry about.
Some important steps to take post vacation are-
Check your statement carefully- When you have been using credit cards for quite some time, you get acquainted with all the transactions on your statement such as regular utility bill payments, dining out, shopping at the nearby store, etc. But when you have travelled abroad, the statement would look completely different and it may be difficult to differentiate between an actual transaction and a fraudulent one. Take out all the receipts you saved and match the value to make sure you have not been wrongly charged. If you find a transaction that you cannot place anywhere, call up your bank for details on that particular expenditure.
Pay Your Dues in Full- You should pay your credit card bills in full on or before the due date so that this international vacation does not turn into regret. If possible, try to cut down on your expenses for a few months after the vacation so that your finances can recover easily and at the same time your credit utilization ratio can improve.
Suggested Read: Why You Must Always Pay Your Credit Card Balance in Full?
Travel Credit Cards to Consider
Planning an international trip in the next few months?  It is enough time to apply for a travel-centric credit card if you do not have one already. Look for a card that charges lower foreign exchange markup fee and has a better rewards program for foreign transactions.
Here is a list of credit cards that are worthy of being in a traveller's wallet-
Available at an annual fee of ₹ 3,000, this credit card is well-suited for your foreign trip as well as for your day-to-day expenses in India. It has an excellent air mile program offering 10 miles for every ₹ 100 spent on airline transactions and 4 miles on all other purchases. There is no expiry date on these air miles so you can use them as and when you want. On this credit card, Citi Bank also gives the provision of converting air miles into frequent flyer miles with the domestic or international airline of your choice in 2:1 ratio. Complimentary access to airport lounges adds to the benefits.
This luxury credit card by HDFC Bank is available at an annual fee of ₹ 2,500. Complimentary Priority Pass Membership is offered on this credit card which allows you to access the airport lounges across the globe. Under the complimentary Club Vistara Silver Membership, you can avail unmatched benefits on Vistara Airlines such as 9 Club Vistara (CV) points for every ₹ 100 spent, additional 5 Kg Baggage allowance and priority airport check-in and waitlist clearance. 4 reward points are offered for every ₹ 150 spent which can be redeemed for travel booking. Lowest foreign currency mark-up fee of 2% makes it one of the best credit cards for international travel.
SBI Card offers this travel credit card at an annual fee of ₹ 4,999. You can get 4 reward points for every ₹ 100 spent and the accumulated reward points can be converted into air miles. The complimentary membership to Air India Frequent Flyer Program (Flying Returns) provides exclusive benefits on Air India Flights. Complimentary Priority Pass Membership lets you access luxury lounges across multiple international airports.
This YES Bank credit card is well-suited for international expenditure as it offers Preferential Foreign Currency Markup of 1.75% as opposed to the normal 2-3% on other bank credit cards. Dedicated concierge service by the name of YES ASSIST carries out special requests on your behalf including Car Rental & Limousine Referral and Reservation Assistance, Hotel Referral and Reservation Assistance, Roadside Repair Assistance and more. You just need to call on the dedicated concierge service number. Several other lifestyle privileges can be availed at an annual fee of ₹ 2,500 plus additional taxes.
Also Read: Why You Should Buy a Forex Card for Your Next Foreign Holiday?