Poor Credit Score? Here's how you can improve it
An average or poor credit score, typically below 700, can be severely damaging to your financial health. A poor credit score is a result of a weak track record with credit and is a risky sign for Banks to offer any new loan. Simply put, this means if your credit score is below 700, you are likely to get rejected for any new loan you apply for. 
With a poor score, you will struggle to buy your own house or car (because Banks would be unwilling to provide you with a home loan or car loan), would have no or very few options to take a personal loan when in need, like in case of a medical emergency  (which may push you into a severe financial crisis).

Despite a poor credit score, if a lender agrees to provide you with a loan, it would come at a very high rate of interest and most likely, with unfavourable terms, like a short tenure with high EMIs. Also, the lender may provide you with a loan of a much lesser amount, than what you need.

So, how do you improve your credit score, especially when it's damaged due to poor behaviour in the past?
The easiest and most beneficial way to begin the credit journey is through a credit-builder product like a Secured Credit Card, which is essentially a Credit Card backed by a Fixed Deposit. This card enables you to earn on your savings and build your credit score, at the same time –
You can start using this credit card to earn rewards and other benefits

As you use this card responsibly, your credit score starts to build

The money in your FD also provides you with strong and secured returns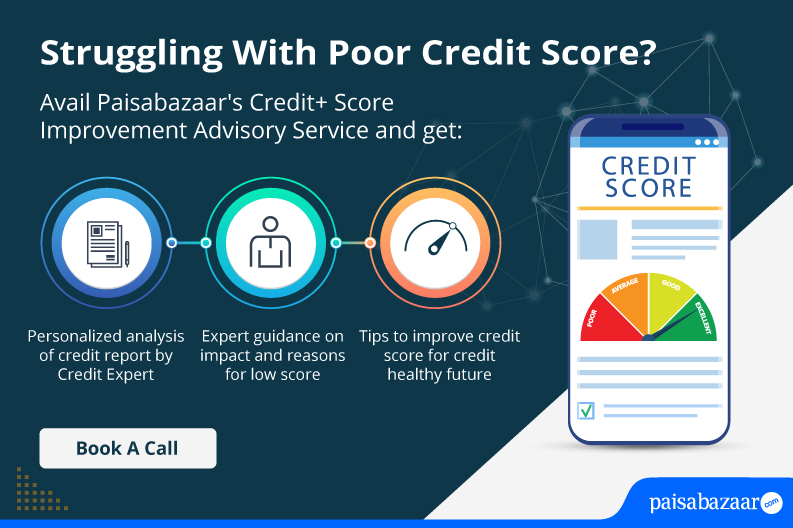 One of the best secured cards today is the Paisabazaar Step Up Credit Card with which you get:
Up to 83% of the FD amount as the credit limit

High interest of 6.5% p.a. on FD 

Rewards, cashback and discounts on purchases

~50 days of interest-free period for  repayments