Kisan Credit Card: A Boon for Farmers in India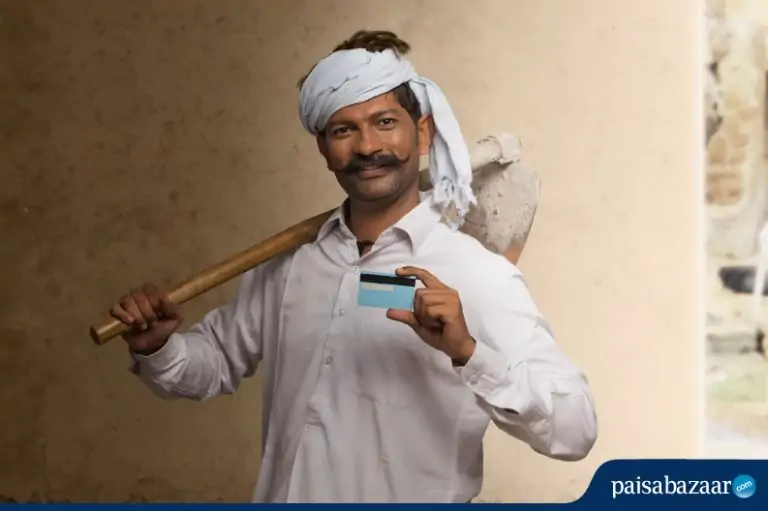 India is mainly an agricultural country. More than 60 percent of our population depends on agriculture for their livelihood. Despite this, the Indian farmer is almost always in debt. Lack of agricultural credit or the access to it forces the farmers to resort to unorganized sector, such as moneylenders, for loans. Though the moneylenders may lure the farmers into offers that look lucrative, they charge exorbitant rates of interest and ask for collateral. When the farmers cannot afford to pay the installments, they sink into deeper debts and may even lose their property.
Over the years, the government has realized the plight of the farmers and has come up with several credit schemes to help them. One such help comes in the form of Kisan Credit Cards. The Kisan Credit Card Scheme was launched on the recommendations of R V Gupta Committee and the National Bank for Agriculture and Rural Development (NABARD) prepared the model of this scheme. The objective of Kisan Credit Card scheme was to provide term loans and cash credit to the farmers to help them with their agricultural needs.
How does a Kisan Credit Card work?
Most of the government schemes are targeted at meeting the bigger credit requirements of the farmers such as the cost of irrigation, buying equipment and machinery, etc. But a farmer also faces difficulty in meeting the day-to-day expenses of farming. Kisan Credit Card, by offering the cash credit facility, provides easy funds for such short-term requirements. Term loans are also offered with KCC to provide bigger financial assistance to the cardholders.
Many commercial banks, cooperative banks and Regional Rural Banks (RRB) offer Kisan Credit Cards. Like normal credit cards, KCC also comes with a preset credit limit. The bank sets the limit by taking into consideration the applicant's landholding, future projections of the crops and the scale of finance that they seek. This limit can be increased later if the bank finds the cardholder to be a responsible borrower and if he seeks higher finance.
Under the Kisan Credit Card Scheme, two types of financial help can be taken-
Cash Credit- This works as a short-term source of finance for the bank. Cardholders can use the limit on their Kisan Credit Card for small agricultural needs and either pay it in full at a later date or convert it into EMIs. Using the KCC, the cardholder can withdraw funds for buying seeds, fertilizers, fuel for machinery, etc. They can also pay directly at the merchant POS terminal using the card.
Term Loan- Banks also offer term loans on Kisan Credit Cards to help the farmers meet bigger agricultural needs such as equipment purchase, irrigation cost, etc. The quantum of loan differs from bank to bank and so do the terms and conditions. Sometimes, the borrower may be required to pledge collateral for the loan.
How is a Kisan Credit Card beneficial for the farmers?
There are a number of benefits of Kisan Credit Card that help the farmers in several ways. It not only provides long-term and short-term credit to them but also lets them have easy access to funds without any hassle. Listed below are a few such advantages of Kisan Credit Cards-
Hassle-free Credit- Kisan Credit Card application process is easy and simple documentation is required. The borrower's KYC documents will be needed only once for the prior approval. However, every crop season, when the farmer changes crops, documentation needs to be revised accordingly. The screening process is simple and quick and thus it is quite helpful for the farmers who are not well-versed with banking procedures.
Flexible Repayment- Kisan credit card offers a flexible repayment schedule to the farmers. Term loans have to be repaid in installments over the tenure of the loan and the credit card bills should be cleared as and when due. In case the crop goes bad due to a natural disaster or pest attack, the borrower has the option of rescheduling the payments by paying a minimal interest.
Revolving Credit Facility- Cardholders can also enjoy the revolving credit facility on Kisan Credit Cards which means that if they cannot afford to pay the bills on time, it will be added on to the next month's statement. Interest will be charged on the unpaid amount.
Insurance- Kisan Credit Cardholders can get insurance under the National Crop Insurance Services for crop loans taken under the KCC Scheme. Users also get a personal accident insurance cover of up to ₹ 50,000 for death or permanent disability and up to ₹ 25,000 for other risks.
Broad Coverage- The Kisan Credit Card Scheme covers different types of farmers including owner-cultivators, sharecroppers, tenant farmers, oral lessees, Self Help Groups and Joint Liability Groups. In Budget 2018, the government has extended this service to animal husbandry, dairy farming and fisheries. To be eligible for the scheme, farmers should have a production credit of ₹ 5,000 or more.
How to Get a Kisan Credit Card?
Some banks allow you to apply for Kisan Credit Card online. You just need to visit the bank's website and go to their agricultural banking section. Find the Kisan Credit Card and click on Apply Now. You will now be asked to enter some information or fill a detailed application form. Once you do so, the bank officials will give you a call and decide the right time and place for document collection. After you submit the relevant documents, the bank will validate the details and do some background research and, if satisfied, issue a Kisan Credit Card in your name. You would get a card cum passbook or a card and a passbook separately.
Since Kisan Credit Card is mostly sought by people from remote areas who are not comfortable using the internet, most of the banks extend this facility from their branches including those in the remote areas. You can visit the branch with all the relevant documents and complete the application at the branch itself. After a few days, the bank will communicate whether your application is approved or rejected. If approved, you will get the card delivered at your address in a few days. Sometimes, banks also send marketing officers in different villages to find people who may need this service. They take direct applications through these marketing officials.
What are the fees and charges associated with Kisan Credit Card?
Kisan Credit Card is an affordable means for the farmers to arrange funds for agricultural needs. The interest charged on KCC may differ from bank to bank. Usually, 7-9% interest is charged on the Kisan Credit Card for a credit limit of up to ₹ 3 Lakhs. Banks offer KCC Loans at subsidized rates of interest to those who have a good credit history. A minimal processing fee may be charged on the KCC loan along with some other charges such as insurance premium, land mortgage deed charges, collateral valuation charges, etc.
Kisan Credit Card Loan
As we have already discussed in the article, term loans are also offered under the Kisan Credit Card Scheme. These are commonly referred to as the Kisan Credit Card Loan. The loan proceeds can be used to cover bigger costs such as equipment purchase, seed and fertilizer purchase for new crop, etc. Some key features of Kisan Credit Card Loan are given below-
Loan Amount– A number of factors are taken into account by the lender before deciding the quantum of loan. Some of these factors are the size of farm, the crop being cultivated, how much income is estimated from the crop, borrower's credit history and more. If, after a few years, the bank offers you a higher credit limit on the card, you may be eligible for a bigger loan on the card.
Collateral- You may be required to pledge an asset as collateral as per the bank's requirements. RBI rolls out certain guidelines from time to time regarding Kisan Credit Cards but the conditions related to collateral depends on the lending bank. So, with one bank, you may be required to hypothecate your crops for mere ₹ 50,000 loan whereas another bank may offer you ₹ 1 Lakh loan on your Kisan Credit Card without any collateral. You must clear these before applying for a loan.
Repayment- The repayment period will also be set by the lender after taking into consideration the borrower's repayment capacity. For short-term credit, the crop period may be considered as the loan tenure. However, in case of a long-term loan, a maximum tenure of 5 years may be allowed.
Kisan Credit Cards have come to help the farmers in various ways but, most importantly, they offer financial convenience. Arranging funds for even the smallest of requirements would mean much hassle for the farmer and also entail high rates of interest. With a Kisan Credit Card scheme, they can meet the short-term as well as medium-term financial needs at low rates of interest.