RBI Allows Banks to Use Aadhaar for KYC Verification
RBI has updated its OVD (Officially Valid Documents) list and has added "Proof of possession of Aadhaar number" for opening a bank account. OVDs are those documents that a customer has to provide when he applies for a new bank account. However, applicants can use their Aadhaar card for identity and address verification on a voluntary basis only. It is not mandatory to furnish Aadhaar to open a bank account at present. In addition to the bank account, Indian residents can use the Aadhaar card as a proof of identity and address for getting a new SIM card as well.
The Master Direction on Know Your Customer has been amended by the Reserve Bank of India. After this move, banks will now be able to go for Aadhaar authentication or offline verification of customers who provide Aadhaar on a voluntary basis.

Checking Credit Report monthly has no impact on Credit Score Check Now
Is Aadhaar card still mandatory for bank accounts?
Aadhaar card is mandatory only for those bank accounts that receive government subsidies through DBT (Direct Benefit Transfer) under various welfare schemes run by the central or the state government.
In the case of non-DBT beneficiary customers, it is not mandatory to submit Aadhaar card for authentication/verification. However, such customers can now submit Aadhaar card voluntarily as valid document proof. Moreover, entities accepting Aadhaar card as a document proof will have to redact or blackout the Aadhaar number of the customers at the time of submitting the document for Customer Due Diligence.
What is the reason behind not using Aadhaar card for verification?
On September 26 2018, the Supreme Court passed a judgement in a case challenging the constitutional validity of Aadhaar making it non-mandatory to provide Aadhaar for opening a bank account, mobile connection, etc. This decision was taken on grounds of violation of the right to privacy of citizens.
UIDAI took cognizance of the matter and rolled out masked Aadhaar in which first eight digits of the actual Aadhaar number are hidden and a 16 digit Virtual ID is mentioned which can be used in place of the Aadhaar card.
How can you provide Aadhaar card with hidden Aadhaar number?
In case you want to voluntarily submit your Aadhaar card to open a bank account, you can use the masked Aadhaar facility available at UIDAI's portal. You can download the masked Aadhaar and use it as an identity and document proof for opening a bank account or taking a new mobile connection.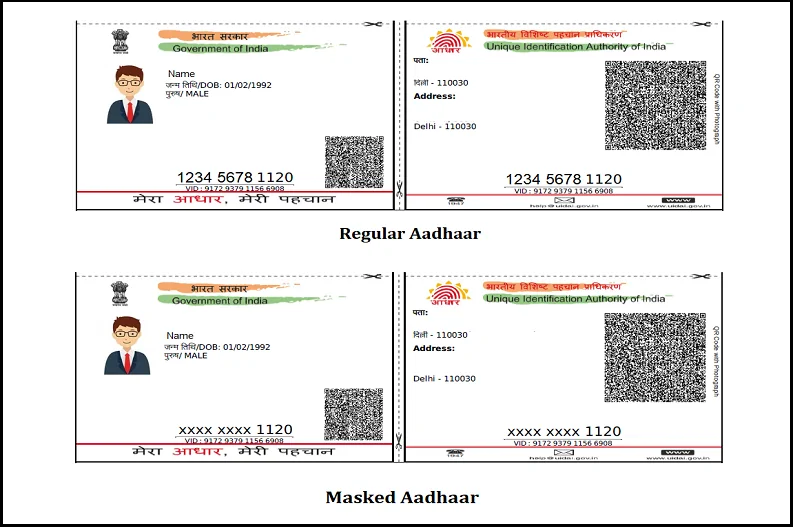 As per the new directive by the RBI, entities such as NBFCs, financial institutions, prepayment instrument issuers, payment system providers and agents of the Money Transfer Service Scheme, can accept Aadhaar card as valid document proof. However, they will have to redact or black out the Aadhaar number before accepting the document.
How to download the Masked Aadhaar?
Downloading masked Aadhaar is a simple process and the cardholder does not have to pay any fee for it. In case you want to provide the masked Aadhaar for opening a bank account, you should follow the steps mentioned below:
Visit the UIDAI's Download Aadhaar Card Portal
Enter your Aadhaar number/Enrolment ID/Virtual ID
Now tick the box against "I want a masked Aadhaar?"
Enter the security code and click on "Send OTP"
An OTP will be sent to the mobile number registered against the Aadhaar number in UIDAI's database
Enter the OTP in the space provided and take the quick survey
Now click on "Verify and Download" to download the masked Aadhaar card
The masked Aadhaar card is password protected and you have to enter the 8-digit password to open the Aadhaar card pdf. The first four digits of your password are the first four letters of your name and the last four digits of your number are the year of your birth.
You can print the masked Aadhaar card and submit it to the bank for opening a new bank account.
What other things are mentioned in the new Aadhaar Bill?
In the new Aadhaar and Other Laws (Amendment) Bill, 2019 proposed by the Central Government, Aadhaar can be voluntarily used as a valid document proof for opening a bank account or getting a new mobile SIM. Aadhaar cardholders can use the virtual ID to hide their Aadhaar number. Children will now get the option to cancel their Aadhaar number when they attain the age of 18 years.