All You Need to Know about Business Credit Cards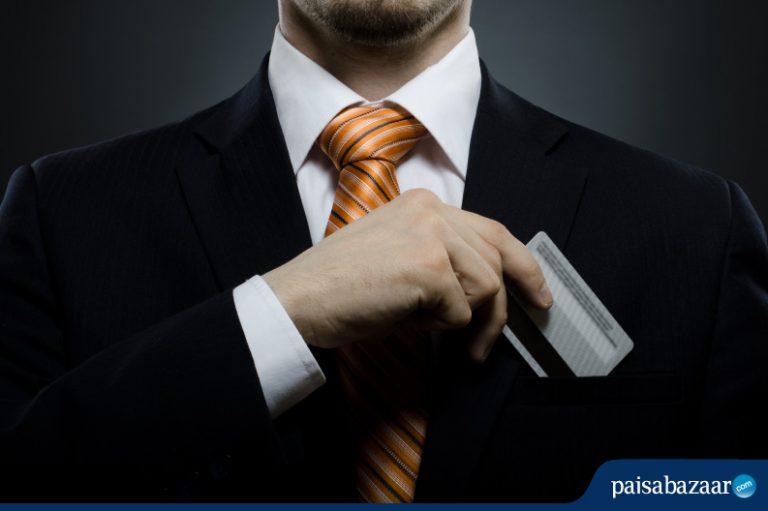 Credit cards have made payments easier, not only for individuals but also for small businesses and corporates. Almost all major credit card issuers are offering business credit cards. If you are a business owner, a credit card designed specifically for business expenses would be better than using a personal card that has benefits aligned to individual usage. Almost all major banks offer business credit cards in India. Let us learn more about these credit cards and how they can help you in growing your business.
What are Business Credit Cards?
As mentioned above, a business credit card is one that is intended for business purposes and not for individual use. Banks give credit cards to businesses under two different categories- small business credit cards and corporate credit cards. Small business credit cards are meant for the small expenses of a start-up whereas corporate cards are given to well-established businesses. Mostly, in case of small business credit card, the personal liability will be on the applicant whereas corporate credit cards can either be individual liability cards or corporate liability cards.
Individual Liability: As the name suggests, the employee holding the credit card will be liable to pay the bills. When he files an expense report with the finance team of his organization, he would be reimbursed for the business expenses incurred on the card. In case of default, the employee will be held liable and the bank officials will reach out to him for settlement.
Corporate Liability: The liability, in this case, will be that of the organization so it will be responsible for paying the bills. Employees using the card will be required to submit expense reports with the finance team but it is mainly for them to reconcile the financial statements. The employee does not have to pay the bills upfront.
On some credit cards, there may be a joint liability of the employee and the company. These terms will be discussed at the time of card issuance. As an applicant, you should read all terms and conditions carefully so that in case any dispute arises, you know your rights. Please note that the terms business credit card and corporate credit card can be used interchangeably by the banks so you must clarify the liability clause before getting a business credit card.
Why get a Business Credit Card?
If you have a small business, you could choose to use your personal credit card for business expenses. But as your start-up grows, you will have more expenses of varied nature. It can get difficult to meet the same with your personal card. Also, business credit cards come with special features and benefits that better fit to the needs of an organization. Listed below are the three main reasons why you should consider business credit card:
It offers business-specific benefits
Personal credit cards are aligned with the needs of individuals which can vary a lot. Hence, there are multiple credit cards matching the needs of different types of customers. Business credit cards also pack benefits similar to that of a basic personal credit card but the benefits are more aligned with business expenses. For example, you could get more rewards for advertising expenditure, flight tickets and hotel bookings, shipping and other business-oriented purchases. Since the credit profile of your business will be considered at the time of judging your eligibility for the card, you will get a higher credit limit as compared to your personal credit card.
It makes spend tracking easier
Needless to say, recordkeeping is extremely important for a business. At the time of reconciling your financial books every month, you would need to take a look at all the transactions you have made from the start of the month. When you mix personal expenses and business expenses on the same credit card, it will get really difficult to sort entries later. A business credit card will give you an organized record of all the expenses you make, thus saving your time and money. The bank provides you with a complete statement of your transactions on the mail where you can check and verify the same. The online portal or mobile app of the bank further adds to the benefit of convenience.
It helps you build business credit
Just like your personal credit profile, a business also has a credit profile that directly impacts its ability to get qualified for a business related loan, credit line, lease or even insurances. If you use your personal credit card for corporate expenses, it will have no impact on your business' credit profile. With business credit cards, you can build your business credit. However, if you miss payments on your business credit card, it may have negative impacts on your business credit as well as your personal credit, depending on the terms of the bank. So, it is imperative that you pay all your bills on time.
In addition to these benefits, business credit cards also provide financial protection. Cash may not be readily available to you at all times and your credit card comes as help in such cash-strapped situation.
How to Find the Right Business Credit Card?
The process of finding the right business credit card is similar to how you find your personal card. Just keep your business expenses in mind at the time. First of all, you should find out what are the major things that you spend on regularly for your business. At the time of shortlisting the credit cards, plan on how many of these expenses can you transfer to your credit card and what benefit would it give. Also, consider the fees and charges associated with each of the cards. Then you can bring extra perks and privileges into the picture. Do not forget to talk about the liability clause on your business credit card.
Top 5 Business Credit Cards in India
To help you choose the right card, here we have enumerated the top 5 business credit cards in India and the benefits they offer:
| | | |
| --- | --- | --- |
| Business Credit Card | Annual Fee | Key Feature |
| SBI Signature Corporate Card | ₹ 499 | Analyse the organisation's spending pattern with Visa Intellilink spend management tool. |
| HDFC Business Regalia Credit Card | ₹ 2,500 | Earn 40 reward points per ₹ 100 at participating merchant partners. |
| ICICI Bank Business Essential Card | ₹ 1,000 | Fuel surcharge waiver at HPCL pumps and extra rewards on online purchases. |
| Citi Bank Corporate Card | N/A | Get access to an efficient spend management tool; make bulk payments through biller grouping. |
| YES FIRST Business Credit Card | ₹ 5,000 | Get benefits tailor-made for your business; enjoy the lowest foreign currency markup. |
SBI Signature Corporate Card
With this credit card, you enjoy priority service across all SBI Card products. You can set up category control and limit control on your card to restrict purchases across non-permitted purchase categories and to refrain yourself and your employees from spending over the limit. This card gives you access to Visa Intellilink spend management tool using which you can analyze your company's expense pattern. A complimentary Priority Pass Membership gives access to over 600 international airport lounges worldwide. These lounges are business-friendly as they have meeting areas, refreshments and Wi-Fi connectivity. Fraud related insurance of up to ₹ 2 Lakhs and ₹ 60 Lakhs is offered to individual liability and corporate liability credit cards. You can also enjoy optimum utilization of credit line among large number of employees through dynamic credit limit facility.
HDFC Business Regalia Credit Card
The Business Regalia Credit Card by HDFC is counted among the best business credit cards as it comes with various benefits and privileges. You can earn 4 reward points for every ₹ 100 spent and accelerate it 10 times when you shop at participating merchant partners. Get 5% cashback on business spending across telecom, tax, railway, hotel, taxi, dining and electricity. Under the VISA/Mastercard Lounge Program, you get 12 complimentary domestic lounge access and 6 complimentary airport lounge access through Priority Pass Membership. A complimentary Club Vistara Silver Membership would make your business travels worthwhile.
ICICI Bank Business Essential Card
Launched in association with American Express, this business credit card from ICICI Bank is available at an annual fee of ₹ 1,000. For online spending, it rewards you with 6 PAYBACK points for every ₹ 100. Airline, hotels, dining and car rental services earn your 4 PAYBACK points per ₹ 100. This card would be good for office outings and parties as it offers a 15% discount at partner restaurants under the Culinary Treats Programme. When you refuel at HPCL petrol pumps, you can get surcharge waiver of up to 1%. With all such privileges, this card is truly essential for your business needs.
Citi Bank Corporate Credit Card works as an effective spend management tool for organizations as it gives access to the powerful Visa Intellilink spend management tool. Under this, you can access statements online, get tailored reports for your needs and identify top suppliers. You get freedom from issuing advance foreign exchange to employees for travel. Under the corporate card program, you can get different credit cards for employees and manage all of these under a consolidated one-glace statement. Biller grouping and bulk payments can be made in a single transaction. Earn reward points that never expire and also priority travel assistance from Citi Bank.
YES FIRST Business Credit Card
This credit card by YES Bank offers curated benefits for businesses on the move. 3 complimentary meeting room hours can be availed per calendar quarter at Awfis centres across India. When you book work desks and meeting rooms, you can get 15% and 20% discount. You can also enjoy rent assistance for your business through RedGirraffe under which you can automate your office and residential rent payments. This card offers the lowest foreign currency markup of 1.75% only. Preferential rate of 1.99% per month is offered to the users who have an existing business banking relationship with YES Bank.
Personal Liability on Business Credit Cards
An important point to note about business credit cards is the associated personal liability. We have already mentioned it before but let us elaborate on it a bit more.
Banks want to be safe from any type of credit defaults so they would set the liability in a way that they can be secure. Now, there can be three types of liabilities on business credit cards-
Personally Liable
Jointly and Severally Liable
Corporate Liability
In case of personal and corporate liability, only the individual or the organization is responsible. However, the bank may put in other clauses like jointly and severally liable wherein all the users who have been given credit cards under the corporate card program may be held responsible in the event of a default. The extent of liability on each of the users will either be equal or mentioned in the fine print of your corporate card program. The primary borrower under all of the above cases will be the business itself; these clauses will come into play when the business cannot pay the bills or goes bankrupt.
Personal liability may seem like a threatening term but it is fairly standard practice and you should not be worried about it. The idea is to encourage you to spend wisely on your business credit card. The best practice to help you not incur personal liability on your business credit card is to pay all your bills on time. Do not put extra-large expenses on your credit card such as equipment purchase. If you can get a secured loan for some business need, you should take it instead of putting the expenditure on your credit card.
The Bottom Line
Business credit cards are a great financial help to meet the day-to-day expenses of your business and also to cover an important need when you are cash-strapped. It is good to be mindful of the personal liability on your credit card as it would encourage you to spend wisely and pay on time. Do not put every expense on your business credit card; leave the heavy ones out so that your business does not get stuck in a revolving debt spiral.