A Beginner's Guide to Credit Cards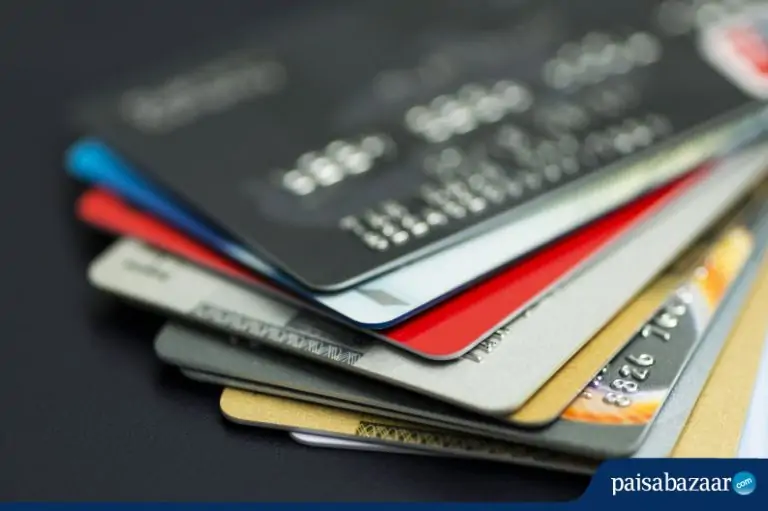 The world of credit cards may seem confusing for a beginner. There are several banks offering numerous credit cards each with different features and benefits. There is not a single card that fits the definition of 'best credit card' as different people have different financial needs. The right credit card for you is the one that best suits your spending personality.
Here is a comprehensive guide to help you choose and apply for a credit card. But let us first get familiar with the working of a credit card.
Understanding How Credit Cards Work
With a credit card, bank lets you make purchases on credit and repay at a later date. A credit limit is assigned to you and you cannot spend beyond your credit limit. Your income, credit history, job stability and a lot more comes into play to decide your credit limit.
Credit cards offer an interest-free period of 45-50 days. So, if you clear all your credit card dues on time, you would not have to pay any interest on the purchases that you have made. However, cash advances (withdrawals) do not qualify for the interest-free period. If you cannot afford to pay the total outstanding amount on your credit card, banks give you the option of paying a minimum amount and roll-over the rest of the balance. This unpaid balance will attract finance charges (interest) on daily basis.
Let us understand this with the help of an example:
Rahul has a credit card with a limit of ₹ 1 Lakh. His statement is generated on the 19th of every month and he has to pay the bills on the 9th of the next month and the rate of interest on his credit card is 3.35% per month. He has an unpaid balance of ₹ 3,200 on his credit card which he paid in full on 5th Oct 2018. He made the following purchases-
| | | |
| --- | --- | --- |
| Type of Purchase | Date | Amount |
| Grocery | 25th Sept 2018 | ₹ 2,500 |
| Fuel | 7th Oct 2018 | ₹ 3,500 |
| Shopping | 10th Oct 2018 | ₹ 6,000 |
| Dining | 17th Oct 2018 | ₹ 500 |
The interest on his credit card will be calculated in the following manner-
₹ 3,200 for 21 days (9th Sept to 5th Oct) @3.35% p.m. = ₹ 75.04
₹ 2,500 for 10 days (25th Sept to 5th Oct) @3.35% p.m. = ₹ 27.92
The total interest that Rahul would have to be pay will be ₹ 102.96. His fuel, shopping and dining expenses would not attract any financial charges as the overdue amount has already been paid off on the 5th of October.
Pros and Cons of Credit Cards
Pros
Cons
1-Credit cards are easy to carry and use; definitely better than carrying a wad of cash everywhere.

2-They are a lot safer as the user has limited liability in case of credit card fraud.

3-Credit cards give you extra financial padding. You can use them in times of cash crunch.

4-With credit cards, you can earn while you spend, in the form of rewards and cash backs.

5-Several benefits are offered with credit cards such as airport lounge access, gift vouchers and freebies as milestone benefit.

1-Credit cards have high rates of interest which can be anywhere between 25% and 45% annually.

2-Additional fees and charges are associated with credit cards such as annual fee, renewal fee, late payment penalty, etc.

3-When you miss payments on credit cards and continue spending too much, a spiral of debt starts.

4-Credit cards are usually quite expensive for international use except for some customized cards.

5-Missed credit card payments have a direct impact on your credit score.
From earning simple rewards to getting travel benefits, you will find credit cards for all types of needs. The choice for the right card depends on the benefit that you would like to avail. So, the first step should be to decide your goals related to a credit card. If you are just beginning your credit journey, you might have only limited options. New users can only get approved for basic credit cards, yet you should choose the best among the available options. Sometimes, you may get emails about pre-approved credit cards; you can also proceed with them but you should know that getting pre-approved does not guarantee that you would get the card.
Read More: What is Credit Card Pre-approval?
Given below are a few simple tips with which you can start your search for the right credit card-
Analyze your expenses to find out where you spend the most and the least.
Be honest to yourself about financial habits.
Read about credit cards and make a list of the top benefits you would like to avail.
Know your budget and how much extra would you be able to pay in EMIs.
Decide whether you would like to pay annual fee on a card or not.
Do not fall for the advertised offers; do your own research.
On the basis of the above analysis, you can shortlist a few credit cards and check your eligibility for the same. If you are eligible for one from the list, you can proceed with the application.
How to Apply for a Credit Card
Now that you have selected a credit card, the question is how you should apply for it. There are a few standard methods to apply for a credit card.
1- Bank Website

If you have already chosen a credit card or a bank, you can directly visit the bank's website and apply for the same. This is a good method when you would like to start your credit journey with a bank you have already known. It could be a bank with which you have a savings account or a salary account. You can visit the credit card section on the bank's website and apply for the same by providing your details. Alternately, you can login to your online banking portal and apply directly from there.
2- Branch Visit

You can also walk into the nearest bank branch to apply for a credit card, if you have a preferred bank in mind. Make sure that you take copies of relevant documents such as identity proof, address proof and income proof along with the originals. All of these will be needed for a successful application. A bank representative will come and assist you through the entire application process.
3- Paisabazaar.com
The above two options might work for those who have already decided the bank and the credit card. However, if you have not, Paisabazaar.com is an ideal place to start. Here, you can choose from 50+ credit cards from leading banks. You can also filter the results based on your bank preference, features of the card or fees. The new 'Chances of Approval' feature sorts the results with the card having the highest chance of approval on top.Follow the steps given below to apply for credit cards through Paisabazaar.com.
Step 1– Go to Paisabazaar.com and click on credit cards.
Step 2– Select your occupation type and enter your mobile number, monthly income and Pin Code. You will also have to select the banks from which you have already taken a credit card. Also, mention whether you have any active loans. Click on 'Check Offers'.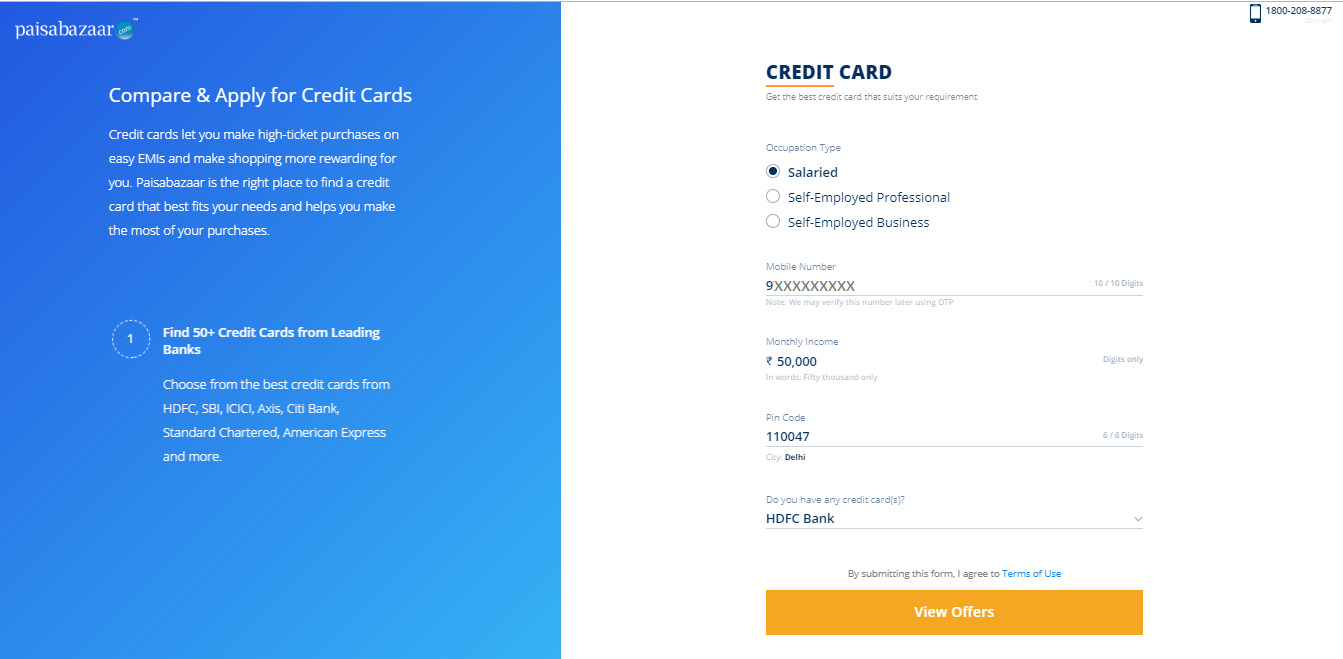 Step 3– You can now see a list of credit cards which is sorted on the basis of your chances of approval. The cards for which your chances of approval are excellent will be shown on top.
Step 4– Once you select a card, you will have to 'Check Eligibility' for the same. When you click on it, a pop-up box will ask you whether you have applied for the selected card in the last 3 months. Answer and click on 'Continue'. If you are eligible, you can proceed with the application. If not, you can check other cards.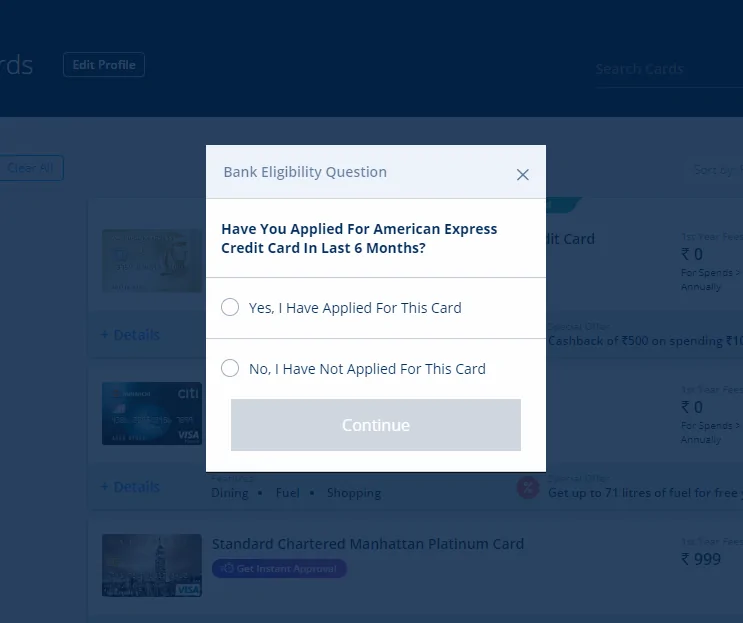 Step 5– Enter your 'Office Pincode' and click on Continue.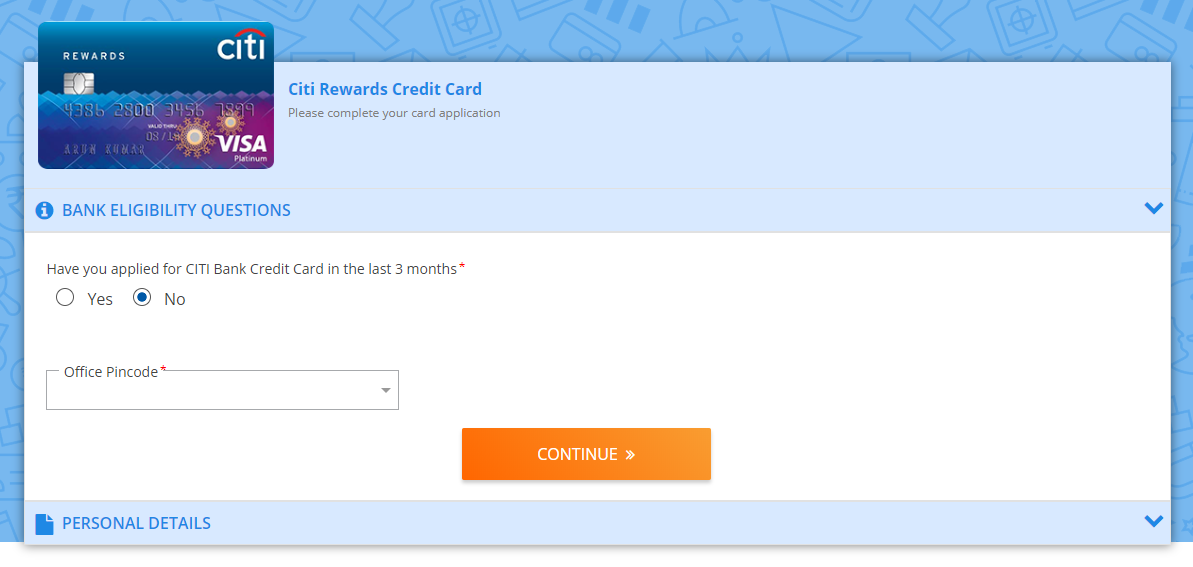 Step 6– Enter your personal details including full name, email ID, date of birth and PAN. At this stage, an OTP will be sent to your mobile number. Enter the same to proceed. You can also change your mobile number at this stage.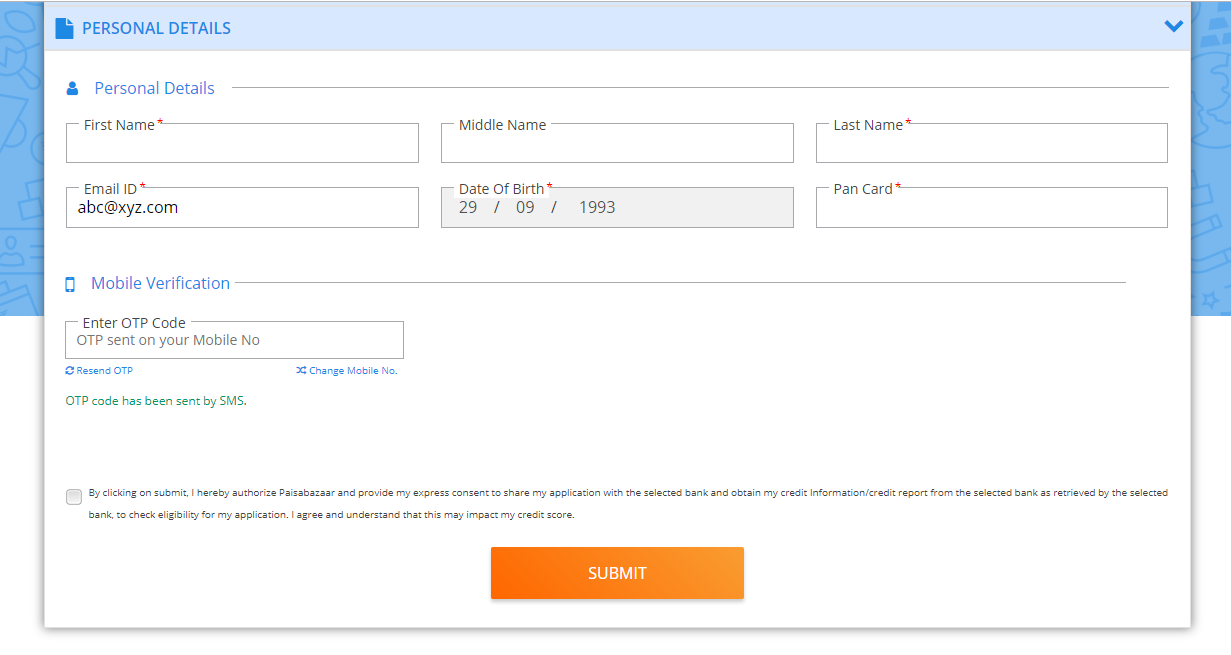 Once you fill the form and submit it, you will get a call from the bank executive. He/she will ask you for a preferred time and place of the document collection. A bank representative will come and collect the documents. After this, the bank will check the authenticity of your documents and, if satisfied, they will approve your application. You will get your credit card in the next 7-10 days.
How to Use Credit Cards the Right Way
Now that you have also joined the bandwagon of credit card users, you should not start splurging. Credit cards are the most helpful when you make smart use of these. So, here are a few points to help you start with your credit card the right way-
Understand your billing cycle– Your credit card has a billing cycle and your statement will be generated for the same period. The bill due date usually falls after 10-15 days of bill generation. This is why credit cards have an interest-free period of up to 45-50 days. For example, your billing cycle is 5th to 5th and the due date is 20th. In this case, if you make a transaction on 6th of December, the bill for the same will be generated on the next 5th January and you have to pay the bill on 20th January. This transaction will enjoy an interest-free period of full 45 days.
Pay your bills in full and on time– This is the first and the most important thing to remember about credit cards. As already mentioned, missed payments and late payments on credit card can lead to high interest charges which would not take much time to accumulate into a debt pile. So always pay your credit card bills on time and pay the total outstanding amount. Paying just the minimum amount due only saves you from paying the late fee, but interest will still be charged.
Maintain a good credit utilization ratio– Credit utilization ratio is the ratio of your debts to the total credit limit available to you. A lower ratio is considered better, and it would also lead to a good credit score. You can set your personal limits, say 30 per cent. When you reach this limit try not to ring more bills on your credit card until you pay some off. After some time, if the bank finds you to be a responsible borrower, it can invite you for a limit increase. You should accept the same if you want to improve your utilization ratio.
Check your statement regularly– Make it a habit to keep track of your credit card spending. Login to your credit card account and check your credit limit balance and the expenses you have incurred so far. Sometimes, viewing the list of your expenses is more impactful. Check your statement and if you find a fraudulent transaction, immediately report it with the bank.
Don't use credit card to make ends meet– Remember that credit card is a type of borrowing and you should not use this for discretionary expenses. And if you do, make sure that you go only up to a limit that you can afford. Avoid cash advance at all costs. Use your card to buy things for which you cannot afford to pay upfront.
Using credit card responsibly can go a long way in building a good credit score. You can do this by maintaining a fair utilization ratio and paying your bills in full. Start with great credit habits, take charge of your expenses and you will go a long way.