What are the procedure, merits and demerits of gold loan?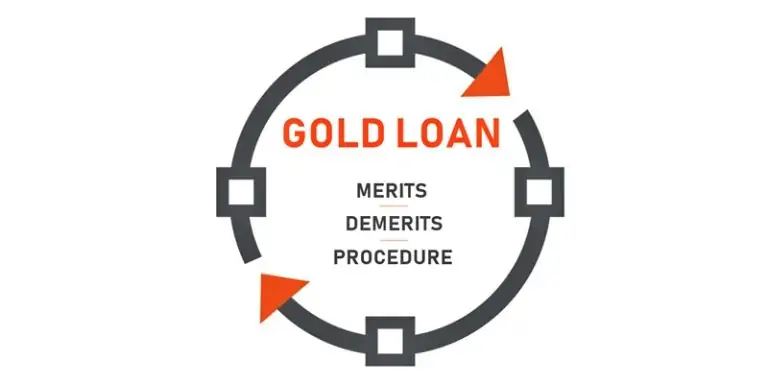 Most households in India have gold articles lying idle in their lockers. But the good news is that they can be put to good use when you need it the most. When in an urgent need for money, you can use your gold articles to fund your immediate financial requirements. Not by selling your gold, but by pledging it to a lending institution. There are various banks and NBFCs across India that offer gold loan to their customers at attractive interest rates. But before applying for a gold loan, you should be aware of its procedure, merits, and demerits, which is further discussed in the post.
What is the procedure to apply for a gold loan?
The procedure of gold loan varies from one lender to another. The idea of a gold loan is simple; you pledge your gold articles and get the loan amount in lieu. To do so, you visit a lending institution with the gold you want to pledge and the required documents. The lender performs gold purity checks and determines its weight on the basis of which it evaluates its market value. Gold loans can be sanctioned up to 80 percent of the calculated value of the pledged gold. Once the value of the pledged gold is evaluated, the documents are verified. And once everything seems good and promising to your lender, they approve your loan.
Nowadays, the gold loan can also be applied online through the bank's or NBFC's mobile application or official website. But applying for a gold loan online does not mean that you will not have to visit your lender. To avail the facility of the online gold loan, you will have to visit your lender at least once to deposit your gold articles. Once this is done, you can register yourself at the lender's customer portal or mobile application and link your bank account with it. So in future whenever you are in need or money urgently, you can apply for a gold loan and get the available credit disbursed in your bank account anytime anywhere in just a few minutes.
Alternatively, you can also apply for a gold loan at Paisabazaar.com. It is an online platform where you can check your gold loan eligibility, compare gold loan schemes offered by different banks and NBFCs and get loan approvals quickly.
What are the advantages of the gold loan?
Faster processing – Gold loans are secured loans and thus includes lenient eligibility criteria and minimal documentation. It does not even require credit score for loan approvals. And therefore, lenders generally disburse the loan in just a few hours. People who are eligible for an online gold loan can even get the loan amount in just a few minutes.
Lower interest rate – As compared to unsecured loan such as personal loan, gold loans, which is a secured loan, charge a lower rate of interest. Also, if you attach another asset as collateral, the gold loan interest rate can be lowered further.
No processing fees – Many banks and NBFCs levy zero processing fees on gold loans. Even if a lender charges processing fees, it is usually 1%.
No foreclosure charges – Some lenders don't levy any pre-payment charges while some of the banks do charge a pre-payment penalty of 1%.
Income proof is not needed – Lenders generally do not inquire for an income proof in gold loans as the loan is secured against gold. Therefore, anyone can apply for a gold loan whether earning or not.
The credit score is not required – Unlike most loans, gold loan approval does not depend on your credit score. In case of other loans, the loan amount is given on the basis of the repayment capacity and credit history of the borrower but in the gold loan, the loan amount is decided on the market value of gold.
What are the disadvantages of the gold loan?
Loan-to-Value Ratio – Ina gold loan, you get a certain percentage of the market value of the pledged gold as the loan amount. The loan amount is decided on the basis of the LTV (Loan to Value) ratio. This ratio varies from lender to lender and goes up to a maximum of 80% of the value of the pledged gold. This means that if the market value of your gold is Rs. 5 lakhs, you can get a maximum of Rs. 4 lakhs.
Due to loan default, you can lose your gold – In case of gold loan default, lenders have the legal right to freeze your assets and auction it to get the outstanding gold loan amount.