Hallmarked Gold, KDM Gold and 916 Gold – What is the Difference?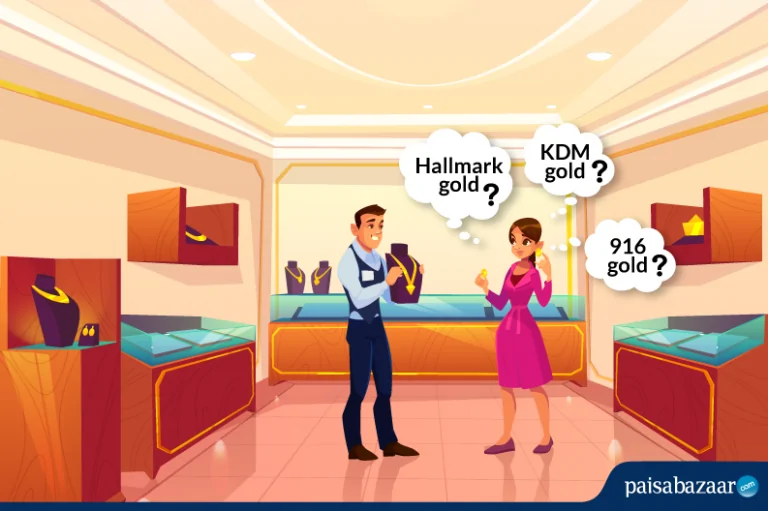 The purity of gold has always been one of the greatest concerns for buyers in India. But with the advent of hallmarking by BIS in India, buyers are feeling more confident with their gold purchases. To ensure you are not cheated when purchasing physical gold (gold coins & Jewellery); it is suggested to go for hallmarked gold articles. Not only it ensures purity but also helps you get better resale value if you sell it later.
On this page, we will discuss various terms namely BIS Hallmark Gold, KDM gold and 916 Gold which you will come across at the time of buying gold. Knowing the difference between these three will help you narrow down your choice in gold purity and quality.
What is Hallmark Gold?
The process of certifying the purity and fineness of gold is called hallmarking. If you see BIS hallmark on the gold jewellery/gold coin, it means it conforms to a set of standards laid by the BIS. Hallmarking gives consumers an assurance regarding the purity of the gold they bought. That is, if you are buying hallmarked 18K gold jewellery, it will actually mean that 18/24 parts are gold and rest is alloy.
Bureau of Indian Standards, the National Standards Body of India, is responsible for hallmarking gold as well as silver jewellery under the BIS Act. Here are the four components one must look at the time of buying gold (they are mentioned in the laser engraving of a hallmark seal):
BIS Hallmark: Indicates that its purity is verified in one of its licensed laboratories
Purity in Karat and fineness (corresponding to given Karatage KT)

    22K916 (91.6% Purity)
    18K750 (75% Purity)
    14K585 (58.5% Purity)

Assaying & Hallmarking Centre's mark
Jeweller's unique identification mark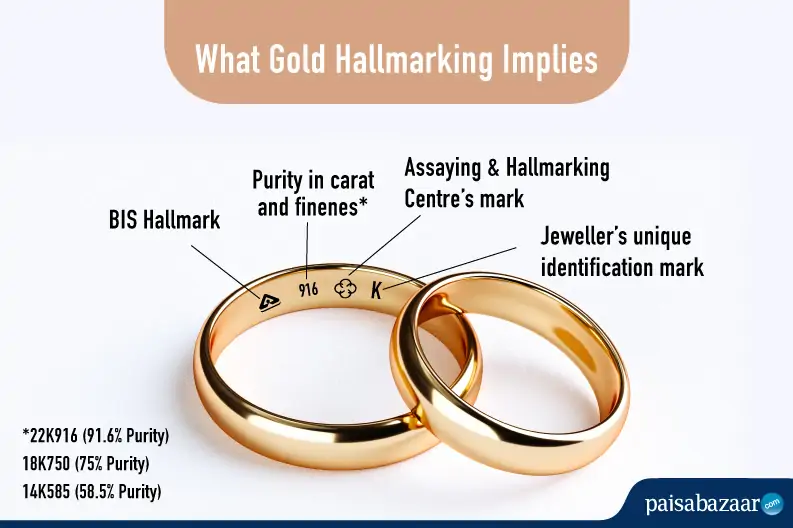 Note: Earlier, hallmarking of gold was optional but from 15 January 2021 onwards, it is mandatory for retailers to sell hallmarked gold articles of 14K, 18K, 22K.
What is KDM Gold?
KDM gold is a type of gold alloy where 92 per cent gold and 8 per cent cadmium alloy is mixed; this is where the term KDM gold came from. This mixture was used to attain a high standard of purity in gold. Although it didn't affect the purity, it caused serious health issues for artisans working with it and due to this; it is now banned by BIS. Now cadmium is replaced with advanced solder metal such as Zinc and other metals.
Also Read : Know How Jewellers Quote Gold Jewellery Rates
What does '916 Gold' mean?
In layman terms, it is another name of 22K gold. For e.g. if 22K gold weighs 100 gm, it contains 91.6 gm of pure gold per 100 grams of alloy.
Note: Gold is categorised on the basis of its purity such as 24K, 23K, and 18K, etc. If it's hallmarked, BIS will be added as a prefix. For e.g-22K gold will be referred to as 'BIS 916' gold, 23K gold is referred to as BIS 958 and so on. The number i.e. 916 or 958 is part of the hallmark seal.
FAQs
Q1. How is Hallmarking done?
BIS grants license to jewellers and they can get their jewellery hallmarked from any of the BIS recognized assaying and hallmarking centers.
Q2. How can I know the jewellery store I am buying gold from is certified by BIS?
One can know the list of jewellers that are certified and licensed by BIS from the official website of BIS. Apart from that, the list also provides the names and addresses of the jewellers and date till which their license with BIS is valid.
Q3. Why can't we make 24K gold jewellery?
Pure gold or 24K gold is too soft in nature which makes it difficult to create any jewellery with intricate designs. Hence, most of the people go for 22K gold or BIS 916 gold for making jewellery.
Q4. How does buying hallmark gold jewellery will benefit me?
Hallmark certifies the purity of gold. Since it is the mark of purity, it instills confidence in the mind of the consumer. This means, if you are buying hallmark 18K gold jewellery, it will actually mean that 18/24 parts are gold and rest is alloy which will help you get better resale value at that time.
Q5. Why does the hallmark gold price vary with the normal gold rates in India?
Gold prices slightly vary from city to city in India due to different jewellery associations, transportation cost, etc. However, the main reason for this is hallmarking charges which are added with the gold cost.
Q6. Which is the best gold BIS 916 or KDM?
Given a choice, one should go for BIS 916. In KDM gold jewellery, 92 per cent gold and 8 per cent cadmium alloy is mixed whereas in BIS 916 or 22K gold jewellery, 91.6 gm of pure gold is added. By the percentage, one might think KDM gold is better due to 92% gold but it is not hallmarked and 22K gold is. Buying BIS 916 gold provides you guarantee on purity and fineness as it's certified.
Q7. How do I calculate KDM charges on gold jewellery?
KDM gold charges depend on the prevailing gold rate at the time of your purchase. However, through the given formula you can calculate the final price of your jewellery:
Price of gold X (Weight in grams) + Making charges + GST at 3% on (Price of jewellery + making charges)
Q8. What do hallmark, 916 and KDM jewellery mean?
Brief explanations of these three are given below:
Hallmark: Hallmark sign ensures that the gold you have bought conforms to a set of standards
916: 916 also called as 22K gold which means 91.6 grams of gold have been in 100 grams of alloy
KDM jewellery: KDM jewellery is gold alloy where cadmium is used as a solder or filler with a ratio of 92% gold and 8% cadmium. Now it is banned by BIS and advanced solders such as Zinc and copper have been introduced
Q9. Why should I go for hallmarked gold in India when it is only 91.6% pure?
Hallmark is a sign of purity of gold and any grade (24K, 22K, 18K, 14K and so on) can be hallmarked. The consumer will only be charged for the gold, as per the purity, that is being added in the gold coin or in jewellery. If you are buying 22K gold jewellery, you will be charged as per the prevailing 22K gold rate with respect to its weight.