Updated: 20-01-2021 13:44:24 PM
The State Bank of India provides its customers with varied savings and deposit options. Recurring deposits (RD) are one of them where customers can deposit monthly unlike a lump sum payment in an FD. SBI recurring deposit provides almost the similar features that are available in a fixed deposit. Interest rates for an SBI RD are the same as those for its fixed deposit schemes.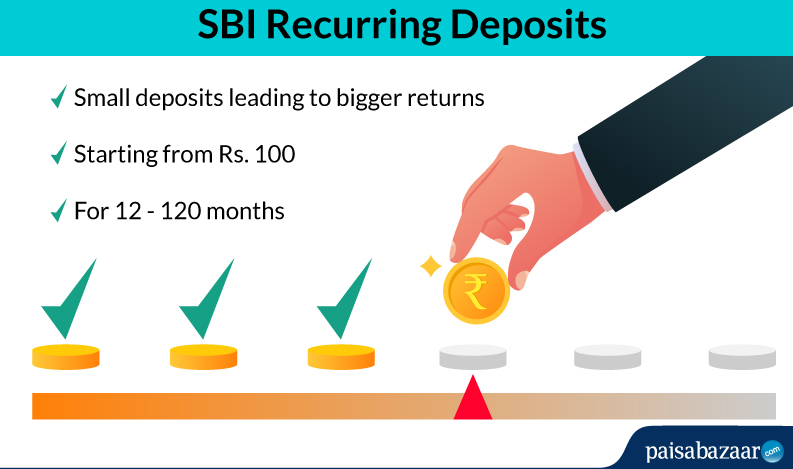 Read on to know the updated SBI RD rates as well the other important features, eligibility criteria, and more.
Latest SBI RD Rates 2021
SBI RD Interest Rates (p.a.)

Tenure
Regular Citizens

Senior Citizens

1 year to less than 2 years
5.10%
5.60%
2 years to less than 3 years
5.10%
5.60%
3 years to less than 5 years
5.30%
5.80%
5 years and up to 10 years
5.40%

6.20%
Note: The above-stated SBI recurring deposit rates are applicable w.e.f. 27th May 2020. 1% extra payable to SBI staff members and SBI pensioners.
Click to know the latest SBI FD Rates.
SBI Recurring Deposit – Features & Benefits
The recurring deposit scheme by SBI comes with a variety of features to help customers gain the most. These are tabulated below:
Particulars

Details

Tenure
12 – 120 months
Deposit Amount
Rs. 100 (in multiples of Rs. 10 thereafter; e.g. Rs. 100, Rs. 110, Rs. 150, Rs. 510 etc.)

No upper limit

Premature Withdrawal
Available
Penalty/Charges for not depositing instalments on time
Rs. 1.5 per Rs. 100/month (up to 5 years)

Rs. 2 per Rs. 100/month (above 5 years)

Features

Nomination allowed
Inter-branch

transfer

allowed
Auto-renewal option available
Loans/Overdraft up to 90% of the deposit amount allowed
SBI Recurring Deposit – Premature Withdrawal
Customers can withdraw from their recurring deposit if need be. This facility is termed as premature withdrawal facility. The following are important details about the same:
No interest payable if funds pulled out before 7 days from the date of booking the RD
Penalty levied @ 0.5% – 1%
Rate of interest will be the lower of

Contracted

rate of interest
Rate of interest for the tenure for which the RD was active

If the customer fails to deposit up to 6 instalments, SBI will close the RD and will credit the balance amount to the linked savings account.
SBI RD Calculator
To fix a suitable monthly amount for RD, customers must weigh some of the important factors. These include total interest and maturity amount that customers will receive.
For this, a recurring deposit calculator can be used. This online tool is available free of cost at Paisabazaar.com. Thus, those who wonder how the RD interest is calculated, this RD calculator can help.
To use this RD calculator, one needs to furnish the following details:
Deposit amount (monthly instalments)
Tenure (in years/months)
The applicable rate of interest
Once the customer enters these details, the tool will calculate the estimated interest. Customers can check this amount as the maturity amount in the box next to the calculator.
E.g.: Someone invests Rs. 1,000/month for 2 years @ 7.5% interest. Maturity amount, as well as the estimated interest, for this person, will be:
Recurring Deposit Calculation

Monthly Deposit Amount

Rs. 1,000

Rate of Interest
7.5%
Tenure
2 years
Maturity

Amount

Rs. 25, 968
SBI Recurring Deposits – Eligibility

Criteria
Who can open an SBI RD?
The option of using the SBI recurring deposit scheme is open only for residents.
What are the required documents for the SBI RD application?
One needs to furnish:
PAN card or Form 60/61
Address

Proof

(Aadhaar Card, Driving License, Ration Card, Electricity/Water Bill, etc.)
Passport-sized photograph
Bank account details
How to Open an SBI RD Account?
Customers can open a recurring deposit account with SBI in the following ways:
Offline – Visit the bank's branch along with the documents required. Ask a bank's representative to open an RD.
Online – There are a few simple steps to follow, viz.:
Visit the official website of SBI online
Click on the Net Banking button at the top right corner of the page
Click on 'Login' in the 'Personal Banking' widget and login when a new tab opens
Click on 'Fixed Deposit' and choose the second option of 'e-RD/e-SBI Flexi Deposit'
As 'e-RD' option is automatically selected, click on 'Proceed'
Check the account details and fill in the blanks given the online form
Click on 'Proceed'
Check the details in the preview receipt
Once checked and okayed,

click

'Confirm'
The final RD receipt will display all the details. Print the same for future correspondence.
Note: Customers can also open SBI RD using the SBI Yono mobile app.
Frequently Asked Questions (FAQs)
Are SBI RD interest rates different from FD rates?
No. SBI FD rates and SBI RD rates are the same across tenure. However, for RD, interest rates are applicable to tenure 1 year and above.
Can one make RD for 6 months?
No. The minimum period for booking an SBI RD is 1 year.
Will the interest on RD be taxable?
Yes. Since it is interest income, it will be taxable as per the IT Act.
Can a customer convert his/her RD into a fixed deposit after maturity?
Yes. SBI lets customers convert their RD to FD on maturity.