Consolidated Account Statement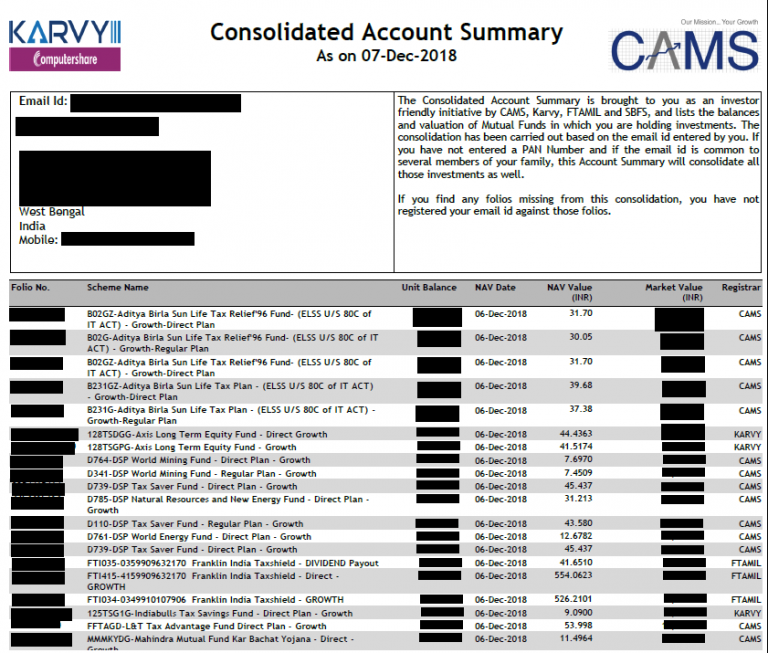 Consolidated Account Statement (CAS) is a statement of all your mutual fund holdings. It also gives all your mutual fund transactions, across all funds in a given period. You can get this statement emailed to your inbox from CAMS or Karvy. However note that your email address must be registered with your mutual fund in order to avail of this service. All the funds in which your email address is registered will be included in this statement. You may periodically get a CAS from NSDL or other depositories, however these may not be complete. The best way to get a complete CAS is to register your email address with all your mutual funds and order the CAS in the manner described below.
Benefits of CAS
The CAS keeps a record of all your mutual fund holding and transactions.
Performance Evaluation: You can use it to evaluate the performance of your funds and to know when these funds become long term (for capital gains tax purposes). Equity funds become long term after a 1 year holding period and debt funds become long term after a 3 year holding period.
Tax Liability: CAS also gives you a record of all your transactions and hence you can use it to calculate your tax liability. You can also submit the CAS and a tax-saving investment proof to your employer so that he/she deducts the correct amount of TDS.
Details Checking: You can also check that your name, PAN and bank account details are correctly mapped to your mutual fund investments and know whether you have been recorded as FATCA  compliant or not. FATCA compliance is a procedure required to ascertain your tax residency (Indian or NRI).
Redemptions and Dividends: You can also use the CAS to track all the redemptions you have made from mutual funds and all the dividends you have obtained from them.
How to order a CAS
First ensure that all your mutual fund investments are mapped to your email address.

Enter your email address and PAN number

Select whether you want just a holding statement or a holding and transaction statement

Select the period you want the statement for

Create a password to protect your statement from unauthorised access.

Check your inbox for the statement