How Can Life Insurance Be Your Safety Belt?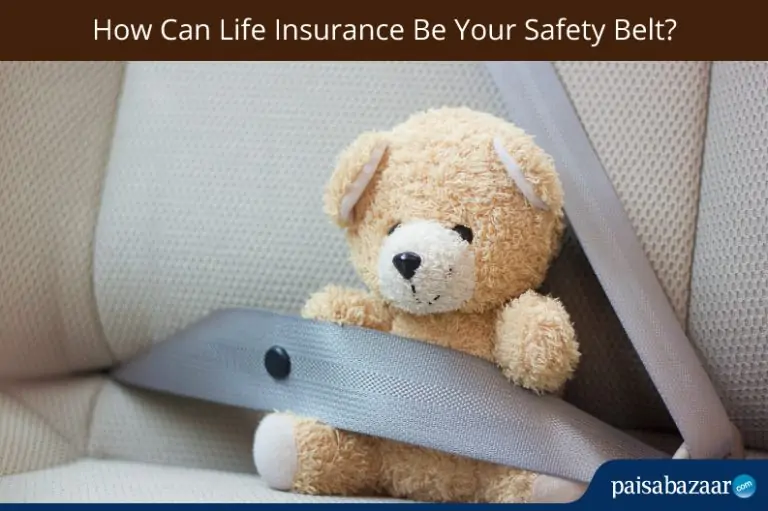 Have you ever taken a merry ride, dragon ride or the giant wheel ride? While doing so, you must have noticed that the operators always make sure the riders have the safety belt on. The same principle applies to life insurance. Thus, in order to manage the various risks of life, you need a life insurance policy. However, before purchasing one, you need to understand the types of life insurance and the one that would suit your need and requirement.
Simply put, life insurance is a contract between two parties, wherein, one party or the policyholder pays to the other or the insurance company to get financial coverage for the family or the beneficiary in case of specified eventualities or the policyholder's sudden demise. There are various reasons for adding life insurance in your financial planning kitty. Let's dig deeper into these reasons and understand the concept better.
Financial Security of your Loved Ones: The foundation of life insurance is to safeguard the financial security of your family, in case of your sudden demise. While losing a loved one is emotionally hard, a life insurance policy ensures there is no financial stress. With adequate life insurance, your family members would not have to compromise on their aspirations or the quality of life, even if you are not around. A pure term policy with a sum assured equalling at least 10-15 times of your annual income is an absolute must-have for every earning individual, especially those with dependents. The premium for a pure term insurance policy is nominal, and the earlier you take it in life, the cheaper it is.Along with term insurance, you can invest in other life insurance plans like Unit linked Insurance Plans (ULIPs), annuity, child plans etc. that have guaranteed pay-outs for life goals like retirement, child's education etc. along with death benefit.
Savings Tool: For those of you who have a slippery palm, leading to excessive cash outflow, enrolling in a life insurance policy can prove to be highly beneficial. You just need to make sure that the policy you've chosen meets your goal and you stay disciplined with your investments. ULIPs, for example, are the perfect mix of coverage and investment. Though there is moderate risk involved, since your money is invested in market-linked funds, over the medium and long run, you would earn high returns.In case you do not have a high risk appetite, you can opt for a mix of market-linked funds and debt funds, which offer moderate returns at low risk. So, at the time of maturity (or death), the beneficiary receives not just the sum assured but also extra income in terms of returns. Here, you also have the option of withdrawing money after five years, with certain terms and conditions.
Tax-Saving Instrument: While insurance, especially term and health, should be purchased irrespective, the tax benefits are an added advantage.The premiums that you pay for your life insurance policy will provide tax benefits under Section 80(C) of the Income Tax Act, 1961. The amount can go up to Rs.1.5 lakh. More importantly, the death/maturity benefits are also tax exempt under Section 10(10D) of the Income Tax Act. However, you need to know that if the returns exceed 10% of the annual premium paid, the benefit will come under the tax net.
Financial Stability during Difficult Times: A life insurance can come to your rescue financially in case of various unforeseen circumstances. Many life insurance policies cover Death, Disability and Disease as a part of their cover. This ensures that you and your family are financially covered, in case of unfortunate circumstances that may lead to disability or grave illness. While income from your employment may stop, a life insurance policy covering your condition will provide the necessary cash flow. But for this, you need to choose the riders available. They will increase your premium amount but keep your family financially protected in additional circumstances, apart from death.
Child Education & Wedding Supporter: The joy of parenthood is accompanied with a big responsibility. One of the most crucial aspects is to ensure you are able to fulfill the educational aspirations of your child. But with the rising cost of education, this requires thorough planning from the onset. A child plan focusses solely on ensuring the financial security of your child. As part of the child plan, you get a certain amount of money at certain intervals decided at the commencement of the plan. This money can be utilized for meeting education expenses or footing wedding bills. And in case you are not around, your family will also get the death benefit.
Though the list of reasons for buying a life insurance is quite long, if you consider the aforementioned points, we're sure you will understand why a life insurance is important for your financial portfolio and for meeting various risks of life. Before finalising a plan, keep in mind certain points like affordability, coverage requirement, premium frequency and policy tenure to keep your goals plugged in for the longest period of time. Also, compare multiple insurers and check available policies in the market and use tools like premium calculator to gauge the amount you need to buy life insurance policies aimed at different life goals