Medical emergencies can strike anyone and anytime. To add to this are the rising medical costs that have the capability to dig a hole in your pocket. One way to overcome such hurdles is to be prepared by purchasing a health insurance plan. This insurance helps reduce economic worries by covering critical illness treatment costs, hospitalisation costs and other such expenses.
What is Health Insurance?
Health insurance offers financial protection to meet the expenses incurred due to hospitalisation or treatment of some disease. It is an understanding signed between the insurance company and the policyholder. The company or the insurer agrees to provide the sum insured or the coverage amount to the policyholder (the insured) for meeting the medical expenses. To get this benefit, the insured has to pay a certain amount of money in the form of premium. However, not all kinds of situations and cases are covered by health insurance. These are called exclusions. Let us understand health insurance in detail.
What is Health Insurance Premium?
To  get the financial protection under a health insurance plan, you need to annually pay certain amount of money in the form of premium. This can be called the cost of the insurance. Premium is an important aspect to be considered before finalising a plan. Always use the premium calculator available on the insurance company website or insurance web aggregators to know the premium amount. This helps to compare different plans and to gauge your affordability of buying the plan. Some of the factors taken into account while deciding the premium amount are:
Type of insurance plan: The premium for a health insurance plan depends on the type of plan chosen. It is different for a family floater and an individual plan
Nature of work of the applicant: The nature of your occupation goes on to decide the premium amount. If your nature of work is riskier, you will pay a higher premium amount. For instance, a truck driver's job is riskier than that of a teacher. Thus, the driver will pay higher premium compared to the teacher
Age: For getting a health insurance plan, age is an important factor. Thus, it also decides the premium  amount. Higher the age, higher the premium amount, as older people have higher chance of suffering from any illness
Current medical condition: Any medical history or rather the current medical situation of the person plays a vital role in deciding the premium amount. In case of any pre-existing illness, the premium might go up
Number of family members covered: For an individual health insurance plan, you get the coverage for more than one family member. Thus, the premium amount depends on the number of family members included in the plan
Policy term: The duration of the health insurance policy decides the premium amount. So, if the plan is for longer duration, premium amount will automatically increase
Types of Health Insurance Plans
Health insurance is available in various forms. However, all the health insurance policies can be broadly categorised under two types: indemnity plan and fixed benefit plan. Let us understand these two types in detail.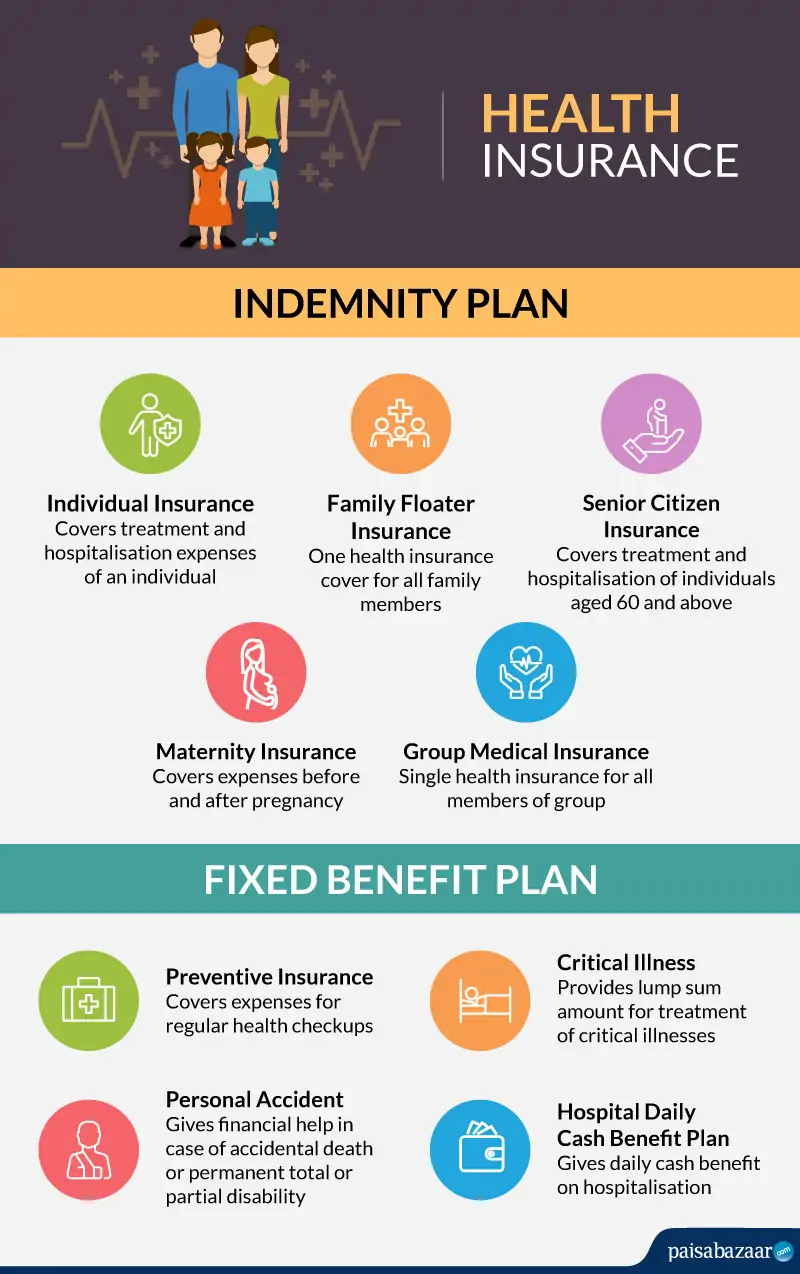 A. Indemnity Plan
This plan covers hospitalisation expenses up to the limit decided during the purchase of the policy. An insured can opt for multiple claims in a year, but the total amount given should not exceed the maximum sum insured limit or the amount you are entitled to get from the insurance company. This plan type is also known as mediclaim policy. You also have the benefit of availing cashless treatment at various network hospitals, where the insurance company pays on your behalf.
Types of Indemnity Plans 
1) Individual Insurance Plans: This type of health insurance is meant for an individual. Thus, the insurance provider covers only the medical expenses incurred by an individual. The treatment expenses covered in these plans usually include all the costs incurred through hospitalisation, pre and post-admission, charges for various medical tests and laboratory charges, and consultation charges. Since this risk cover is only for an individual, the premiums are cheaper than that of other plans. These individual mediclaim policies don't cover any existing illnesses. However, after waiting for a certain period, these diseases might get covered by the insurance company. Many insurance policies do not cover ayurvedic, homeopathic or any other non-allopathic treatments.
2) Family Floater Insurance Plans: These types of insurance plans cover the entire family. Instead of buying different individual plans, you can get a family floater that would cover the medical and treatment expenses of all the family members. These plans include the policyholder, his/her spouse and children. Minor children up to 2 years can also be covered under this plan. Some plans also include siblings and in-laws. Family floaters can provide health coverage for up to 15 relatives in one single plan. Thus, all the family members share sum insured provided by the insurer.
3)Senior Citizen Insurance These insurance plans cover medical treatment or hospitalisation expenses of individuals aged 60 years or more. Illness and other health-related problems after the age of 60 years are common. Retirement might also deprive people of any regular income. In such a situation, bearing all the medical expenses might be a big burden. Thus, senior citizen health insurance plans can help in meeting medical expenses during emergencies. It is mandatory by the IRDA that the policyholder must be at least 60 to 65 years while applying for the policy. Some of the insurance companies also make people undergo medical examination before sanctioning a policy. The waiting period for these policies can range from 1-4 years in case of certain illnesses.
4) Maternity Insurance: Maternity Insurance plans are specifically meant for women planning to have a child or are bearing one. It covers all the expenses before and after the pregnancy, the cost towards the child, mother's care expenses, and any complications that might arise due to pregnancy. Such a plan can be added to the main Individual or Family Floater policy. Moreover, it can also be attached with the Group Insurance plans provided by the employers which have a sub-limit of up to Rs. 50,000. All the expenses related to tests, medicines, labour, and admission can be reduced by taking this plan.
Any emergency transportation due to pregnancy-related discomforts, expenses for delivery, nursing and consultation are also covered in this plan. It also includes the congenital or a critical disease diagnosed in the newborn. The waiting period is up to a maximum of 4 years, as only after that all the benefits can be availed. Hence it is advisable to purchase this plan well before conceiving. The exclusions include charges for regular checkups, diagnostic exams, and consulting fees, any medicines like vitamins, during the pregnancy.
5) Group Medical/Employee Insurance: Group Medical Insurance is provided by employers to their employees. The groups under such a policy include members of any associations, companies, etc. Moreover, by paying some extra amount, employees can also extend the plan to include other family members like spouses, children, parents, etc. Like other plans, the premiums paid under this plan are tax exempt. Some policies also cover existing diseases and maternity expenditures. Unlike other plans, to purchase the plan, employees don't need to produce any documents or undergo any medical examinations. Also, the premiums are cheaper here. The plan can be contributory, where employees also pay a part of the premium, or non-contributory, where only the employer pays the premium.
B. Fixed Benefit Plan
This plan does not offer hospitalisation benefit. It pays a fixed amount for certain listed critical diseases and conditions, such as cancer, heart illnesses, etc. Under this plan, one also gets coverage on the diagnosis of certain diseases.   
Types of Fixed Benefit Plans 
1) Preventive Insurance: A preventive health insurance plan covers expenses for regular health checkups required to prevent any dangerous illness like cancer. For this, an annual medical examinations can be needed to analyse the possible symptoms. Such plans can provide coverage for any checkups done in a network hospital of the insurer. Expenses also cover all the preventive measures taken for the policyholder, spouses, children and parents. Children up to the age of 13 years are covered under this policy. Unlike other plans, this plan includes tests related to HIV/AIDS, cancer and cholesterol.
2) Critical Illness: Critical illnesses are ailments not included in health insurance plans. These are some specific conditions which can lead to permanent disability or death. Some of the diseases covered by the plan include cancer, organ transplant, and failure, multiple sclerosis, paralysis, blindness, strokes and heart attacks, kidney failure, coma, critical heart surgeries, among others. The policy provides a lump sum amount for the treatment of these diseases. This policy can be bought either separately or as an add-on with a life insurance plan. Under such a plan, if the policyholder is diagnosed with any of the critical illnesses included in the list within the tenure, he/she gets the claim benefit along with other benefits. Some companies also provide a daily allowance benefit because the policyholder is unable to work and earn income due the illness. Such plans usually have a lower waiting period.
3) Hospital Daily Cash Benefit: It offers fixed benefits, usually after 24-48 hours of hospitalisation. The coverage is over and above the benefits provided by a health insurance plan. This plan covers expenses usually not included in a health plan. You get a fixed amount every day during hospitalisation.
4) Personal Accident: The plan offers coverage against accidental death and permanent total and partial disability of the policyholder. Such a policy would be a great add-on with the motor insurance to cover the death or bodily injury to the driver. In case of an untimely demise of the policyholder, the plan also offers sum assured to the family members to take care of various expenses and needs. No health documents are required to purchase this policy. It can be availed for both individuals and group. Also, many policies cover all the legal and funeral expenditures apart from covering any harm caused due to terrorist attacks.
A Personal Accident cover can be classified into 2 types:
Individual Accident Cover: The plan covers an individual's disabilities, dismembering of body parts or death due to an accident.
Group Accident Cover: It is provided by employers to cover the expenses of the employee's families on his/her sudden demise.
Eligibility Criteria
Most of the insurance companies providing health insurance in India offer coverage to persons under the age of 45 years without any medical examination. They might ask details of any pre-existing diseases like diabetes or hypertension. However, those above 55 years need to undergo medical examination.
| | |
| --- | --- |
| Particulars | Details |
| Entry Age | Adults: 18-70 years; Dependent children: 90 days-25 years |
| Sum Insured | Rs 50,000-Rs. 6 crore |
What Health Insurance Covers?
Health insurance companies offer a plethora of plans and policies to choose from as per your need and requirement. You should understand the coverage well before opting for a particular plan and policy. Let us look at some of the common points covered by different plans offered by health insurance companies.
Pre- and post-hospitalisation expenses: This insurance pays for medical expenses incurred between 30 and 60 days before hospitalisation. These cover things like cost of medication and medical tests, etc. This is apart from the usual coverage like meeting the costs for hospitalisation of at least 24 hours, room rent, cost of surgery, etc. It also covers the medical expenses between 60 and 180 days after hospitalisation like that for medication, home treatment, etc.
Ambulance charge:  Almost all health insurance plans cover the expenses related to ambulance service.
Day care charges: Some of the health insurance plans also cover the costs for treatments taken up without hospitalisation of up to 24 hours. These include cases like dialysis, radiotherapy, chemotherapy, etc.
Health check-ups: Some of the health insurance companies also cover the cost for preventive health check-ups.
Documents Required to Process Claims
In order to get the claims settled on time, certain specific documents are required.
Duly filled in claim form
Medical certificate from doctor
Discharge summary
Prescriptions
Investigation report
Pharmacy bills
FIR (in case of accidents)
Note: This is not an exhaustive list.
Claim Process
A health insurance policy helps manage any unforeseen medical expenses. Thus, in case of any eventuality, you need to properly file claims in order to get the benefit. There are two types of claims: cashless and reimbursement claims.
Cashless claims: To avail this kind of claim, you need to use one of the network hospitals, which is a hospital empanelled with the insurance company. Here, the policyholder does not have to pay the hospitalisation expenses as it is borne by the insurance company.
Let us understand the cashless claim process.
In case of planned treatment, inform the insurance company in advance. This can be done through email or the toll-free number
On hospitalisation, provide the health card given by the insurance company to the Third Party Administrator (TPA) desk of the hospital along with an approval from the treating doctor
Also submit the required documents
Once the insurance company approves the case, it pays the medical expenses directly to the hospital
Reimbursement claims: Here, the policyholder makes the payment for the treatment and hospitalisation. However, he/she gets back the money later as per the sum insured amount after submitting the required documents.
Let us understand the reimbursement claim process.
After paying the medical expenses on your own, submit the bills and other required documents to the insurance company
After an evaluation, if the insurance company finds the claim fit, it will make the payment to the insurer
Time Taken to Settle Claims
After receiving a claim request, a health insurance company usually takes 30 days from the day of receipt of documents to settle the claim. However, if there is any kind of investigation needed to process the claim, it usually takes 45 days to settle the claim from the time of receipt of documents.
Exclusions
Health insurance provides coverage for various kinds of medical expenses, treatments and illnesses to help you to manage your finances better. However, certain situations and cases are not covered by health insurance plans, though the list varies for different providers. Always understand these exclusions well before finalising a plan so that you do not face problems later. Let us look at some common exclusions.
Dental treatment, including surgery
Treatment for AIDS and other sexually transmitted diseases
Non-allopathic treatment
Certain pre-existing diseases and critical illnesses
Maternity or newborn coverage (You need a rider to get this coverage)
Note: This is not an exhaustive list.
Companies Offering Health Insurance Policy in India
There are 27 insurance companies providing health insurance policies in India. Out of these, 6 are standalone health insurance providers. While selecting a company, check its latest Incurred Claim Ratio (ICR), which is the total claims paid by an insurance company compared to net premiums earned in a financial year. The names of the companies are:
Aditya Birla Health Insurance
IFFCO Tokio General Insurance
Royal Sundaram General Insurance
Religare Health Insurance
Kotak Mahindra General Insurance
SBI General Insurance
Bajaj Allianz General Insurance
Liberty General Insurance
Shriram General Insurance
Bharti AXA General Insurance
Magma HDI General Insurance
Star Health Insurance
Cholamandalam MS General Insurance
Max Bupa Health Insurance
TATA AIG General Insurance
Cigna TTK Health Insurance
National Insurance
New India Assurance
Future Generali India Insurance
Raheja QBE General Insurance
Oriental Insurance
HDFC ERGO General Insurance
Reliance Health Insurance
United India Insurance
ICICI Lombard General Insurance
Universal Sompo General Insurance
Important Aspects
Before finalising a particular health insurance company and a plan, it is important to keep certain points in mind so that we understand the policy well. Let us look at some aspects.
Claim Settlement Ratio (CSR): This is the percentage of claims settled compared to the percentage of claims received. Always go for a company with a high claim settlement record. This way you will be sure of the fact that your claims will be settled smoothly on time.
Limits: Understand the limits and caps on certain areas like that on room rent so that you know how much expenses you have to bear.
Coverage: Be clear of the coverage being offered in the plan so that you know whether your needs and requirements are being fulfilled or not. For instance, some plans do not cover non-allopathic treatment.
Waiting period: For certain pre-existing diseases, some insurance companies have a waiting period of few years before they get covered by the plan. Know these diseases before purchasing the plan.
Network hospitals: Opt for the insurance company that has a good number of network hospitals so that you can get cashless claim facility whenever needed and you don't have to pay from your own pocket.
Advantages of Buying Health Insurance Policy
Health insurance forms an important part of one's financial portfolio. Let us look at some of the benefits of the insurance:
A health insurance plan helps manage the unexpected treatment or hospitalisation costs that have the potential of derailing your budget and creating financial burden
The plan helps in managing the rising medical costs
It offers peace of mind when the financial burden is taken care of by the insurance company during such pressing times
Treatment at network hospitals provide cashless facility
It helps in saving tax.

Premiums paid for health insurance are tax exempt up to the limit of Rs 1 lakh under Section 80D of the Income Tax Act, 1961
For individuals below 60 years of age, the premium amount on which you can save tax is Rs. 25,000. This holds true even if you pay the premium for spouse and dependent children
For individuals above 60 years of age, the limit is Rs. 50,000
Tax exemption limit is up to Rs. 50,000 for parents over 60 years old
In case the age of the taxpayer and that of parents is 60 years or above, the exemption limit is Rs. 1 lakh
Terms Related to Health Insurance
Let us look at some terms you should understand to know health insurance better.
Deductible: It is the amount paid by the insurer for certain items after which the health insurance coverage starts.
Co-payment: When the claim amount is shared between the policyholder and the health insurance company, a certain part of the claim amount is paid by the policyholder.
Sum insured: This is the maximum amount that the health insurance company is liable to pay to the policyholder in case of any eventuality.
Pre-existing diseases: These are the diseases that a policyholder suffers from before getting the health insurance coverage.
Waiting period: On buying a health insurance policy, coverage for certain diseases starts after few years. This duration is called waiting period.
Cumulative bonus: It is the bonus, also called no claim bonus, that you get to enjoy when you don't make any claims in the previous policy year.