The fact that 70% of the population in India lives in rural areas and contribute to the development of the country in a big way makes it important for them to avail schemes meant for their welfare. It wouldn't be wrong to say that farmers and their agriculture business play an important part in the growth of our country. Thus, it makes sense for this section to get coverage as per their needs in the form of rural insurance plans.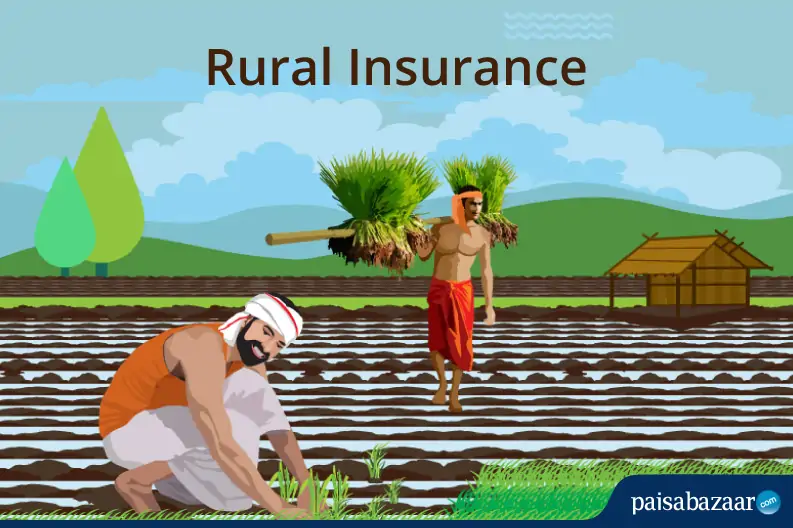 What Is Rural Insurance?
Rural insurance ensures that families living in rural areas have a safe and secure future so that they can lead a happy life. The insurance helps them to cover risks related to various aspects of their life. Rural Insurance policies come with the affordable premium rates and faster claim process.
Types Of Rural Insurance
Rural insurance includes a wide range of plans to cover various sections. Some of them are:
| | |
| --- | --- |
| Plans | Definition |
| Motor Insurance | Comprehensive coverage for agricultural vehicles like tractors, cars, scooters, trailers and motorcycles |
| Property Insurance | Covers home, shops, retail outlets, schools and agricultural equipment |
| Accident Insurance | Covers accidental death, partial or total disability of the insured |
| Livestock Insurance | Insurance coverage for cattle against death or disability |
| Health Insurance | Personal accident insurance and Mediclaim for the insured |
| Poultry Insurance | Covers broilers and parent stock of chicken |
What Rural Insurance Covers?
Rural insurance is associated with the lifestyle risks of people residing in villages. This insurance policy includes:
Hut insurance
Poultry insurance
Cycle rickshaw policy
Sericulture insurance
Honey bee insurance
Failed- well insurance
Sheep and goat insurance
Lift irrigation insurance
Farmers' package insurance
Agricultural pump-set policy
Animal-driven cart insurance
Gramin personal accident insurance
Aqua-culture (prawn/ shrimp) insurance
Horticulture/ plantation insurance scheme
Animals included in rural insurance are elephants, rabbits, pigs, birds, zoo and circus animals.
How Rural Insurance Functions?
In order to get the best deal, it is important to understand rural insurance well and also, know how it functions:
Analyse your requirement and the loss associated with your assets so that you know which type of insurance to opt for
The analysis will also help in deciding the premium amount
Check and compare various insurance companies and plans to pick up the best one for you
The insurer checks whether the applicant resides in the rural area
The premium is mutually agreed between the insurer and the insured after going through the property/ livestock details
When a risk occurs, the insured immediately informs the bank/insurer company about the mishap
Evidence of the event, duly filled claim form and FIR Report (if needed) are submitted by the insured
The claim is verified by bank officials. If authentic, the claim is settled, else it is rejected
Eligibility Criteria
According to the Insurance Regulatory and Development Authority of India (IRDA), rural sector which is eligible for this insurance has to fulfil the following categories:
Has a population less than 5,000 people
Density of population is not more than 400 per square kilometre
Minimum 75% of male population must be engaged in farming activities
Claim Process
In case of some eventuality, you can make claims by following a set procedure. It is important to be aware of the steps in order to avoid any rejection:
After the eventuality, inform the insurance company as soon as possible
Provide the duly filled in claim form along with the required documents
Submit the proofs and certificates
After an assessment, if the provider finds it fit, your claim will be accepted and you will receive your compensation, else it will be rejected
If you are not satisfied with the decision, you can approach the court of law
Some of the documents required to be submitted to the insurance company for making claims are:
Duly filled in claim form
Photocopy of insurance policy
FIR report in case of accidents/ vandalism
Death certificate (in case of death of the insured)
Evidence of equipment damage (in case of property insurance)
Ear tags (in case of cattle insurance)
Demand draft/cancelled cheque of the bank account where the claim amount has to be paid
Time Taken to Settle Claims
Rural insurance claim is processed and settled within 30 days of submitting the supporting documents. If further investigation is needed, the insurance company can take maximum of 3 months.
Exclusions
Though rural insurance has different sets of exclusions, which are:
Plans

Exclusions

Cattle Insurance
·         Death/ disability caused by neglect, overloading or treatment by unskilled people

·         Intentional slaughter without permission of government authorities

·         Theft/clandestine sale

Poultry Insurance
·         Death caused by overcrowding

·         Transit by any transport

·         Theft/clandestine sale

·         Intentional slaughter without the permission of government authority

Motor Insurance
·         Loss/damage from theft

·         Vehicle confiscated/destroyed by government body

Property Insurance
·         Cost of dismantling to and from transport to workshop

·         Faults existing at the time of commencement of the policy

·         Damage for which the supplier/ manufacturer is responsible
Moreover, the claim is not payable if the claim amount does not exceed 10% of the total insured sum per acre/ Rs 1000 per affected acre, whichever is lower.
Companies Offering Rural Insurance in India
Rural insurance is a specially designed insurance, keeping in mind various sections of rural India. Some of the companies providing rural insurance in India are:
TATA AIG
Aviva India
Cholamandalam
Oriental Insurance
IFFCO Tokio
Advantages of Buying Rural Insurance
It is important to spread awareness about various types of rural insurance so that people residing in rural areas get to benefit from schemes meant for them. Some of the benefits of purchasing rural  insurance are:
Easy to  understand plans
People have to pay low premium which can be affordable
The plan can compensate for monetary losses covered under the plan
The plan can help people in rural areas become independent