Paisabazaar.com in association with SafeGold has recently launched Digital Gold, a transparent and convenient way to save in 24K gold online. Digital Gold is dematerialized form of physical gold and is backed by actual gold, which is stored in an insured vault. Once you collect enough gold in your digital account, you can anytime either sell it at live gold rates or request for doorstep delivery in the form of 24 karat pure gold coins. People who want to save in gold can also invest regularly in Digital Gold through Gold Savings Plan. As per your wish, you can start, stop and reset your plan anytime you want. You can even sell your accumulated gold or get it delivered anytime without worrying about the lock-in period as it does not has any.
Due to these and many of its other attractive features, the product is fast gaining popularity among people. If you too have chosen for this instant and paperless gold saving option but don't know how to get it delivered, read on.
Also Check For:
Gold Rate Today : Hyderabad | Kerala | Mumbai | Delhi | Bangalore | Pune | Kolkata | Chennai
Silver Rate Today : Bangalore | Hyderabad | Delhi | Chennai | Mumbai | Ahmedabad | Jaipur
How to Get Your Accumulated Digital Gold Delivered at Paisabazaar.com?
To get your accumulated gold delivered in the form of gold coins, follow these steps:
Step 1: Visit Digital Gold web page at Paisabazaar.com and Sign In in your account.
Step 2: Click the Delivery tab.
Note: To request for gold delivery, you must have at least 1 gm of gold (or multiples of 1 gm thereafter) on the platform.
Step 3: Select a coin as per your preference.
Step 4: Check the product details and the availability of delivery service at your location pincode. Click Checkout.
Step 5: Add the delivery address. Click the Proceed button.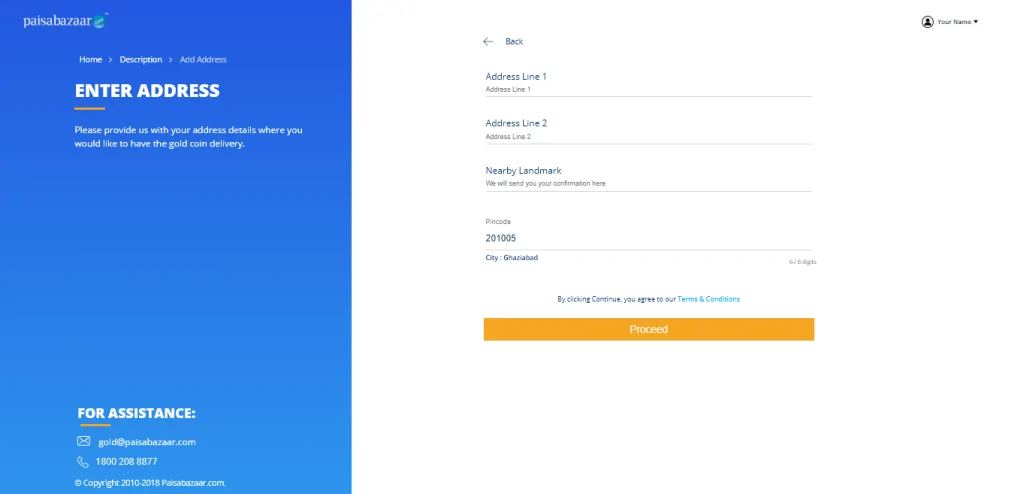 Step 6: Review the order summary. Select the mode of payment and proceed.
Step 7: Enter your card details and click Pay.
Step 8: Once your transaction gets successful, a congratulatory message along with product details will appear. You will receive your order at the given address in 7 to 10 days.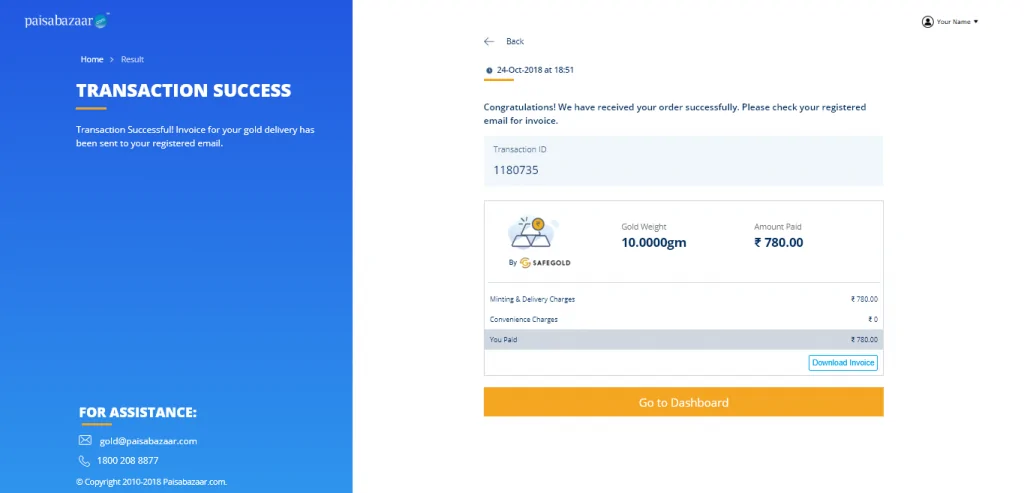 If you find yourself stuck at any point during the gold delivery process, call our customer representatives at 1800 208 8877 or send an email at gold@paisabazaar.com.