Systematic Investment Plan (SIP) VS Recurring Deposit (RD)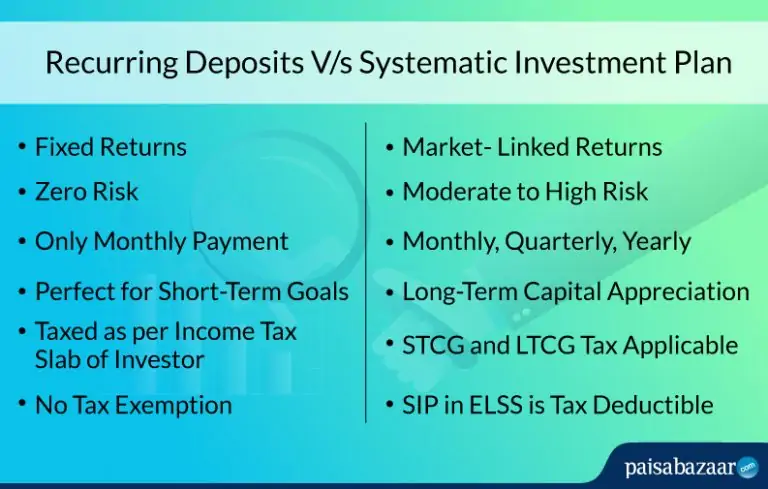 What is a Recurring Deposit (RD)?
A Recurring Deposit (RD) is a savings vehicle where one makes monthly instalments for a predefined tenure, to earn fixed returns. The interest rate offered on RD is the same as that on Fixed Deposits (FDs) for a particular bank. It is considered one of the most risk-free investor-friendly investment schemes available in the market.

Get Your Free Credit Report with Monthly Updates Check Now
The minimum duration for investment is 6 months, and maximum tenure is 10 years. Perfect for short-term investment goals, returns from RDs are assured, with no accompanied market risk.
What is a Systematic Investment Plan (SIP)?
Systematic Investment Plan (SIP) is a mode of investment in Mutual Funds, which involves a regular investment of small amounts of money at predefined intervals. The frequency of instalments is as per the investor's choice and ranges from a daily basis to annual.
Investors who seek high returns on investment and can tolerate high risk should opt for SIP to fulfil their financial goals.

Which is better Systematic Investment Plan Or Recurring Deposit
The returns from RD are fixed, depending on the interest rate specified by the bank. The interest rate offered is the same as that on Fixed Deposits (FDs). On the other hand, returns from SIP in Mutual funds are not fixed but linked to market fluctuations. If the underlying securities of the investment portfolio perform exceptionally well, the returns delivered are comparatively high.
Since the returns from SIP are market-linked, one is never certain about the returns from this investment. If the market sentiment is in line with the thought-process of the fund manager, the returns would be high, if not, the fund might report losses for that period.
This makes SIP in Mutual Funds a riskier investment option than RDs, as the returns from the latter are assured, as per the predetermined rate of interest.
An individual has to invest every month in a Recurring Deposit (RD), whereas the frequency of SIP instalment is as per the investor's wish. It can be daily, weekly, monthly, quarterly, semi-annually or annually. The flexibility to choose the investment frequency in SIP makes it a preferred choice over RD based on this parameter.

Checking Credit Report Monthly has no impact on Credit Score Check Now
Investment Horizon and Objective
The decision to invest in a Recurring Deposit or a Systematic Investment Plan depends on the investment objective and horizon of the investor. If the investment horizon is short, say, 1 year to 4 years, RD could be the preferred choice of investors.  Whereas, if you want to invest for a longer duration, say for more than 5 years, it is advisable to choose SIP in Mutual Funds as it becomes less risky in the long run and delivers higher returns. RDs are meant for fulfilling short-term savings goals, while SIP helps in long-term wealth creation.
The interest earned on RD is directly added to one's taxable income and taxed as per the income tax slab of the investor.
Taxation on SIP in Mutual Funds depends on the type of mutual fund scheme. Short Term Capital Gains Tax and Long Term Capital Gains Tax is levied as per the holding period of mutual fund units, which differs for equity and debt mutual funds. Equity Linked Savings Scheme (ELSS) is one such mutual fund scheme which is eligible for a tax deduction on investment up to ₹1.5 lakh under Section 80(C) of the IT Act. However, to avail the tax benefit, each SIP instalment needs to be locked in for 3 years.
Benefits of SIP 
Here is a list of benefits offered by SIP mode of investment in Mutual Funds:
Liquidity: Investors can redeem their mutual fund units as per their needs and wishes. Many mutual fund schemes do not levy any kind of charges if you redeem your investment. In the case of liquid funds, an individual doesn't have to incur any exit load. Compared to Recurring Deposits, it is more liquid as one has to pay penalty charges for premature withdrawal from RD.
Flexibility: SIP in Mutual Funds gives investors a flexible investment plan where they can cancel their subscription to a particular mutual fund as per their needs. One can also increase or decrease the amount of SIP investment at one's convenience. This flexibility isn't available while investing in RDs.
Benefits of Compounding: When investing in mutual funds through SIP, returns are magnified through compounding effect. Because of compounding, you not only earn interest on your principal amount but also on the interest accrued on that amount.
Suppose you invest  Rs.500 in a mutual fund at a 10% rate of return. After a year, interest earned would be Rs.50. From the next year, you'll earn interest on Rs. 550. Thus, in the long run, one can greatly benefit from the compounding effect.

Get Free Credit Report with Complete Analysis of Credit Score Check Now
Benefits of RD
Here is a list of benefits offered by Recurring Deposits:
Assured Returns: Returns from Recurring Deposits are fixed and guaranteed. Banks decide the rate of interest and change it as per the RBI Guidelines. However, the rate of interest on RD remains the same for the whole tenure of RD.
Short-Term Investment: If an individual is looking for financial instruments to fulfil their short term financial goals by investing monthly, then RD is the best investment option available. It is a risk-free investment avenue, wherein one can appreciate their investment substantially.
Hassle-free Investment: If you have a savings account in any scheduled commercial bank, it is quite easy to open an RD account via net banking facility. No further documentation is needed.