Best Mutual Fund Investments for Children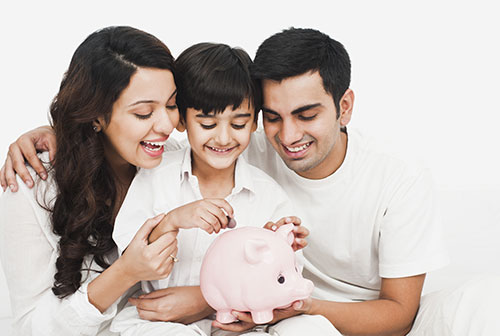 Mutual Funds are an excellent way of investing for a child's future. They can help pay for a child's education, marriage and even home purchase depending on the returns you get. In this article, we explain how to invest in mutual funds for a child/minor.
Can a Child invest in Mutual Funds?
A child (minor) can invest in mutual funds, but through a guardian. This can be a natural guardian like a parent or a legal guardian appointed by the court. Only the guardian can operate the mutual fund investment until the child attains the age of 18. After that age, the guardian cannot operate the account. Existing SIPs, STPs and SWPs will however continue until the child (who has now attained majority) halts them by submitting appropriate documents. In addition, the child must submit a change of status request from minor to major, upon attaining majority.
Income Tax on a child's mutual fund investment
Transfer of money from a parent to a child and vice versa is free of income tax. There is also no gift tax applicable. However, the income earned by a child from mutual fund investments is liable to be clubbed with the parent's income for the purposes of Income Tax. Hence investing in the name of the child is not a good way of saving income tax.  
Which mutual funds should you invest in, for a child?
There are a number of child plans/children gift plans offered by various mutual funds that have a lock-in of 5 years or until the child attains majority. These funds are little more than marketing ploys. An general high performing mutual fund can give you much better returns than a child plan. You can invest in the funds mentioned below if your time horizon is more than 5 years and you can bear a relatively high risk level. If these conditions are not fulfilled, invest in short duration mutual funds, mentioned at the end of this article.
1. HDFC Small Cap Fund
Category: Equity Small Cap
AUM: Rs 6,013 crore
Date of Inception: 3rd April 2008
Small cap funds work best over very long term horizons which are associated with investing for a child. HDFC Small Cap Fund has emerged as a consistent outperformer and that too by a vast margin. Its margin of outperformance against its benchmark is as much as 6% for 5 year returns, 10% for 3 year returns and a whopping 20% for 1 year returns. About 4,850 of the 5,000 companies listed on the NSE and BSE are small caps giving these funds immense scope to deliver high returns through smart stock-picking. The fund manager of HDFC Small Cap, Chirag Setalvad has done just that. Having assumed charge in 2014, he has completed almost 5 years with this hugely successful fund. He also does not hesitate to sit on cash when valuations get stretched. Investors in this fund will find themselves well taken care of, across market cycles.  
| | | | |
| --- | --- | --- | --- |
| Returns | 1 year | 3 years | 5 years |
| Fund | -10.83% | 16.57% | 20.47% |
| Benchmark (Nifty Smallcap 100 TRI) | -31.36% | 6.36% | 15.02% |
Source: Value Research, Data as on 11th Jan 2019, Returns for Direct Plan
2. Franklin India Smaller Companies
Category: Equity Small Cap
AUM: Rs 6,983 crore
Date of Inception: 13th Jan 2006
Franklin Templeton AMC is one of the strongest fund houses in India terms of research and process and Franklin India Smaller Companies, is one of its flagship funds. The fund was launched in January 2006, shortly before the bull market of 2003-2007 ended and the 2008 recession hit. However it has still delivered a 13.6% annualized return since inception. Over the last 10 years it has delivered a still higher 24.13% return. The fund has been managed by R Janakiraman since Feb 2008, more than a decade's worth of experience placing investors in safe hands. With 76 stocks and a highly diversified approach, it is also well placed to survive market panics and down-cycles.
| | | | |
| --- | --- | --- | --- |
| Returns | 1 year | 3 years | 5 years |
| Fund | -18.57% | 10.03% | 22.38% |
| Benchmark (Nifty Small Cap 250 TRI) | -29.22% | 6.38% | 17.66% |
Source: Value Research, Data as on 11th Jan 2019, Returns for Direct Plan
3. L&T Midcap Fund
Category: Equity Mid Cap
AUM: Rs 3,685 crore
Date of Inception: 9th August 2004
Midcap Funds can invest in companies ranging from the 101st largest to the 250th largest listed company in India. Such companies account for 15-20% of India's total market capitalisation. Many of them are typically dynamic, emerging challengers within their sectors and are likely to become tomorrow's blue chip companies. Funds which can identify these winners can create a great deal of wealth for investors. L&T Midcap Fund is one such mutual fund. The fund has 10 year returns of 23.19% and 5 year returns of 24.25%. The fund manager, Soumendra Nath Lahiri does not rely on a few concentrated bets to achieve this return and has instead built a diversified portfolio of around 77 stocks. He has completed more than 5 years at the fund, building up solid experience across bull and bear markets. Investors in this fund have a good chance of seeing their wealth multiply manifold.
| | | | |
| --- | --- | --- | --- |
| Returns | 1 year | 3 years | 5 years |
| Fund | -14.93% | 13.37% | 24.25% |
| Benchmark (Nifty Small Cap 250 TRI) | -17.54% | 11.24% | 19.10% |
Source: Value Research, Data as on 11th Jan 2019, Returns for Direct Plan
Mutual Fund for Children's Education
If you are paying for your child's education, you may need a fund that allows you withdraw and pay fees every year or every semester. If these expenditures are less than 5 years away, short term funds would work better than equity fund. These funds invest in relatively safer debt securities which have a short maturity period (1-3 years). We have shortlisted the following short-term fund for a child's education. If you have more than 5 years for these fees/charges to become payable, invest in the equity funds mentioned above.
Best Short Duration Funds
| | |
| --- | --- |
| Fund | 5 Year Return |
| Aditya Birla Sun Life Short Term Opportunities Fund | 8.58% |
| Franklin India Short Term Income Plan | 9.27% |
| HDFC Short Term Debt Fund | 8.38% |
| UTI Short Term Income Fund | 8.22% |
Source: Value Research, Data as on 11th Jan 2019
How to use short duration funds for children's education
You can either make lump sum withdrawals from these debt mutual funds or you can set up a Systematic Withdrawal Plan (SWP). In either case redemption within 3 years is taxed under Short Term Capital Gains Tax at your slab rate. Redemption after 3 years of investing is taxed at 20% and the benefit of indexation is given. Indexation reduces your tax liability to account for inflation.