Updated: 28-10-2020 07:29:17 AM
Every mutual fund is available in two plans – Regular and Direct. When you invest in a mutual fund scheme without the involvement of a broker/distributor/agent, you invest in the direct plan. On the other hand, when you invest in a mutual fund scheme through an agent, broker or distributor, you generally invest in the regular plan of a mutual fund scheme.

Get Your Free Credit Report with Monthly Updates Check Now
Ways of Investing in the Direct Plan of Mutual Funds

You can invest in the direct plan of mutual funds through any one of the following modes –
Asset Management Company (Fund House)
You can invest in a mutual fund directly through the Fund House. However, you will be required to visit the AMC for the first time in order to get your KYC done. The next investments might not require you to make a visit provided that the AMC offers an online option for investment in various schemes. Additionally, while investing in mutual funds through AMCs, you will have to open multiple accounts with different AMCs of the funds you wish to invest in.
Registered Investment Advisors
Investment through registered investment advisors requires you to get in touch with professional individuals who are financial agents facilitating mutual fund investments. These advisers help you fill the application form and submit it with the AMC and take management fees from you in exchange for their assistance and guidance. However, before taking assistance from any such agent, you must ensure that he is well known and has a good professional experience in the area.
CAMS/Karvy
Computer Age Management Services is an Indian mutual fund transfer agency that has three shareholders, namely NSE, HDFC Bank Group and Acsys. CAMS is known to be a leading RTA intermediary providing backend services to mutual fund companies. CAMS has facilitated a web portal and a mobile application wherein the investors can independently  process transactions without the help of any customer service center or agent.
Karvy is known to be the largest registrar and transfer agent, managing over 70 billion investor accounts. Offering multiple services such as stock broking, RTA, wealth management, depository participant, etc., Karvy is a member of the National Stock Exchange, Bombay Stock Exchange, and Hyderabad Stock Exchange. It has developed an online single-window portal to assist with the financial needs of its customers.


A Good Credit Score shows that you manage Your Finances Well Check Score
Mutual Fund Agents/Distributors
Mutual fund intermediaries or distributors are organizations that include most banks, distribution companies, stock brokers, multiple individuals and small financial advisory companies. All these distributors must be registered with Association of Mutual Funds in India (AMFI). The intermediaries bring the mutual fund application form to the investors, and submit it to the fund house after filling it with the required documents. However, these distributors charge a flat fee for their services.
Invest in Direct Mutual Funds through Registrar and Transfer Agents (RTA)
RTAs are institutions that register and maintain detailed records of investor's transactions on behalf of mutual fund houses. All the mutual fund transactions such as buying/selling of funds, switching/redeeming of funds or updating any personal information by the investors are all recorded by the RTAs. Since it is not possible for hund houses to keep a track of all this, they outsource such backend transactions to RTAs. RTA is basically a single window  system or investors who are also liable to provide required information to the investors on behalf of the fund houses.
Buy Direct Mutual Funds through Mutual Fund Utilities
Mutual Fund Utility is an initiative taken by various mutual fund houses in order to empower the investors and provide them with a platform wherein they can easily invest their money in various schemes of the participating AMCs and keep a track on their holdings and transactions at one place.
Invest in Direct Plans of Mutual Funds through Investment/Robo Advisors
Robo Advisers are digital platforms that provide automated, algorithm-based financial planning services. A robo investor is meant to collect the information from its clients, understand their financial conditions, objectives, etc. through an online survey and then offer a suitable investment portfolio. However, going by the data, robo advisory firms in India are actually unable to solve the real-time problems of Indian investors. There is still a long way for these advisors to go in order to be able to actively perform in the Indian market.
How to Select the Best Direct Mutual Funds Platform
The choice of mutual fund investment varies from individual to individual, depending upon his/her current financial situation, financial objectives, investment horizon, risk appetite, etc. Investing through the direct plan of mutual funds is however, always a better idea as it involves lesser expenses and a comparatively simple investment process.
While selecting the best direct mutual fund platform, you must first take an idea of the mutual fund knowledge that you have. If you are amateur in the area of investments, it is advised that you take the help of a financial advisor; on the other hand, if you have a basic understanding of the market, investing directly via fund houses or online platforms such as Paisabazaar is always the best choice to make.


Get Free Credit Report with Complete Analysis of Credit Score Check Now
Read More About:
Regular Vs Direct Plans of Mutual Funds
How To Invest in the Direct Plan of Mutual Funds?
You can invest in the direct plan of a mutual fund scheme via Paisabazaar following the below-mentioned steps:
Step 1: Visit Paisabazaar.com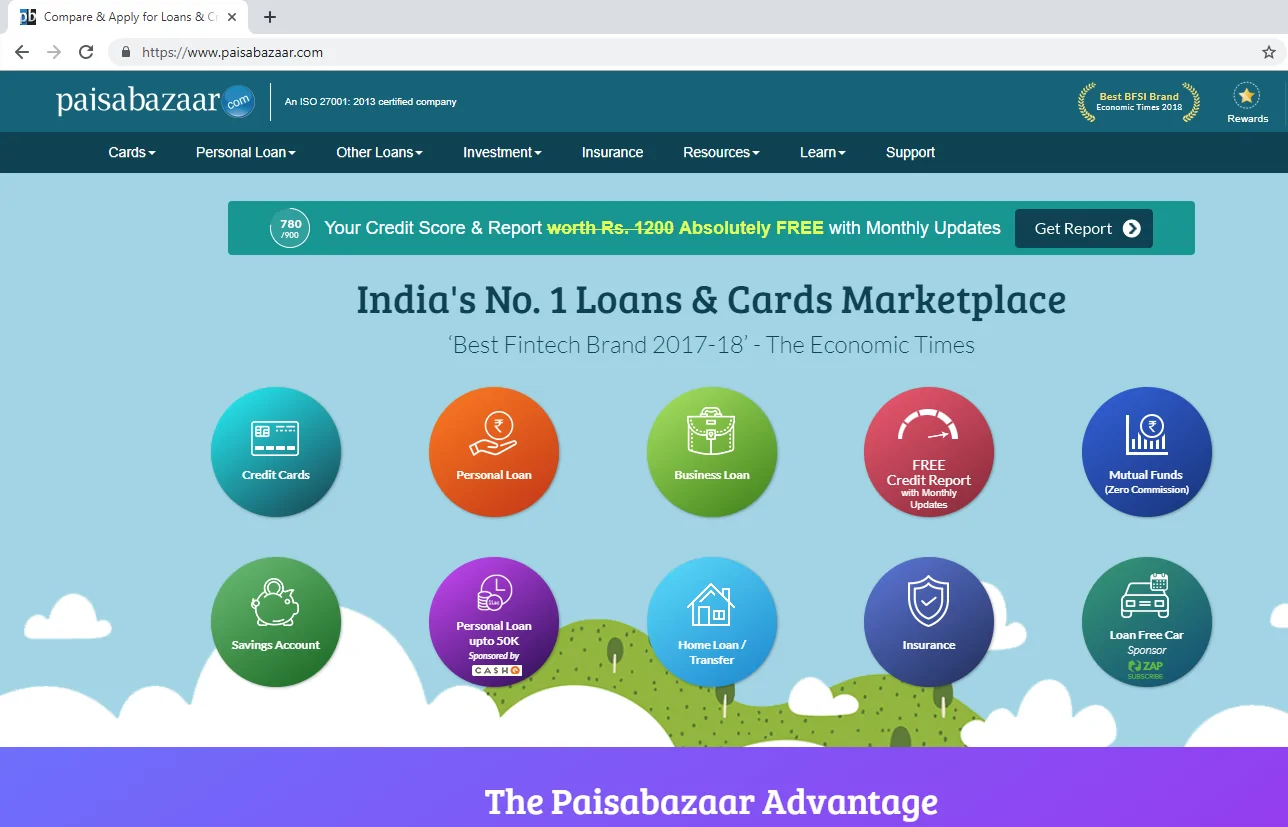 Step 2: Click on the 'INVESTMENT' tab and select 'MUTUAL FUND' from the drop-down list.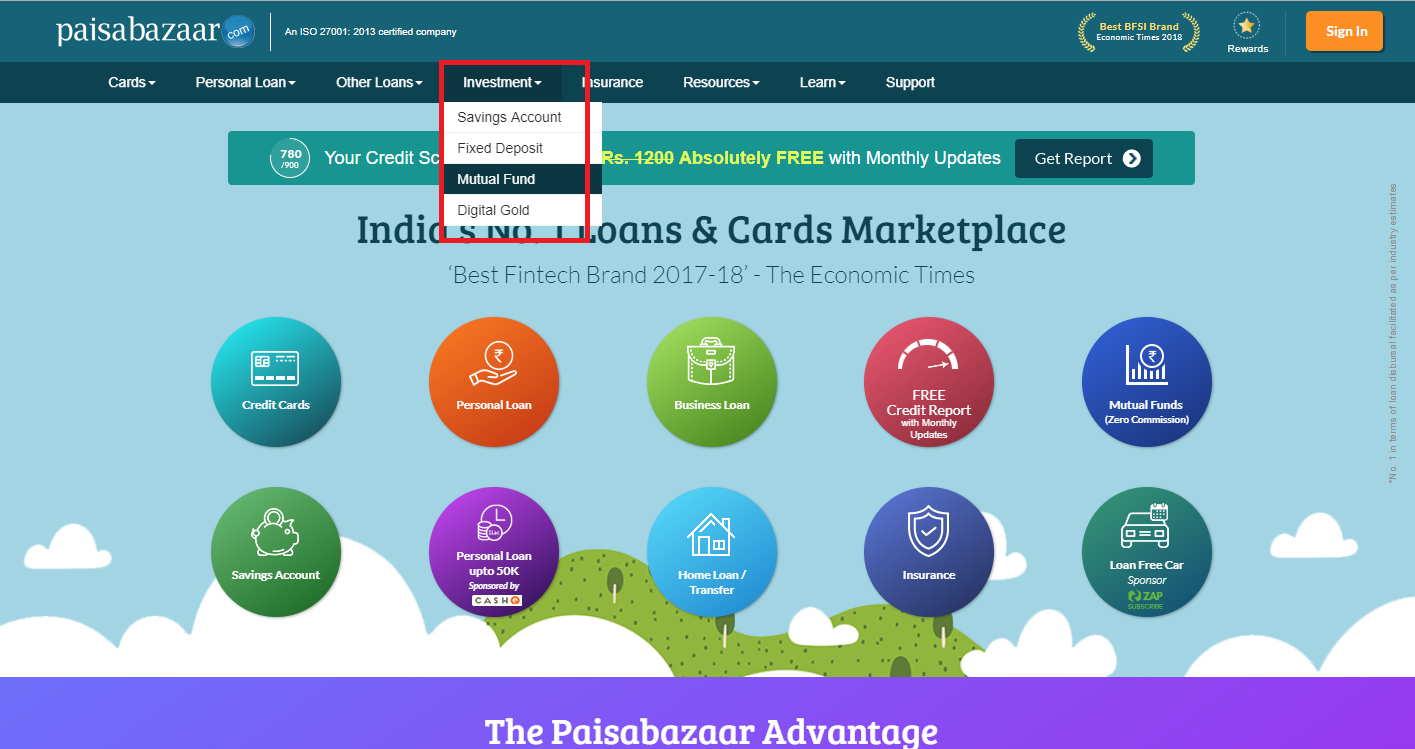 Step 3: Enter your Name and Mobile Number in the form. Click 'PROCEED'.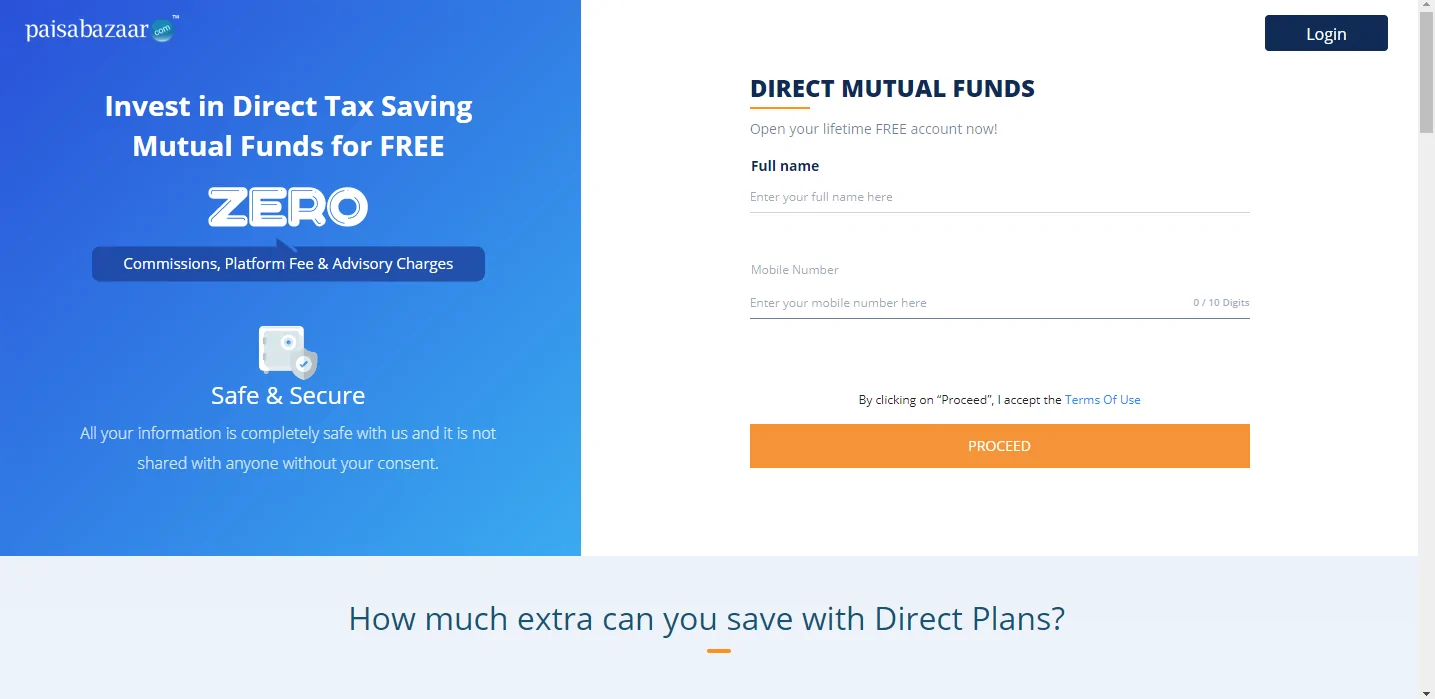 Step 4: You will be directed to the mutual funds dashboard where you can filter the schemes according to the category, investment duration, AMC (fund house) or performance rating. The dashboard also allows you to sort the schemes by 1 year, 3 year and 5 year returns.
Step 5: Click on the scheme in which you would like to invest and you will get all the details related to the fund such as its AUM (Assets Under Management), NAV (Net Asset Value), benchmark, risk level, etc.
Step 6: After selecting the scheme which best suits your investment horizon and risk appetite, enter the amount which you would like to invest in the scheme and click on 'ADD TO CART' to proceed. You can similarly add all the other schemes in which you want to invest to the cart.

Step 7: After adding the schemes of your choice to the card, click on 'PROCEED'.
Step 8: Now enter your PAN details and Date of Birth and click on 'SUBMIT'.

Step 9: Upload the required documents to complete the KYC (Know Your Customer) formalities and click 'SUBMIT'. Now record a short video of yourself holding your PAN card to complete the KYC formalities.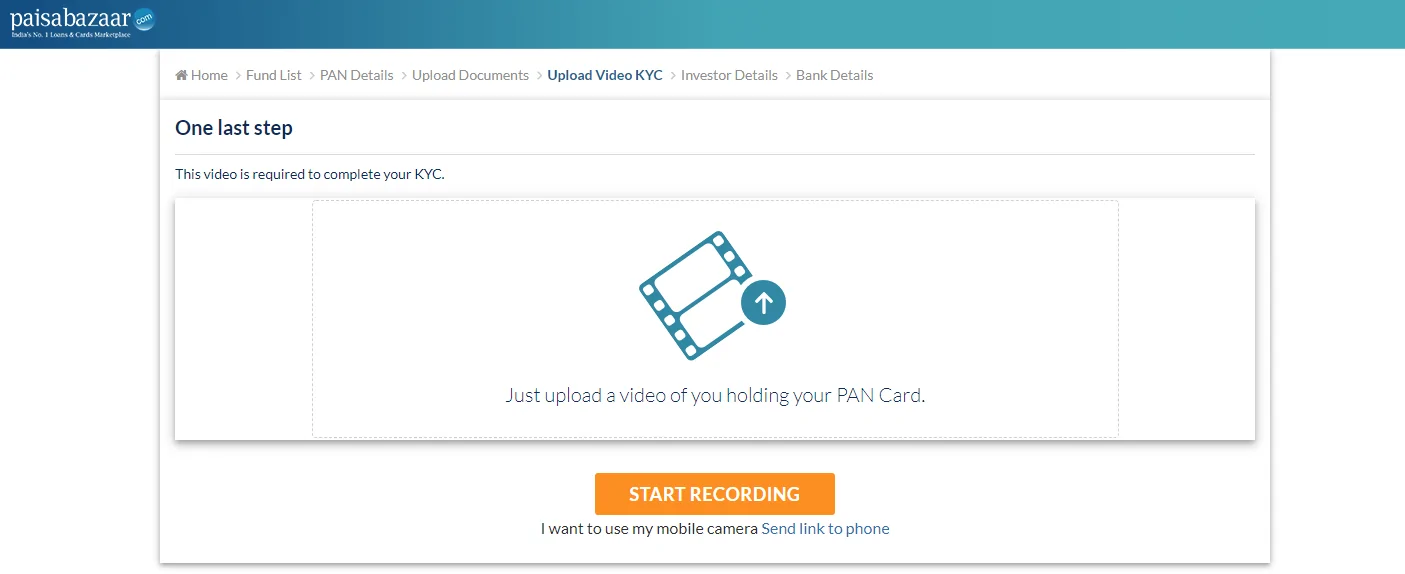 Step 10: Fill in your personal details and click 'SUBMIT'.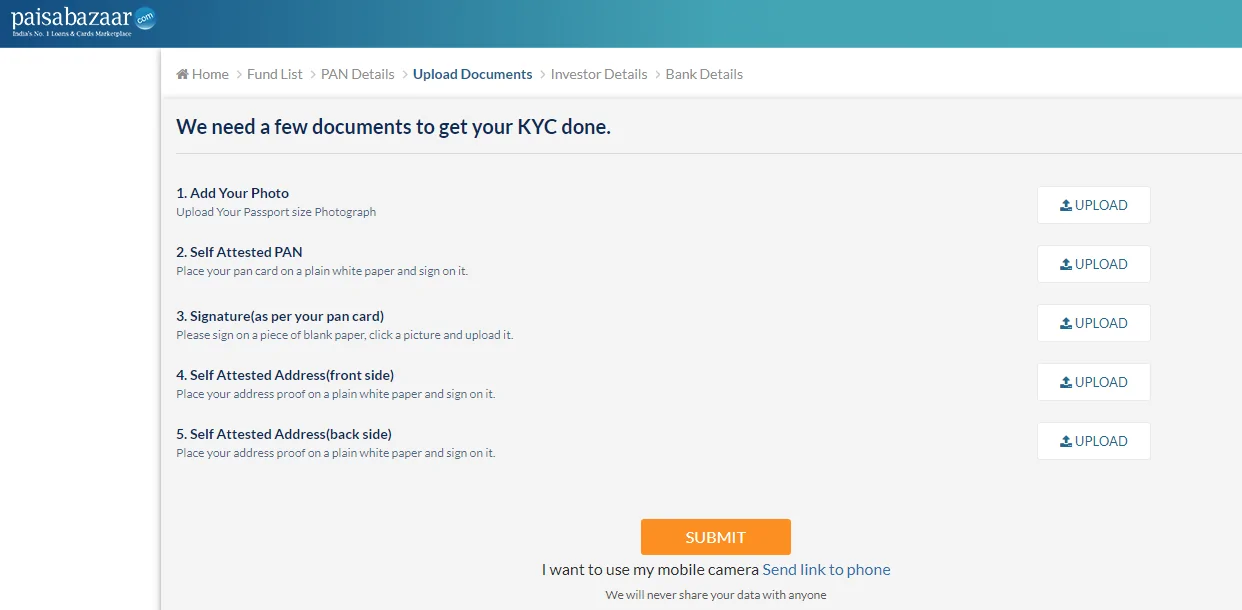 Step 11: Enter your bank details and that's all. You have invested in the mutual fund scheme of your choice. You will receive the mutual fund units in your portfolio in a maximum of T+ 2 working days.

Checking Credit Report monthly has no impact on Credit Score Check Now
How to Buy Direct Mutual Fund Online
Investing in mutual funds online is a very simple and easy task and also saves you from adding on to your expense of commissions or brokerage. All you need to do is visit an online investment platform such as Paisabazaar.com wherein you can choose from and compare more than 1,700 funds- all in one place, instead of following the long procedure of visiting the website of each AMC and then choosing from them. Here, you can select the fund in which you want to invest, look at the details and compare similar schemes as well as use SIP Calculator or Lumpsum Calculator to estimate the future value of your investment. Here are the prerequisites for the same-
Aadhaar-based eKYC
Completion of registration through an authorized channel
Once online registration is done, investors will receive a pre-filled bank mandate on their registered email ID and a final email from NSE for confirming FATCA details
Is It Possible To Switch From Regular Plan To Direct Plan?
Yes, it is possible to switch from the regular plan of a mutual fund scheme to the direct plan. However, switching from regular to direct plan is generally considered as a redemption. Hence, it is important to take the implication of exit load and taxation into consideration before making the switch. Here's what you should know about these expenses-
Exit Load: Exit load is applicable to the units of various schemes belonging to various mutual fund categories such as equity, debt, and hybrid for varying time periods. As a result, you need to consider the implication of exit load at the time of switching, as it decreases the value of the redemption, which in turn reduces the amount invested into the direct scheme.
Taxation: Switching from the regular plan to the direct plan of a mutual fund scheme is considered as redemption, and thus, it attracts the application of capital gains tax. You can read about the tax treatment of mutual funds here.
If you still want to go through the process of switching your funds from a regular plan to a direct plan of mutual funds, you can study it here in detail.
Suggested Read: How to Redeem Mutual Fund Units
Documents Required for Investing in Direct Plans
You need the self-attested copies of the following documents along with the KYC form for investing in the direct plan of mutual funds:
An identity proof (Aadhaar card, Passport, Voter ID, or Driving Licence)
PAN card
An address proof
A passport-size photograph
Direct Mutual Fund Schemes You can Invest in 2020
Data as on 7 April 2020; Source: Value Research
FAQs
Ques. I have some investments made through some distributors in my folio. Can I convert those investments under direct plan?
Ans. If you wish to convert your investments from a regular plan to a direct plan, you will have to redeem your funds from the regular plan. This will make you liable to pay certain expenses such as the Exit Load and Taxation on redemption.
Ques. Can I buy direct mutual funds through a demat account?
Ans. In order to buy direct mutual funds, you do not need a Demat account. You must only have a bank account in order to start investing in mutual funds.
Ques. Where can I invest in direct mutual funds? 
Ans. You can invest in mutual funds using various online platforms such as Paisabazaar.com.
Ques. I have made investments partially through the distributor and partially without a distributor. Can I convert my entire investments to a direct plan?
Ans. The part of your investment that was made through a distributor will have to be redeemed and then again invested through a direct plan. You must note that during this process of redemption, you will have to incur certain expenses.