FNCR deposit is a type of fixed deposit that is designed to provide the Non-Resident Indians with an option to park their foreign earnings in the banks in India. For this, they do not need to get their savings converted into Indian Rupee. They can directly deposit it in foreign currency.
Suggested Read:
Compare fd interest rates of all Banks/NBFCs
What is FCNR Fixed Deposit?
FCNR is an acronym for Foreign Currency Non-Resident and this fixed deposit is for NRIs (also PIOs* in some banks). These are not to be treated as saving accounts. The amount is kept in these deposits for a fixed tenure (usually 1 – 5 years).
*PIOs – Persons of Indian Origin

Eligibility Criteria – Who can open FCNR FD?
FCNR FD is available for:
NRIs – Non-Resident Indians
PIOs – Persons of Indian Origin, also called Overseas Indians
These are people who are Indians by birth or descendants of Indian origin (Certain exceptions may apply to those residing in Pakistan and Bangladesh).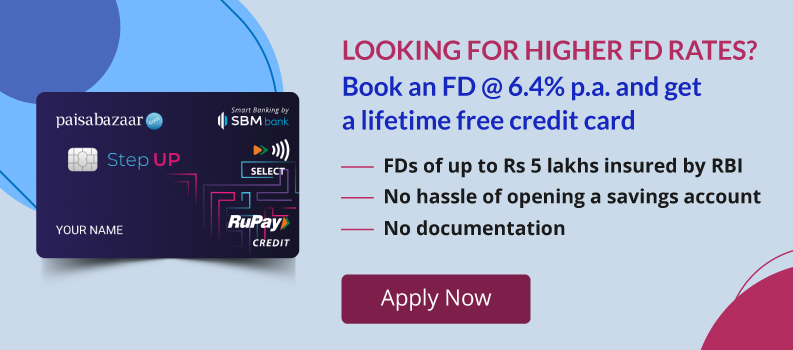 Tax Implications of FCNR Fixed Deposits
As per the rules stated in the Income Tax Act, the following are note-worthy points related to the taxation of FCNR fixed deposits:
An investment made in an FCNR FD is not taxable in India
Interest earned on such deposits is also not taxed in India
Which foreign currencies are permitted for FCNR deposits?
As per the rules laid down by the Reserve Bank of India, customers can deposit their foreign savings in any of the following currencies:
US Dollars – $
Canadian Dollars – C$
Great Britain Pound (GBP) or Pound Sterling – £
Japanese Yen – ¥
Euro – €
Australian Dollars – A$
Note: This list is subject to changes from the RBI. It may include the likes of Swiss Franc, Danish Krone and Swedish Krona among others. Customers are advised to contact the respective bank about the same.
FCNR FD – Repatriation of funds
Repatriation or transfer of funds from one country to another is permitted in FCNR fixed deposits. As per the rules laid down by the Reserve Bank of India,
The principal amount, i.e. initial deposit amount, is freely repatriable
Interest earned on such deposits is freely repatriable
What is the maximum tenure for FCNR Deposit?
As per the current regulations of RBI, banks are allowed to accept FCNR fixed deposits for the maximum tenure of 5 years. However, unlike regular domestic time deposits, FCNR deposits are to be kept for a minimum of 1 year.
To put it simply, the tenure for FCNR fixed deposits is 1 year to 5 years.
Premature Withdrawal of FCNR Fixed Deposits
Banks or service providers may have different rules and regulations regarding premature or early withdrawal.
For instance, the FCNR deposits offered by YES Bank will not provide any FCNR deposit rate of interest if the deposit is withdrawn before the completion of 12 months.
Similarly, Axis Bank may ask or charge a penalty if the withdrawal is done before the stipulated term of a minimum of 1 year.
In addition to this, premature withdrawal is not permitted if the depositor has already availed the loan against the deposit. In simple terms, it is important to reconfirm the terms applicable to a premature or early withdrawal of these deposits before or while investing in it.
FCNR FD Rates of Top Banks across tenure
Interest Rate on the following deposit, value and term for today:
| PERIOD/CURRENCY | USD | GBP | EURO | CAD | AUD | JPY |
| --- | --- | --- | --- | --- | --- | --- |
| 1 year | 0.72 | 0.60 | 0.01 | 0.62 | 0.15 | 0.02 |
| Above 1 year to less than  2 years | 0.72 | 0.60 | 0.01 | 0.62 | 0.15 | 0.02 |
| 2 years to less than 3 years | 0.76 | 0.75 | 0.01 | 0.68 | 0.22 | 0.05 |
| 3 years to less than 4 years | 0.94 | 0.88 | 0.01 | 0.92 | 0.37 | 0.05 |
| 4 years to less than 5 years | 1.15 | 1.00 | 0.10 | 1.18 | 0.65 | 0.05 |
| 5 years | 1.37 | 1.11 | 0.15 | 1.40 | 0.92 | 0.05 |
Interest rates effective from 10th March 2021
| Period | GBP | USD | Euro | JPY | AUD | CAD |
| --- | --- | --- | --- | --- | --- | --- |
| 1Yr to < 2 Yrs | 0.01% | 0.01% | 0.01% | 0.01% | 0.01% | 0.01% |
| 2Yr to < 3 Yrs | 0.01% | 0.01% | 0.01% | 0.01% | 0.01% | 0.01% |
| 3 Yrs to < 4 Yrs | 0.01% | 0.01% | 0.01% | 0.01% | 0.01% | 0.01% |
| 4 Yrs to < 5 Yrs | 0.01% | 0.01% | 0.01% | 0.01% | 0.01% | 0.05% |
| 5 Yrs only | 0.01% | 0.20% | 0.01% | 0.01% | 0.20% | 0.50% |
Interest rates effective from 1st April 2021
| Period/Currency | USD | GBP | JPY | CAD | AUD | SGD | HKD |
| --- | --- | --- | --- | --- | --- | --- | --- |
| >= 12 months < 24 months | 0.23 | 0.01 | 0.01 | 0.22 | 0.01 | 0.25 | 0.10 |
| >= 24 months < 36 months | 0.30 | 0.14 | 0.01 | 0.23 | 0.04 | 0.37 | 0.18 |
| >= 36 months < 48 months | 0.52 | NA | NA | NA | NA | NA | NA |
| >= 48 months < 60 months | 0.78 | NA | NA | NA | NA | NA | NA |
| 60 months | 1.03 | NA | NA | NA | NA | NA | NA |
Interest rates effective from 1st April 2021
Tenure

USD
GBP
EURO
AUD
CAD
JPY
Below 5 million
5
million
& above
1 year but less than 2 years
0.50
0.50
0.30
0.01
0.40
0.55
0.01
2 years and above but less than 3 years
0.30
0.30
0.30
0.01
0.40
0.55
0.01
3 years and above but less than 4 years
0.55
0.55
0.30
0.01
0.40
0.55
0.01
4 years and above but less than 5 years
0.80
0.80
0.30
0.01
0.50
0.55
0.01
For 5 years only
1.05
1.05
0.30
0.01
0.60
0.55
0.01
(Interest rates, all in %, are effective from 20th April 2021)