For an individual art collector, a museum and an art exhibition, it is important to get insurance to compensate the damage or loss. Burglary, physical losses due to fire, scratches are some of the most common risks to the artworks. This is when an art insurance provides a comprehensive coverage to the art collection.
What is Art Insurance?
An art Insurance policy provides comprehensive protection to valuables like paintings, sculptures and other collectibles from uncertainties, physical damage due to theft, accident, etc. It provides compensation to the policyholder in case of physical loss or damage to these valuable art items.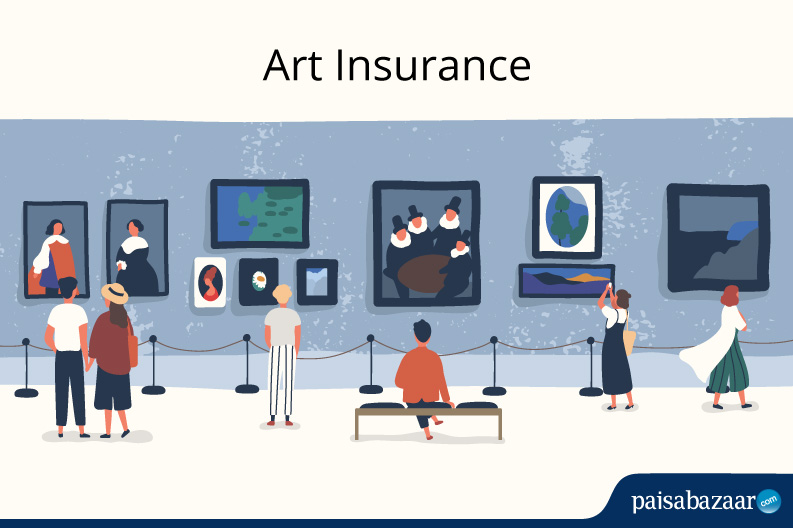 What Art Insurance Covers?
Drawings, paintings, prints, sculptures, stamps, coins, watches, and books are some of the assets or forms of art that can be insured under art insurance policy in India. This policy provides coverage:
Against unforeseen and physical loss or damage
For all insured property during transit
Eligibility Criteria
Anyone who owns antique furniture, fine art, musical instruments, statues and sculptures can take this insurance cover to protect the important collectibles against unforeseen damage and loss.
Claim Process for Art Insurance
Every insurance company follows a certain procedure to settle claims arising out of the loss or damage to any artwork. Below are the steps for processing the claims:
In the event of any damage or loss to the article, immediately notify the insurance company either through writing or by calling up on their customer care number
The insurance company appoints a surveyor to inspect the case. The insured must cooperate with the surveyor and submit all relevant documents
Some private insurance companies in India boast to acknowledge the loss reported on the same day when the incident is reported by the insured to the insurance company
Based on the mutually agreed resolution in line with the policy, the insurance company provides compensation in terms of monetary losses, repairs, or any other similar processes to restore the artwork
Documents Required for Claim Process
Following documents needs to be submitted to file claims under Art Insurance:
Claim Form
Policy copy
Evaluation of artwork
FIR (in case of theft)
Exclusions under Art Insurance
Insurance company is not liable to pay if the claim arises because of the following events:
Damage during repairing, restoring, retouching and any similar processes
Loss or damage due to natural wear and tear, rust or oxidation
Consequential loss
Loss or damage resulting from nuclear reaction, radiation or radioactive contamination
Loss from unattended vehicles
Mysterious disappearance or unexplained loss
Humidity, exposure to light or extremes of temperature
Companies offering Art Insurance in India
Listed below are the insurance companies which provide art insurance in India:
HDFC Ergo
Future Generali
TATA AIG
IFFCO Tokio
Advantages of Art Insurance
The coverage under Art Insurance includes any unexpected and physical damage or loss to the insured asset
Some insurance companies in India also cover transportation of the art piece from one place to another in India
Provides wall-to-wall coverage for paintings, designs, and other forms of artwork that can be displayed on a wall
Certain policies also include the storage of the artwork within the specified geographical or territorial limits for business or professional reasons
Damage or losses due to natural calamities like flood, earthquake, cyclone, and other extreme weather conditions are also covered
FAQs
Q1. Who should take this policy?
Museums, antique dealers, art exhibitors, curators, individual collectors and art dealers are some of the beneficiaries of this insurance.
Q2. How to buy this policy?
The client or policyholder needs to get his collection valued through an independent valuer. After that, underwriters customise the coverage on the basis of the net worth of the art. Then, they calculate the sum insured.
Q3. How this policy will help policyholders during transit of the insured art?
Some insurance companies in India appoint specialized Transit Experts or Logistics Partners to provide wall-to-wall transit solutions or moving an art piece to a seasonal residence under complete ownership and supervision.