With the implementation of GST from 1st July, 2017, all business entities are required to register at the GST portal in order to file GST returns. The GST portal is designed such that taxpayers no longer need to physically visit tax departments to complete formalities such as registration, assessment, request for refund, etc. Moreover, GST facilitation centers are located across India for the convenience of taxpayers.
However, several doubts pertaining to GST portal exist. Some of them are mentioned below:
Which is the government website for GST?

What is GST portal/ GSTN portal?

How to register at the GST portal?

How to complete the process of GST login?
In the following sections we will discuss the login procedure and the various services available at the GST portal:
GST Portal/ GSTN Portal
The official website for all GST-related services is www.gst.gov.in. The GST portal or GSTN portal provides basic information about GST, including the details of the GST Act and its evolution. It also offers a range of services, including GST registration of the entities, GST filing interface, offline GST tools, grievance redress and much more.
Steps for First-Time GST Login (Registered Users)
New taxpayers should use their GSTIN (GST Identification Number) and password, generated at the time of GST registration to log on to the GST portal.
Step 1: Visit https://www.gst.gov.in.
Following is the image representing the layout of the homepage before logging in. Click on the 'Login' link at the top right-hand corner of the home page.
Step 2: Subsequently the login page is displayed as shown below. 

First-time login option is present at the bottom of the page that says "First time login: If you are logging in for the first time, click here to login".
Step 3: Next the 'New user' login page is displayed. Enter the Provisional ID/ GSTIN/ UIN (Unique Identification Number) and the password received at the time of registration via an e-mail. Also enter the captcha code and click the login button.
Step 4: The following page appears after entering the new credentials. Create a new username and password for subsequently logging in the GST portal and click "Submit".
Step 5: On the next page, a confirmation message is displayed upon successful creation of the username and password. You can now log on to the GST portal using your new password.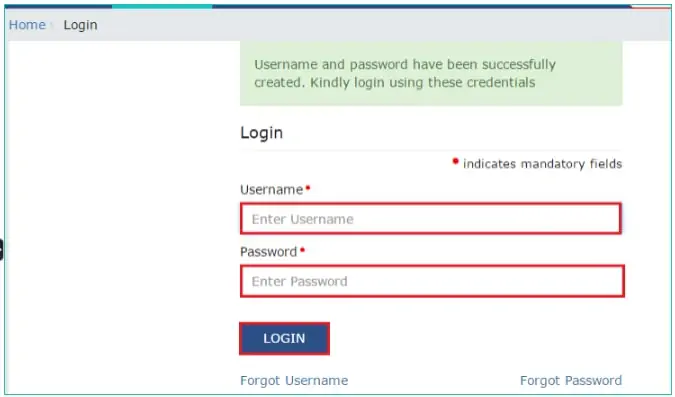 Step 6: When you login for the first time, a message to file non-core amendment application appears as a pop-up message. Click 'FILE AMENDMENT' option. This allows you to add your bank account details for completing the transactions that will be required at the time of GST filing.

Step 7: Subsequently, a page with the application form in an editable format will be displayed. 
You can edit the bank account details by clicking the 'Add New' button under the 'Bank Accounts' menu.