You can easily apply for your savings account online with a bank to park your money. You can earn interest on the amount you deposit in your savings account and enjoy the flexibility. Savings account encourages savings habits in the individuals.
Another advantage of opening a saving account is that it provides liquidity. Your money remains safe in your savings account and you can access it any time using the ATM issued by your bank or visiting the bank.
Also, the net-banking facility provided by banks makes it extremely convenient to operate a bank account. You can transfer funds from one account to another in a few clicks, apply for bank draft online, create a fixed deposit or recurring deposit online, check your bank statement online whenever you want to.
How savings accounts differ?
Most of the savings accounts would look same as majority of the banks provide interest rate at 4% p.a. on your savings. But, while selecting a bank account, one should not only consider interest rate.
Banks differ on the interest rate as there are a few banks that also provide interest rate of up to 7% p.a. But another factor that will help you differentiate banks is the minimum quarterly balance requirement that is required to be maintained in the account. Nowadays, many banks provide zero balance savings accounts that one can opt for as you would not have to worry about maintaining minimum balance.
How to open a savings account?
So, before you open a savings account first compare the various options available on Paisabazaar.com. Follow the below-mentioned steps to choose the best savings account.
Step1: Go to Paisabazaar.com
Step 2:  Click on Saving Account section.  The following page will open. You just need to provide few details regarding your name, monthly income, city where you are residing and contact details. After giving these details you have to click on view offers.
Step 3: This page will show you the various offers from different banks. You can compare the different savings bank account features offered by various banks. You can compare them on the basis of the interest rate, minimum quarterly balance requirement, free ATM transactions and other features.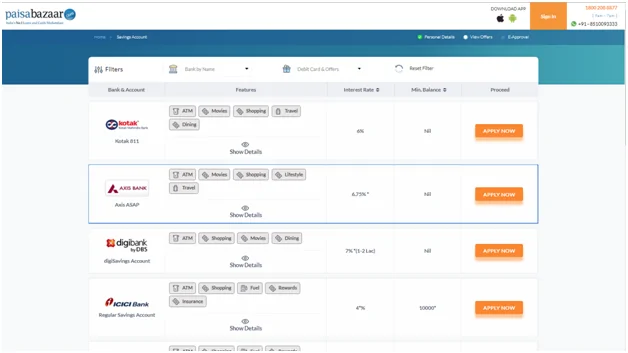 Step 4: In this last and final step you just need to apply for the savings account that fulfils your requirement. Once you apply, you will either be redirected to the bank's website or you will get a reference number and the download link to the application will be sent to your registered mobile number.