5 Popular Gold Loans for You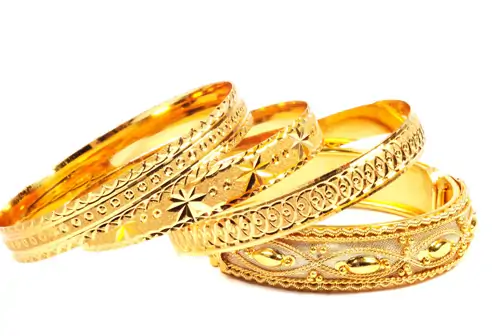 Gold loan is a secured loan provided to an individual putting up gold assets, such as jewellery, as collateral. Though this concept of borrowing has existed for a very long time, the organized gold loan sector has emerged fairly recently subsequent to guidelines provided by the Reserve Bank of India. Due to the simplicity of obtaining such a loan, a substantial increase in the market price of gold and the rapid entry of new players into this sector, this segment has witnessed exponential growth in the past couple of years. In the following sections, we will provide you with a comparison of some popular Gold Loan options as well as discuss some key points to keep in mind when applying for such as loan.
Key Features of a Gold Loan
Gold loan is ideal for you if you are facing a short-term liquidity issue and are in a position to benefit from the no pre-payment penalty clause. Some of the main characteristics of gold loan are:
Short processing time ranging from 1 to 3 hours, as it is a secured loan
No salary proof is required at present
Minimum documentation required: Government-issued IDs such as Driving License and PAN card.
If you are availing a gold loan from a bank you already have an account with; you may also qualify for various offers such as lower interest rates and processing fee waiver. At present, providers of gold loans only accept jewellery as collateral and not coins, bars or exchange-traded gold funds.
Charges Associated with Securing a Gold Loan
Gold Loans, like any other loan, feature an application process as well as a range of fees and charges that differ from provider to provider. Some NBFCs and banks charge a processing fee for the loan, while others waive this charge. A valuation charge may be payable to the valuator, however, providers with in-house valuators may choose to waive it. Like all loans, there is a late payment penalty associated with such a loan and the amount levied varies from institution to institution and is based on the loan amount. In some cases, the provider may levy a pre-payment penalty, when you pay off your gold loan prematurely.
Table 1: Key Features of 5 Popular Gold Loan Products
| | | | | |
| --- | --- | --- | --- | --- |
| Lending Bank/NBFC | Min/Max Loan Amount | Interest Rate* | Processing Fees* | Additional Charges* |
| HDFC Sampoorna Bharosa Gold Loan | Min Rs. 50,000 in urban areas. Lesser loan amounts for rural areas only | Starts at 10% | Valuation charge+ Stamp Duty+ up to 0.5% Loan processing charge+ applicable service charges | Prepayment/Late Payment Charges of Up to 1% |
| Muthoot Finance Gold Loan | Min Rs. 1,500/ Max limit Rs. 1 Crore | Starts at 11% | Up to Rs. 500 | No Prepayment penalty. |
| SBI Gold Loan | Minimum Rs. 10,000 (rural), Rs. 20,000 (urban)/Max Limit Rs. 20 Lakhs | Starts at 12.5% | Starting from Rs. 256 (depends on loan amount and other factors) | No Prepayment penalty.. |
| Manappuram Finance Gold Loan | Maximum Rs 1 Crore | Starts at 12% | Up to Rs 200 | No Prepayment penalty. |
| Axis Bank Gold Loan | Minimum Rs 25001 to Max Limit of Rs 20 Lakhs (for account holder). Rs. 4 Lakhs limit for new customers. | Starts at 14.5% | Valuation Charge Rs. 500+ 1% Processing Fee | No Prepayment/part payment penalties. Late payment charges of 2% per month on overdue amount. |
*Rates and other charges are liable to change table as per data obtained on Jan 15th 2016.
As seen from the above table, this is a booming segment with both Public Sector/Private banks and NBFC-s (Non-Banking Financial Company) attempting to woo prospective customers. To know more about gold loans and get the latest information regarding the best options for you, log on to Paisabazaar. Alternately, if you are interested in a short-term investment opportunity but currently lack the funds to do so, gold loans provide various benefits over a personal loan. Following is a comparison of gold loans vis-à-vis loan against property and personal loans.
Table 2: A Comparison between Gold Loan, Loan against Property and Personal Loan*
| | | | | |
| --- | --- | --- | --- | --- |
| Serial Number | Comparison Criteria | Gold Loan | Loan against Property | Personal Loan |
| 1 | Type of loan | Secured (gold as collateral ) | Secured (property as collateral) | Unsecured (No Collateral) |
| 2 | Status of Collateral | Gold deposited with bank till loan amount is repaid in full | Property is mortgaged with the bank (you can still continue using it) | N/A |
| 3 | Documentation Required | Minimal | Extensive including proof of ownership documents. | Extensive including salary/income proofs and certified tax returns. |
| 4 | Processing Time | Very Short (usually within few hours ) | A few days to weeks | A few days to a week |
| 5 | Loan term | Short to medium term (up to 5 years) | Long term (up to 15 years) | Short to medium term (1-5 years) |
| 6 | Maximum Limit on Loan Amount | Varies from bank to bank (usually up to 60% of gold value deposited) | Up to 40% of assessed property value (varies based on loan provider) | Depends on your credit history, income level, previous dealings with the loan provider etc. |
| 7 | Interest Rate | Low | Low | High |
| 8 | Processing Fees | Very low | Low | High |
| 9 | Prepayment Penalty | Nil or up to 1% | Nil or up to 2% | High (may be 5% of principal outstanding amount) |
*Some data such as loan terms and interest rates are liable to change log on to Paisabazaar for updated information.