Updated: 04-01-2021 10:56:43 AM
TransUnion CIBIL is India's leading Credit Bureau which is engaged in collecting and maintaining data related to the credit behaviour of individuals and entities. Based on this data, CIBIL generates Credit Reports and Scores for individuals. As credit report plays a key role in availing new loans and credit cards, any inaccuracies or errors that have a negative impact on your Credit Report and Credit Score/Credit Rank can lead to serious problems. CIBIL's Grievance Redressal mechanism and Dispute Resolution process enables customers to get timely rectification of these errors and inaccuracies in their Credit Reports and maintain a healthy credit history/profile. The article discusses some key aspects of TransUnion CIBIL's grievance redressal and dispute resolution process including ways to register CIBIL grievances, the escalation process, the dispute resolution process, etc.


Click to know your credit score @ zero fee. This Way
Grievance Classification
Based on the nature of the interaction with the company, CIBIL has categorized all consumer interactions or grievances broadly into four categories – Query, Complaint, Feedback and Request.
Query- When a person is seeking information related to any of their products, it is known as a 'Query'.
Complaint– When someone has already availed of a product or service and is not satisfied with the same, it is known as a 'Complaint' or 'Grievance'.
Feedback– As the name suggests, when a person is interested in communicating something that would help CIBIL improve its products or services, it is known as 'Feedback'.
Request– When someone wants to initiate a CIBIL Report Correction process, it is known as a 'Request'.

A strong credit score can help in getting the desired loan amount. Check Score
How to Register CIBIL Grievance
An aggrieved CIBIL customer- person or entity, can contact CIBIL to register a complaint via any of the following channels given below:
1. CIBIL Website: One can visit the 'Contact Us' section on the official website of CIBIL and fill out the online form. Direct link for the same is – https://www.cibil.com/self-service-portal/viewGeneralQueryFormAction.action.
2. CIBIL Customer Care Number: CIBIL Grievances can be communicated to the company by calling on their consumer helpline number- +91-22-6140 4300. This number can be reached from Monday to Friday, 10 AM to 6 PM. You can also fax them at +91-22-6638 4666.
3. By Writing a Letter: Letters/correspondence can also be sent to CIBIL's Registered Office Address:
TransUnion CIBIL Limited
One Indiabulls Centre, Tower 2A, 19th Floor,
Senapati Bapat Marg, Lower Parel, Mumbai – 400 013
4. Walk-in at CIBIL Office: A customer can also visit the registered office of CIBIL and meet a customer service officer to lodge his complaint/query in person.
5. CIBIL Email: An E-mail can also be written to CIBIL addressed at- info@cibil.com. Make sure that you mention your identification and complaint in detail.
CIBIL Grievance Status
If you have already submitted a grievance with CIBIL customer service, you can check the status of your request online by logging into your CIBIL account. The CIBIL grievance status is updated daily so that it is easy to check how far your redressal process has progressed
CIBIL Grievance Redressal
In case your request for a report rectification/update is not solved in the first instance by the TransUnion CIBIL customer service department, you can opt for the 3 step escalation process. You can proceed with each successive step of this escalation process only if you have not received a suitable solution in the previous step. This escalation process is explained in detail in the subsequent section.     
How to Escalate the Process
After contacting CIBIL via any of the above means, if a customer has not received a satisfactory response, he can bring it to the notice of senior management with the help of the Escalation Desk.
Level 1- The first step is to reach the Manager of Consumer Services Department which can be done by filling out the 'Escalate to Level 1' Form.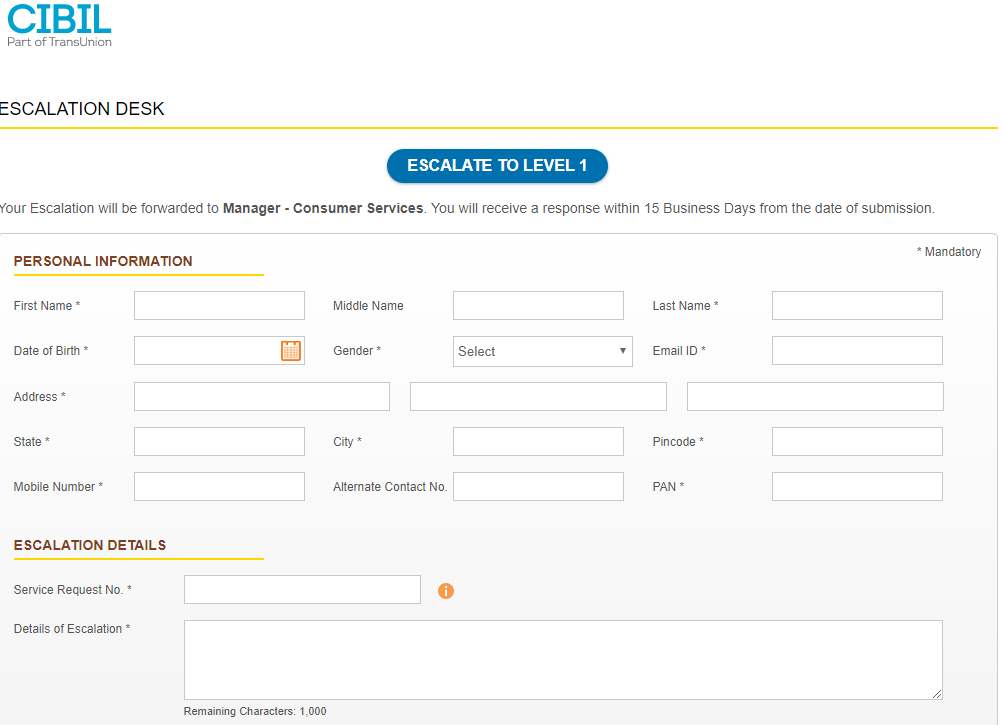 Make sure that you mention the correct Service Request Number and explain in brief why the issue is being escalated to the higher authorities. An Online Grievance ID will be generated at this level. Response will be sent to you within 15 working days.
Level 2 – If unsatisfactory response is received from Level 1, the next level is to escalate it to the Assistant Vice President – Consumer Services. Fill out the 'Escalate to Level 2' Form
You will require a valid Service Request Number and Level 1 Online Grievance ID to escalate the issue at Level 2. Response can be expected within 10 business days. However, in case you have already raised your concern at Level 1, wait for 15 business days for CIBIL to respond before you escalate the issue to Level 2.
Level 3– If still dissatisfied, you can reach out to the Chief Operating Officer of CIBIL Consumer Services. Fill out the Level 3 Form
To escalate the matter to Level 3, you will need a valid Service Request Number and the online Grievance ID of your Level 2 escalation. Response will be received within 8 business days. However, in case you have already raised your concern at Level 2, wait for at least 10 business days for CIBIL to respond before you escalate the matter to Level 3.
Note: In case you have raised a dispute and CIBIL has responded to you that the credit institution/bank has confirmed that the information reported by them is correct, then the consumer will have to contact their credit institution/bank for all such disputes.
How to Initiate a Dispute
Consumers- both persons and entities, can raise a dispute with CIBIL online for inaccuracies, account ownership and duplication of information in their Credit Report. Consumers can avail this service without any charges. Consumers can dispute multiple fields and information  on their CIBIL Report in a single dispute by navigating to different sections of the report. The following steps need to be followed to initiate a dispute with CIBIL:
Individuals:
Visit the official website of TransUnion CIBIL and Login to myCIBIL.
Go to the Credit Reports Section and navigate to the Dispute Center and click on 'Dispute an Item'.
Fill in the online dispute form and choose the relevant section which you want to dispute.
In case the dispute relates to account ownership/duplicacy, select the dispute type and click on 'Submit'. If you are disputing data inaccuracies, enter a value for the disputed field and click on 'Submit'.
Those who have registered and received their report on myCIBIL can simply follow the above mentioned steps to initiate a dispute. However, in case you have received your report from a lender, you need to first visit the CIBIL website to get a free CIBIL Report and Score  and to access myCIBIL before you can initiate a dispute with the company.
Entities/Companies:
Visit the official website of CIBIL and select 'Company Dispute Resolution' listed under 'Dispute Resolution' on the homepage.
On the page that opens next, click on 'Raise an Online Dispute'.
Fill out the online commercial dispute form and click on 'Submit'.
Alternatively, consumers can also raise a dispute by writing to CIBIL at the following address:
TransUnion CIBIL Limited,
One Indiabulls Centre, Tower 2A, 19th Floor,
Senapati Bapat Marg, Elphinstone Road, Mumbai – 400 013.
Process of CIBIL Dispute Resolution
The CIBIL dispute resolution process involves the following steps:
The Consumer-person/entity, submits the Online Dispute Resolution form available on the CIBIL website.
Following this the disputed field(s) under relevant section(s) are marked "Under Dispute".
The CIBIL takes up the dispute with the concerned entity based on the type of dispute. The lender may either accept or reject the dispute.
If the lender accepts the dispute, corrections are made in the CIBIL Report and the "Under Dispute" tag is removed from the the relevant section(s).
*The entire dispute resolution process may take up to 30 days depending on how complicated the issue is.
FAQs
Q1. What is a Credit Information Report?
Credit Report is a report which contains detailed information of a person's credit accounts and loans, late payments and bankruptcies (if any), a list of entities that have made an enquiry for the consumer's credit report, along with their personal information. TransUnion CIBIL is one of the major Credit Information Companies in India that is licensed to generate credit reports for both individuals and entities. The report that CIBIL generates for its individual consumers is known as Credit Information Report (CIR) or CIBIL Report.
Q2. What are the grievance redressal guidelines?
Customers are served on 'First come-First served' basis and all complaints are entered into the CRM system of CIBIL.
A unique 'Service Request Number' is assigned to every complaint lodged in the CRM.
Once the complaint is entered into the CRM, CIBIL Consumer Services Team will communicate the same (via letter or email) to the customer along with the Service Request Number.
The team will study the complaint and find a satisfactory resolution within the stipulated time frame. CIBIL may also call the person in case any initial clarification is required on the matter.
Based on the action taken, the response will be sent to the customer, preferably via email.
Based on the nature of the problem and the action taken, Root Cause Analysis will be conducted by CIBIL so that the processes can be improved and such disputes don't come up in future.
MIS on complaints along with analysis findings would be shared with the Consumer Protection Committee (CPC) of CIBIL's Board.
For handling consumer grievances and escalations there will be a specialized team in the Consumer Services Department.
Q3. Are there any Timelines for Resolution of complaints?
For complaints received via email/online form and any grievances that are raised, an acknowledgement will be sent to the customer within the next business day.
If any other channel is used, acknowledgement can be expected within 3 working days.
Complaints related to rectification of credit information will be resolved within 15 business days subject to receipt of responses from Credit Institutions/Banks.
All other kinds of complaints will be resolved in 7 business days.
Q4. Can I get my CIBIL grievances redressed via email?
Yes, consumers can register their grievances via email. CIBIL's email address for this is info@cibil.com. Ensure that you mention your identification and complaint in detail if you are submitting your grievance by email.