Updated: 01-02-2020 09:53:33 AM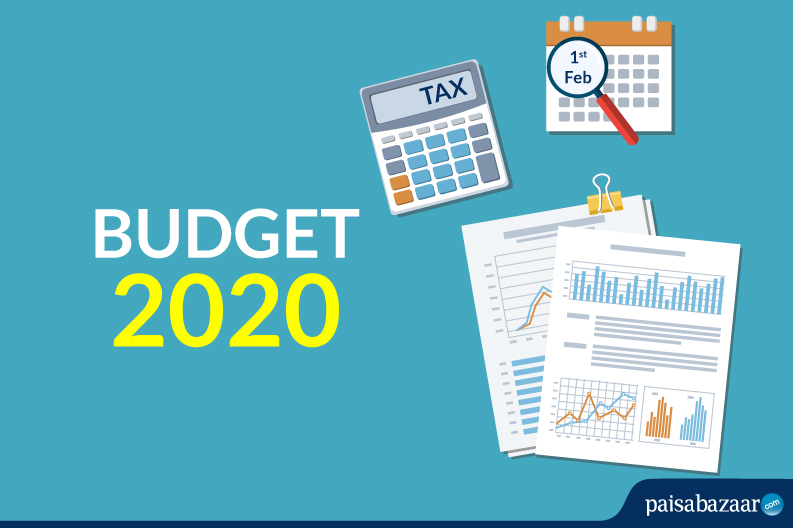 Union Budget 2020 Highlights :
Health Cess to be imposed on imported medical equipment
Some customs duty exemptions are to be withdrawn and in case of remainder, rates are to be reduced
GST reforms to be introduced on 1st April 2020 onwards to simplify the filing process further
PAN allotment process to be instantaneous based on Aadhaar. No separate form will be necessary
Tax Holiday extended for developers of affordable housing
Vivaad se Viswas scheme proposed to reduce tax litigation
Donation deductions claim to be made easier by prefilling Donee details
Extra Rs. 1.5 lakh benefit on affordable housing loan extended to 31st March 2021
Co-operatives also offered a lower tax rate of 22% if they do not take any exemption benefit
Start-Ups of up to Rs. 100 crore to get benefit of 100% tax exemption of profits for 3 consecutive years in the first 7 years of existence
100% tax exemption for investments made by foreign companies into infrastructure and other notified sectors till 31st March 2020
Dividend Distribution Tax to be taxed in hands of the recipient at slab rates
Above Rs. 15 lakh, rate same remains 30%
Reduced rate of 20% Rs. 10 lakh to 12.5 lakh
Reduced rate of 15% for Rs. 7.5 lakh to 10 lakh
Reduced rate of 10% for those in the Rs. 5 lakh to Rs. 7.5 lakh not claiming exemption
New simplified individual tax regime for those who forgo some tax deductions
Lower corporate tax rates to improve growth in the long term
Expenditure estimate Rs. 26.99 lakh crore vs. Collections estimate of Rs. 19.6 lakh crore for FY 2019-20
3.5% fiscal deficit estimated for FY 2020-21
Portion of LIC holdings of Government to be sold
GST compensation fund transfers announced for specified years
New Debt ETF announced with help provide access to government securities
Corporate bond FDI limit increased to 15%
Pension Trusts to be set up by organisations other than Government too
Universal Pension Coverage to be provided by further strengthening PFRDAI
Limit for NBFC for collection under SARFESI reduced to Rs. 100 crore
Deposit insurance cover increased to Rs. 5 lakh from current Rs. 1 lakh for each depositor
Governance in banks to be improved further
Contract Act to be strengthened
Tax Harassment to be prevented through introduction of Tax Payer Charter
Tax Payer Charter to be introduced as part of statute
National Security mentioned as a top priority of the Government
Rs. 2500 crore allocated to promotion of tourism sector
Rs. 35,600 crore in FY 2020-21 for nutrition-related programs
Rs. 8000 crore to be allocated for development of Quantum technology
Rs. 6,000 crores allocated to Bharatnet program
Data Centers to be set-up throughout the country
Rs. 22,000 crores allocated to power and renewables sector in 2021
Rs. 1.7 lakh crores allocated to development of transport infrastructure
Bengaluru suburban railway proposed
Solar capacity to be set-up along railway tracks
Monetisation of over 6000 km of highway proposed by 2024
Single e-logistics market to be developed
National Infrastructure Pipeline to help promote infrastructure growth in India
Rs. 27300 crore allocated for promotion of Industry and Commerce in 2021
Nirveek scheme to improve insurance penetration in India
Electronics Manufacturing to be boosted through a special scheme
Entrepreneurs to get benefits through a new Investment Clearance Cell
Rs. 99,300 crore allocated to education sector
Rs. 3000 crore allocated for skill development
Special bridge course to be designed to provide equivalence for healthcare sector workers
National Police Academy and National Forensic Institute is proposed
Online education program to be implemented by leading institutions
Urban Local bodies to provide opportunities for fresh engineers for a period of 1 year
New apprentice schemes to be started across India in 2021
By 2030 India is expected to have the largest workforce in the world
TB eradication goal by 2025
FM hints at new tax for medical devices
20,000 hospitals already empanelled in Ayushman Bharat more to be added in 112 additional districts
Rs. 2.83 lakh crores allocated to achieve agricultural sector growth and development targets in 2021
Development of fisheries, dairies etc. expected to increased rural employment among youth
Goal to double milk processing capacity to 108 million metric tonnes by 2025 also increased production in fisheries
NBFCs and Co-operatives operating in rural areas will be benefited by increased NABARD funding
Integrated farming to be expanded in rain-fed agricultural areas
Krishi Udaan by Civil Aviation to be set up to promote export of Agricultural products including perishables
Indian railways to set up Kisan Rail using PPP model
Additional funds to be allocated for set up of new warehouses/cold storage
NABARD to help Geotag existing warehouses/cold storage
Organic fertilizers to be promoted over currently used chemical fertilizers
FM proposes 16 action points for benefit of rural India and agriculture
Farm markets need liberalisation for further growth of the Agriculture sector
Goal to double farmer income by 2020
Central themes of Budget 2020 – 1) Aspirational India 2) Economic development 3) Caring Society
Central Government debt down to 48.7% of GDP
Average household savings have increased 4% post GST implementation
60 lakh new tax payers added in last 2 years
Simplified new return system from 1st April 2020 onwards
FM has reached Parliament and we are all set for Union Budget 2020
Union Budget 2020 Expectations
Jan 27, 2020
Union Budget refers to the annual financial statement/ report of the country. It is compulsory for the central government of India to give an account of all the receipts and expenditures to both the Houses of the Parliament as per Article 112 of Indian Constitution. Additionally, the Union Budget discusses the financial policies for the upcoming fiscal year. The Union Budget directly affects the country's economy and hence all its citizens. The Union Budget is to be presented by FM Nirmala Sitharaman on February 1st, 2020. The following are some of the major expectations from the Union Budget 2020-21.
Income Tax Relief in Union Budget 2020-21 The Union Budget 2020 may announce changes to current Income Tax Slabs and provide major tax relief to middle and upper middle class households. Some have speculated that the current 20% slab rate (for those with annual income over Rs. 5 lakh to Rs. 10 lakh) will be reduced to 10% in the Union Budget 2020 announcement. There is also some speculation that the surcharge levied on income tax may also be slashed or removed altogether.
New Income Tax Section to Increase Tax Benefit of Investments and Life Insurance Policies

It is speculated that separate income tax sections will be introduced for life insurance and ULIP investments to increase the tax benefit associated with investment instruments, such as ELSS, PPF, etc. At present, Section 80C of Income Tax Act allows cumulative tax deduction of up to Rs. 1.5 lakh for investments made into ELSS, tax saving FD, PPF, EPF, NSC as well as life insurance and ULIP. An additional benefit of Rs. 50,000 is available over and above this Rs. 1.5 lakh limit for investments made into NPS.
Inclusion of Retirement Mutual Funds to Claim Tax Deduction Union Budget 2020 may announce inclusion of retirement mutual funds, such as UTI Retirement Benefit Plan, Franklin India Pension Fund, Tata Retirement Savings Fund, etc. into the category of tax saving instruments under Section 80CCC of the Income Tax Act. Alternatively, the Budget may introduce a completely new section in the IT Act to provide such a tax benefit. Retirement schemes provided by insurance companies already feature tax benefits and are included in Section 80CCC.
Reintroduction of Tax-Saving Infrastructure Bonds Until 2012, investment in infrastructure bonds allowed tax deduction under Section 80CCF of the Income Tax Act. It is expected that Union Budget 2020 will reintroduce these bonds to increase tax benefit for individuals and HUFs while ensuring that government coffers are not further depleted to finance infrastructure projects during the current slowdown.
Greater Benefits on Home Loan to Support Affordable Housing Scheme
Tax incentives may get increased for those who are planning to buy a new house in 2020. Such tax incentives may include an increase in tax deduction on home loan interest for first house or ITC (Input Tax Credit) benefit to builders for under-construction properties. These initiatives are expected in line with the Pradhan Mantri Awas Yojna (PMAY) to provide affordable housing for all by 2022.
Tax Relief for Self-Employed Individuals Union Budget 2019 hiked the standard deduction for salaried individuals and self-employed from Rs. 40,000 to Rs. 50,000. It is expected that Union Budget 2020 will announce a similar standard deduction for self-employed tax filers who currently do not enjoy this benefit.
Tax Benefit Under NPS May Double At present, NPS (National Pension System) investments of up to Rs. 50,000 are eligible for income tax deduction under Section 80CCD of the Income Tax Act, 1961. This is in addition to the annual tax benefit of Rs. 1.5 lakh available u/s 80C. However, the Pension Fund Regulatory and Development Authority (PFRDA) of India has suggested the tax benefit under NPS be doubled. Thus, it is possible that the Union Budget 2020 increase the tax deduction limit for NPS u/s 80CCD to Rs. 1 lakh.
Extension of PMVVY and Increase in Maximum Age to Enter APY
Pradhan Mantri Vaya Vandana Yojana (PMVVY) refers to pension plan for senior citizens, that is operated by Life Insurance Corporation (LIC). Under this scheme, senior citizens can earn an assured interest of 8% per annum for a period of 10 years. They can opt for monthly/ quarterly/ half-yearly/ yearly payment of pension. At present, the maximum limit that can be invested under PMVVY is Rs. 15 lakh. It is expected that the Union Budget 2020 will increase this limit.

Atal Pension Yojana (APY) aims to provide pension to citizens in the unorganized sector. Under APY, subscribers receive a fixed pension ranging between Rs. 1,000 and Rs. 5,000 per month at the age of 60 years depending on their contribution. At present the minimum age to join APY is 18 years while the maximum is 40 years. It is expected that the Union Budget 2020 will increase the maximum eligible age for APY subscription beyond the 40 year limit.While none of the above expectations/suggestions are not without merit, only a few, if any, of the above will in fact be fulfilled when the official Union Budget 2020-21 is announced.In fact, it may not be an exaggeration to say that this budget will be far tougher than the previous budget in light of the numerous economic problems that have manifested themselves in India as well as abroad during FY 2019-20.