SBI FBB StyleUP Contactless Credit Card has been launched by SBI Card in association with FBB. The card is best suited for frequent shoppers, especially those prefer shopping at Big Bazaar and its partner standalone stores. This low annual fee credit card will help you save a lot on fashion and grocery spends. Here is all you need to know about this co-branded credit card by SBI Card.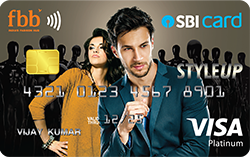 Highlights & Rewards
Highlights
Welcome gift of ₹500 worth Fbb gift voucher within 15 days of annual fees payment
10X Reward Points on your spends at Big Bazaar, Standalone Fbb and Food Bazaar outlets, and on all your Dining expenditures
Anniversary gift of 2,000 Bonus Reward Points every year
Rewards Value
₹100 = 1 Reward Point
Save upto ₹27681 on Annual Spend of ₹4 Lakh
Apply now for SBI Styleup Contactless Credit Card
Find your perfect Credit Card
Best Suited For – Shopping at Big Bazaar, fbb and Food Bazaar
10% Discount on Big Bazaar Purchases

10X Reward Points at Big Bazaar

Fuel Surcharge Waiver
Get SBI STYLEUP Contactless Credit Card Now
*Offers are from Paisabazaar's partner Banks & NBFCs.
Find Similar Credit Cards from Other Banks
Eligibility and Documentation
| Criteria | Details |
| --- | --- |
| Occupation | Salaried |
| Minimum Income for Salaried Applicants | Rs. 20,000 per month |
| Serviceable Cities | Click here for the list of eligible cities |
Along with the duly filled application form, SBI Card will also require valid proof of identity, address and income. Given below is the list of acceptable documents.
Features
Welcome Benefit

The following welcome benefits are given to the cardholder

Cardholders can avail FBB gift voucher worth Rs. 500 as a welcome gift within 15 days of payment of annual fee.
Get 2,000 bonus reward points on the payment of every annual fee.

Reward Points

Reward Points earning rate and their values are:

Earn 10X reward points on your spends at Big Bazaar, Standalone Fbb and Food Bazaar outlets, and on all the dining expenditures.
Get 1 reward point per Rs. 100 across all other spending categories

Fuel Surcharge Waiver

Get 1% fuel surcharge waived off on every transaction of Rs. 500 to Rs. 3,000, with maximum waiver of Rs. 100 in a billing cycle.
Watch this video
If you love to shop online and at standalone stores then SBI FBB StyleUp is the card for you. The card comes with benefits and offers on grocery and apparel shopping along with gift vouchers. Here is a video about the features of this card.
Fee and Charges
Title
Details
Annual Fee
Rs. 499
Renewal Fee
Rs. 499
Free Credit Period
Nil
Add-on Fee (per annum)
Nil
Extended Credit Interest-Free Credit Period
20-50 days, applicable only on retail purchases and if previous month's outstanding balance is paid in full
Extended Credit Charges/ Cash Advance Charges
Up to 3.35% per month, accounting to 40.2% per annum, from the date of transaction
Cash Advance Limit
Up to 80% of the credit limit, maximum Rs. 15,000 per day
Cash Advance Fee SBI or Other Domestic ATMs
2.5% of withdrawal or Rs. 300 per transaction, whichever is higher
Cash Advance fee International ATMs
3.0% of withdrawal or Rs. 300 per transaction, whichever is higher
Overlimit Charges
2.5% of the over-limit amount subject to a minimum of Rs. 500
Late Payment Charges
For Statement Balance
Less than Rs. 500 – Nil
Rs. 500 up to Rs. 1,000 – Rs. 400
Rs. 1,000 up to Rs. 10,000 – Rs. 750
Rs. 10,000 up to Rs. 25,000 – Rs. 950
Rs. 25,000 up to Rs. 50,000 – Rs. 1,100
Amount over Rs. 50,000 – Rs. 1,300
SBI Credit Card Customer Care Details
Customer Care Toll-free Number
1860 180 1290
1800 180 1290
Alternate Number (Local charges may apply)
(STD Code) 39020202
Check More Cards from SBI Bank
How to Apply for SBI StyleUp Credit Card
You may apply for this credit card through our website. The steps are:
Click here to start the application
Enter basic details such as contact number, income, occupation, etc.
Select the SBI StyleUp Credit Card from the list and proceed with the eligibility check by providing required details
If eligible, proceed with the application by providing personal details and employment details
Verify the mobile number by entering the OTP received
Once completed, the applicant will get a call from SBI Card for document collection. A field agent will come to collect the document. Once the documents are verified, the credit card will be issued.
FAQs
Is there an annual fee waiver feature on SBI FBB Credit Card?
No. There is no waiver on the annual fee. However, you will get 2,000 bonus reward points as a renewal benefit.
How can I redeem SBI FBB Voucher?
You can redeem your FBB Voucher at any FBB or Big Bazaar Standalone Store. Please note that partial redemption of the voucher is not possible.
What is the Flexipay facility on SBI FBB StyleUP Contactless Credit Card?
Flexipay is a facility offered to  SBI credit cardholders to convert their big purchases into easy monthly instalments. Any SBI Cardholder, with a transaction greater than Rs. 500 can convert the said transaction into Flexipay within 30 days.
How can I increase my SBI FBB Credit Card credit limit?
Credit limit increase is offered only to eligible users and the same is communicated to them via SMS. If you wish to get your limit increased, you can request the same through SBI Card Net banking but the final decision will be that of the card issuer.
Is SBI STYLEUP Contactless credit card internationally acceptable?
SBI STYLEUP Contactless credit card accepted at over 24 million Visa outlets worldwide.
Cards Similar to SBI StyleUp Credit Card
Credit Card
Annual Fee
Key Feature
Paisabazaar Rating

Rs.499

Get Fuel Surcharge Waiver

Earn 10 Reward Points for every Rs 100 spent on Dining, Movies, Departmental Stores and Grocery Spends

3.7/5

Rs. 250

Earn 5X reward points on dining and fuel spends

Earn 1 reward point on every spending of Rs. 150 on all the other categories

3.5/5

Rs. 500

5x reward points are earned on Dining, Movies, Groceries, Railways, Taxi payments

Enjoy Fuel Surcharge waiver up to Rs. 250 per month

3.3/5

Rs.499

Save up to 15% on their dining bill at over 2,500 restaurants

Earn 2 PAYBACK Points per Rs.100 spent on Retail

3.6/5