Samsung partners with Paisabazaar.com to offer financial products on Samsung Pay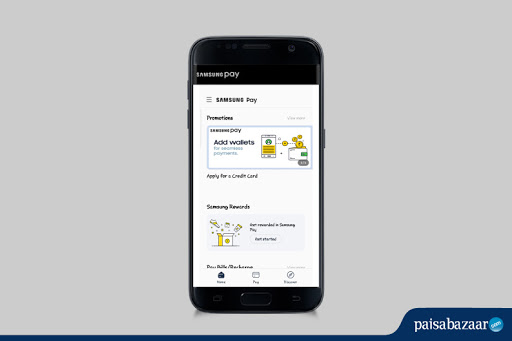 Gurgaon, July 9, 2019
Integration will provide Credit Card and Personal Loan on Samsung Pay
Paisabazaar.com, India's largest online marketplace for financial products, today announced its partnership with Samsung, the country's most trusted smartphone and consumer electronics company. Paisabazaar.com supports  Samsung Pay users by providing one stop solution to their financial requirements. By using the facility,  Samsung Pay users can apply for Credit Cards and Personal loans from the platform. The move will enable millions of existing and potential Samsung Pay users to get the benefit of seamlessly opting for a host of financial services.
While the option of applying for Credit Card and Personal Loan through Samsung Pay will definitely add value to the users, the most important part of the offering is the approval process. Paisabazaar.com's unique 'Chance of Approval' feature makes this part extremely fast and seamless. The industry first feature uses advanced predictive algorithms to provide the most suited lender to customers and significantly improve their chance of loan approval.
Speaking about the latest offering of the platform, Mr. Sanjay Razdan, Sr. Director-Services Management, Samsung India said, "Samsung Pay has been designed to be the smartest and most convenient method to make digital payments almost everywhere. Our partnership with Paisabazaar.com has helped us create a holistic platform that gives them the comfort of opting for various financial products besides using it as a payment platform."
Sharing his views on the announcement, Mr. Naveen Kukreja, CEO and Co-founder, Paisabazaar.com said, "Samsung Pay is the leading payment platform that offers unique and unmatched experience to its customers. Paisabazaar's integration with Samsung Pay is a natural fit as it will provide users with a platform that is equipped to give them a variety of quick financial solutions. Our seamless, transparent and end to end to assistance, combined with industry first 'chance of approval' feature will significantly help customers in getting quicker approvals and disbursals."
 About Paisabazaar.com
Paisabazaar.com is India's largest online marketplace for loans and Credit Cards. It works with more than 75 partners across lending and investment categories to offer 300+ products to meet all lending and investment needs of consumers. Paisabazaar is the only marketplace in India to disburse annualized loans worth Rs 10,000 crore.
The platform has been conferred with Economic Times "Best Fintech Brand" (2018) Economic Times "Best BFSI Brand" (2016), Money Tech "Start-up of the Year" (2017) and Money Tech "Best Customer Experience Innovation" (2017) awards. PaisaBazaar.com is part of ETechAces that owns India's leading insurtech brand, PolicyBazaar.com, and newly launched health tech platform, docprime.com. The company is backed up by a host of investors including the likes of Softbank, Temasek, Tiger Global Management, True North, InfoEdge (Naukri.com), Premji Invest, besides investments from other PE funds and family offices.
 About Samsung Pay
Samsung Pay is a complete payments platform. Apart from cards, Samsung Pay users can also make fast and secure UPI payments through P2P money transfers and also QR code scan and online payments wherever UPI payments are accepted. Samsung Pay also supports wallet payments – Paytm, Mobikwik and Freecharge on Samsung Pay and Samsung Pay Mini, which is designed to cater to the unique requirements of Indian mid-segment consumers. Samsung Pay Mini provides a comprehensive platform for UPI and e-wallets. Samsung Pay will continue to build and bring to market other payment features going forward.
Samsung Pay is fortified with three levels of security—fingerprint/IRIS authentication, card tokenization and Samsung's defense-grade mobile security platform Samsung KNOX thereby making it the most secure and widely accepted payment service.
For more information, please contact:
 Sandeepa Santiago – sandeepa@paisabazaar.com – 9599423244
Vanya Gautam – vanyagautam@paisabazaar.com – 9953231249