Top 10 Reasons Why You Should Apply for A Personal Loan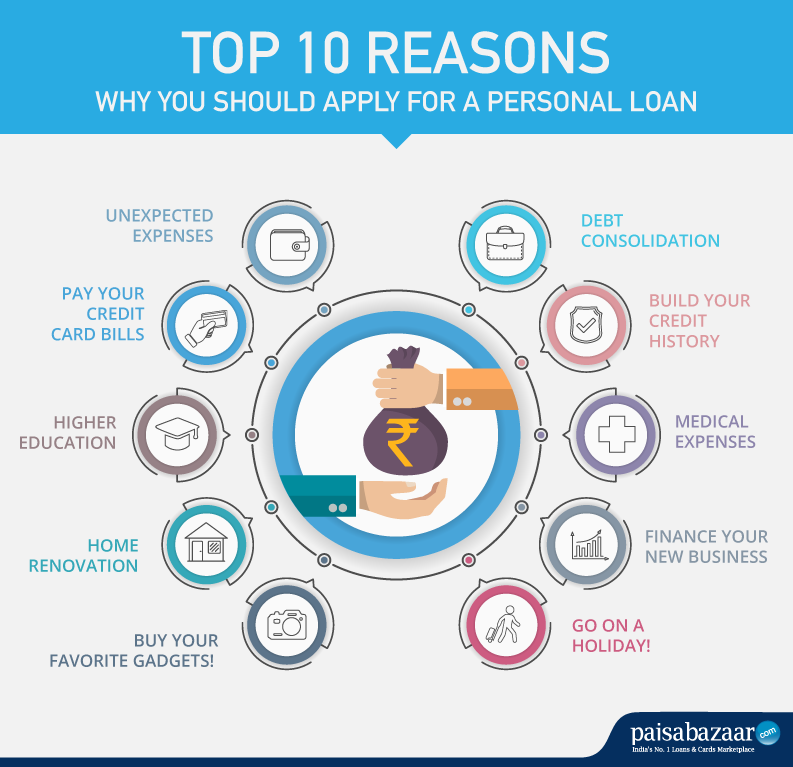 Personal Loan can give individuals a lot of free hand when it comes to finances. Since the usage of personal loan does not have a designated purpose, regardless of what the financial situation is, personal loans can help anyone in an emergency. Here, we discuss about the role of personal loans in our lives and how it can be a big help in a number of financial situations.
DEBT CONSOLIDATION: Imagine being trapped in a debt consolidation with credit card bills to be paid and other financial debt. Scary right? This is one of the reason where personal loans come into picture. With multiple loans and debt, personal loan is one of the fastest way to balance the finances and clear the debts.
BUILD YOUR CREDIT HISTORY: Applying for a personal loan is a great way to improve the credit history. With the Personal Loan, one can show to the future lender that you can pay back your debt on time. Like this, building up your credit will also help in getting lower interest rates in future, helping you indirectly in saving money.
MEDICAL EXPENSES: Emergencies come unannounced. In case of a medical emergency, worrying about finances should be the last thing in our mind. Even health insurance in such emergencies do not suffice the purpose. However, with personal loans, we can get funded in a matter of a few hours and help our close ones to overcome the problem.
FINANCE YOUR NEW BUSINESS: Starting a new business is a thought which most of us have at some point or the other. And one thing that holds us back from doing so is the lack of funds. Personal Loan, or even Business Loans for that matter help in getting the right funds for us with which we can start our own business. Once the business picks up the right pace, one can repay the personal loan time to time.
VACATION: Our regular job gets monotonous at one point. We all look forward to small breaks with our friends and family whenever possible. At times there is a constraint that blocks our schedule or lack of funds becomes a big obstacle. If one is desperately looking for a break and is short on money, then personal loan comes across as a decent option, because in the end, why should we put a hold on our dream vacations!
UNEXPECTED EXPENSES: We do have a lot of unexpected expenses every month. Some are avoidable and some are not. Depending on how crucial the situation is, we should always have a small kitty for emergency and unexpected expenses. One of the most effective way of doing this is saving a certain amount every month according to an individual's capacity. For this a certain goal needs to be set annually so one can not only meet the goal, but also use that amount in emergency situations.
PAY YOUR CREDIT CARD BILLS: Even if one doesn't have a range of debts but just one credit card, it can be advised to take a personal loan at a better rate of interest to pay the entire balance. A personal loan could pay the whole balance off and leave you with a fixed monthly payment that reduces your debt each month.
HIGHER EDUCATION: Sometimes the Education Loan is available only when one gets admission only to a set list of institutions. In such circumstances, personal loan comes to our rescue and besides, the loan amount in the education loan might just not cover all the expenses that one may have thought of. Personal Loan can cover the entire study course and in some cases, some additional expenditures as well.
HOME RENOVATION: The season of festivities and lights is just around the corner. People usually get their home renovations or improvements done during the festival of Diwali. What also remains important is the fact how much amount is one willing to spend on the home renovation. Once the amount is decided, you can apply for a personal loan and get an entire makeover for your home.
BUY THOSE FLASHY GADGETS!: Putting a full stop to all your dreams or tired of borrowing money from close relatives? In either of the two cases, you have an immediate rescuer called Personal Loan. So, with the help of this, one can easily fulfill the need of buying the latest smartphone or a laptop without feeling the pinch in your budget.