How Can you Check CIBIL Score Online with PAN Card
Any individual seeking a loan from the lending institutions i.e. either banks or NBFCs, have to fulfill the eligibility criteria which is based on having a good credit score. Your credit score is basically a brief history of your financial health and is determined on the basis of your past financial transactions.
The banks usually check the credit score which is provided by CIBIL (the oldest credit bureau in the country) before availing a loan.  CIBIL provides the credit score based on the financial transactions of the last 6 months which range between 300 and 900 and 900 is the highest credit score. The easiest way to check your CIBIL credit score is by submitting your PAN Card details ( which serves as an identifier).
Let us now discuss in detail how you can check your CIBIL Score online through a PAN Card.
Why do you need a PAN Card to check the CIBIL Score?
If you want to check your CIBIL through online mode, you need the details of your PAN Card which serves as a document of identity proof for the purpose of verification. Moreover, as per the rules of the Government of India, if you want to avail a loan,  it is mandatory to submit your PAN Card at the respective bank. Thus, once you have submitted the PAN Card at the time of availing a loan at the bank, the credit bureaus can easily track down your credit details.

Steps to check your CIBIL Score through PAN Card: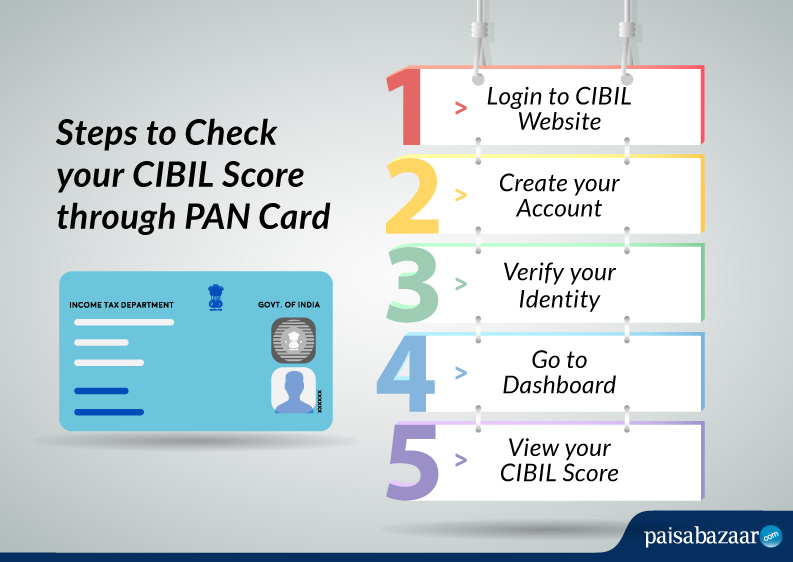 Follow the steps mentioned below to check your CIBIL Score through PAN Card:
Step 1: Visit the official website of CIBIL i.e. https://www.cibil.com/
Step 2: You need to click on the top right option i.e. 'Get Your Credit Score' 
Step 3: You have to choose a subscription method (if applicable) or scroll down to check your report for free
Step 4: You will be redirected to a new page where you need to enter your email address and create a new password

Step 5: Now, enter your personal details such as:
First Name

Last Name

Date of Birth (DD/MM/YY)

PIN Code

Mobile Number

ID Type (i.e. PAN Card)

ID Number (i.e. PAN Number)
Step 6: You must acknowledge the terms and condition before proceeding further
Step 7: Click on the 'Accept and Continue' button
Step 8: You need to verify your identity by entering a One Time Password  received on the mobile number
Step 9: Enter the OTP and click on the 'Continue' button

Step 10:  A new page will appear on your screen to confirm your enrolment. Click on the 'Go to dashboard'  button to check your credit score
Step 11: You will be taken to myscore.cibil.com to view your free CIBIL Score and CIBIL Report
Note:  In case you don't have a PAN Card, you can still request for your free CIBIL Score through other identity proofs such as Passport, Voter ID, or Driving Licence.
Points to Remember: 
You can only check your free CIBIL score through PAN number verification once in a year

A dispute through CIBIL's online website or a regular post and can be initiated in case of inaccuracies
What is the Impact of a New PAN Card on your CIBIL Score?
In case your PAN Card has been lost or stolen, you can immediately request for a duplicate PAN Card and it will not address your Credit Score as the PAN Number will be the same whereas if you don't have your PAN Card and you have requested for a new one then your PAN number will be changed which will also impact your Credit Score.
Also Read: Duplicate PAN Card
What are the Effects of a PAN Card on the CIBIL Score?
When you apply for a loan or a credit card, CIBIL Score plays a very important role as it acts as proof of your financial credibility. It helps the banks to track down your credit history and can judge your creditworthiness through your CIBIL Score only.  In case, if your CIBIL Score is low, then the bank or the lending institution may reject your application or it might charge a higher rate of interest on your credit or loan. Similarly, if you have a good CIBIL Score your application might be accepted without any trouble.
At times, some questions arise in the mind while checking your CIBIL Score Online with PAN Card. They are:
Is it safe to check your CIBIL score online?
Yes, it is safe to check your CIBIL score online. You can get a free credit report online through the CIBIL website or an online marketplace. Check your credit score for free here.
Is a PAN card mandatory for CIBIL score?
No, it is not mandatory to submit a PAN Card for calculating your CIBIL Score. You can submit any other valid documents such as Voter ID, Driving Licence, Ration Card, etc.
Do all the banks check the CIBIL score?
Yes, all the banks check the CIBIL score of the applicant before providing a loan.
Is a CIBIL score and CIBIL report the same thing?
No, CIBIL Score and CIBIL report are not the same. A CIBIL Score is a 3-digit numeric summary of a consumer's credit history and a person's credit profile whereas the Credit Report consists of detailed information about the past credit history which is used by the banks and the other financial institutions to track down the financial history.