There are many ratios that you can use to evaluate a mutual fund. However not all of them are equally important. In our view, you can use 5 basic ratios to analyse any mutual fund and leave the rest. If there is any doubt about your fund selection, you can look at additional ratios.
Standard Deviation
Standard Deviation is the  most widely used measure of risk in a mutual fund. Standard Deviation is the square root of variance.
Standard Deviation is given by the following formula: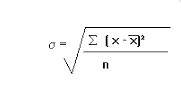 In this case x is each individual value (say, monthly return). X (bar) is the average of the values (such as the monthly return average). N would be number of months (say 60, if we are looking at a 5 year period.
Interpretation
A high standard deviation indicates a relatively risky fund and vice versa. For example the standard deviation of HDFC Equity Fund is 18.49% while the standard deviation of HDFC Hybrid Equity Fund is 11.41%. The standard deviation of HDFC Liquid Fund is just 0.21%. In a normal statistical distribution, approximately 95% of observations fall within 2 standard deviations. This means that you would expect returns of HDFC Liquid Fund to give returns within 0.42% of its average value 6.89%, with a 95% probability. However this only holds true if the mutual fund returns in question follow a standard deviation.
Turnover Ratio
This ratio refers to the percentage of a mutual fund's assets which has been bought/sold in the previous year. For example a turnover ratio of 50% means that an MF has bought/sold stocks equal to 50% of its average assets.
Interpretation
A high turnover ratio can mean that the fund manager is frequently changing his strategy and incurring high transaction costs (buying and selling has brokerage and other costs). Thus a high turnover ratio is usually viewed as a negative.
Alpha
Alpha or Jensen's Alpha is the degree with which a mutual fund is outperforming its benchmark adjusted to its risk level. For example if the fund is benchmarked to the Nifty 50 which has given 10% and the fund delivers 12%, it would have an alpha of 2%.
Interpretation
A high alpha implies that the fund is outperforming. On the other hand a low or negative alpha indicates a poorly performing fund.
Beta
This ratio gives the sensitivity of the mutual fund to the market. The higher the beta, the more sensitive the fund is. For example a beta of 2 indicates that for every 1% move in the market, the fund's NAV will move by 2% on average.
Interpretation
A high beta fund can imply both higher risk and higher return (and vice versa for a low beta fund).
Sharpe Ratio
This ratio incorporates both risk and return. It gives you an idea of the return delivered by a fund compared to the risk it is taken. For example some funds may deliver high returns only by taking on higher risk. Such returns should be viewed with more scepticism than funds which give high returns while taking a low level of risk. Mathematically, the sharpe ratio compares divides the outperformance generated by a fund compared to the risk-free rate with the volatility of the fund.

Interpretation
A high sharpe ratio indicates high return for a given risk level. This is a highly desirable quality in a fund and hence mutual fund schemes with higher sharpe ratios should be preferred.