All about NFOs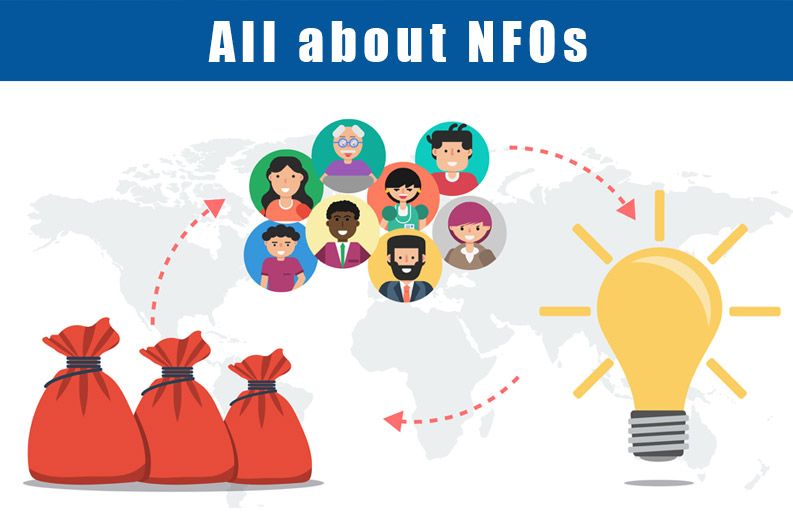 NFO or New Fund Offer is the initial period in launch of a mutual fund scheme. An NFO period can run from a few days to a few weeks. Applying for mutual fund units during this period will get you units at the NFO price (usually Rs 10 or Rs 100). You will also be invested in the mutual fund from day one.
An open ended fund will officially be launched after the NFO ends. Investors can enter the fund and exit from it at any time after the launch.
A close ended fund will not allow entry and exit of investors after the NFO period, until maturity.This is typically 3-4 years from the launch date. You can buy and sell units of such a fund on the stock market in theory, but liquidity in such funds on the market tends to be low.
Why invest in NFOs
New Strategies: Close ended funds offer you the chance to invest in new and innovative strategies that existing open ended fund may not. The Edelweiss Maiden Opportunities Fund, launched in February 2018 was dedicated to investing in pre-IPO and recently listed companies. The DSP Blackrock ACE Fund Series 2 and the Kotak India Growth Fund Series 4 were both launched with innovative hedging strategies which would protect your downside using put options. Being close ended, you could have only invested in these funds in the NFO period.
Flexibility: Close ended funds have flexibility in terms of when to invest your money in the market. In other words, even if the investment timing is bad and the fund is launched at a market peak, the fund manager can hold on to your funds and invest some of them a little later. This flexibility helps fund managers of such funds outperform.
Freedom from large flows: Open ended funds are vulnerable to large inflows and outflows. A sudden outflow can force the fund manager to sell his stocks at rock-bottom prices, causing a loss to all unit holders in the fund.
On the other hand, investors in a close ended fund are locked-in for the tenure of the fund and the manager can focus on stock selection and monitoring. You can only invest in a close ended fund through an NFO.
Lock-in Support: A much heeded investing proverb says that 'time in the market is more important than timing the market.' Most equity fund investors stay invested for only two years in the market, greatly impairing their returns. This is simply because it is difficult for investors to stay immune from market panics and manias. However the lock-in provided by close ended funds of 3-4 years acts as a break, preventing investors from falling prey to bad investing behaviours.  
Risks
NFOs are launched for new funds without an established track record. This can bring in an additional level of uncertainty.
In case of open ended funds, some experts argue that you can enter them after the fund is launched as well. This may reduce the utility of investing at NFO stage.
Is an NFO the same as an IPO?
No. An IPO or Initial Public Offering is the sale of a company's shares prior to its listing on the stock market. An NFO is an offer of a mutual fund's units. An IPO may priced above or below the stock's real value, as dictated by fundamentals. The NFO price of a fund cannot be interpreted in the same manner. The pricing of a mutual fund is simply dictated by the market value of the units it holds (NAV). This is true during NFO period and after the fund is launched. So you do not have to worry about IPO-like huge price fluctuations and getting allotment in an NFO.
How to invest in an NFO?
If your mutual fund KYC is complete, you can invest in NFOs by logging into your Paisabazaar account.
What NFOs are running now?
You can track these on our NFO page.