Start-ups: Compare, Select And Invest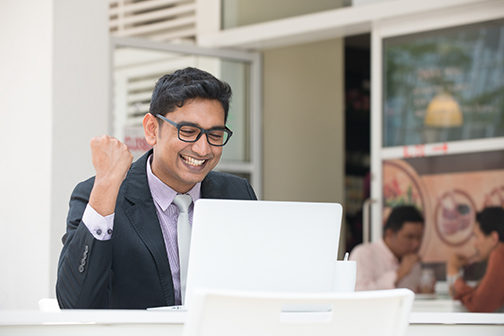 By Naveen Kukreja, CEO & Co-founder, Paisabazaar.com
(Published in Businessstandard.com on 27 Sep 2016)
Read Original Article
What's better than online shopping is shopping for financial products online. Paisabazaar.com offers over 90 products for its customers to choose from.
It is no mean achievement for any online financial platform to facilitate retail financial transactions worth Rs 2,500 crore. For Paisabazaar.com, it took less than two years to achieve this target and establish itself as India's largest online destination for lending and investment products.
Paisabazaar.com currently offers all kinds of retail lending products including personal loans, home loans, loans against property, auto loans, gold loans, education loans and credit cards from multiple providers.
Apart from loans, the online financial marketplace also offers investment products including mutual funds, savings account and fixed deposits on its platform.
"The success of financial technology will depend on how well the technology simplifies and solves customer problems. While working as a banker, I felt the requirement for a platform that could address all financial needs of a person at one place," says Naveen Kukreja, CEO and co-founder of Paisabazaar.com.
An alumnus of Indian Institute of Management-Calcutta and Delhi College of Engineering, Kukreja worked in the financial sector for 15 years before starting out on his own. It was this experience that helped him to set up an online portal that minimises processing hassles in getting loans or investing in mutual funds.
The company currently partners with more than 75 institutions, includes banks. non-banking financial companies, asset management companies and insurance companies, and offers over 90 products.
Paisabazaar.com makes investing in mutual funds easy for investors. The website has an easy e-KYC procedure that investors can fill online from the comfort of their home or office. As soon as the procedure is complete, customers can start transfering funds through the company's payment gateway and invest in whatever suits their requirement best.
The company doesn't charge customers for services and the revenue comes from the partnering financial institutions.
Currently, the portal receives 2.5 million enquiries every year. It aims to touch 6 million enquiries by 2017-18, and around 20 million by 2020.
"While majority of our enquiries and transactions come from 13 cities, we have more customers coming from even tier II and tier II cities, which accounts for 15 per cent of our total transaction. This is a very healthy trend. Ease of internet accessibility and seamless online interface will further encourage this trend," says Kukreja.
Salaried class accounts for 80 per cent of the transactions on the website, but recently some high net-worth customers have been increasingly making big-ticket transactions through the portal. Paisabazaar.com recently closed one of India's largest home loan disbursal made online worth Rs 5.96 crore. High-ticket disbursals (above Rs 1 crore) currently constitute 15 per cent of the overall home loan transactions at Paisabazaar.com.
"We are constantly trying to make the site mobile friendly as 60 per cent of our customers use the mobile platform," says Kukreja.
And riding on increasing popularity, the company hopes to double the amount of loan disbursement to Rs 5,000 crore by March 2017 and is targeting to an annualised disbursal of Rs 25,000 crore by the year 2020.
Kukreja says that even though this target looks huge, it is only a very small fraction of the total loan market, which currently stands at Rs.2 lakh Crore and is expected to touch about Rs 4 lakh crore by the end of 2020.
"We have been on a steady growth trajectory. We are hopeful of achieving this target by 2020," Kujreja added.
The company is still working towards making its website better and transactions smoother. Recently, it launched credit reports for customers that will help them in assessing which financial product suits them.
To facilitate e-KYC for customers, Paisabazaar.com, which is a two-year-old subsidiary of Policybazaar, is in talks with UIDAI for Aadhaar integration. The company is also trying to collaborate with e-Mudra, the central depository of digital signatures. If the integration goes through, Paisabazaar would be able to facilitate the entire loan application process online. As of now, the website only offers a loan approval document, which has to be physically verified by the lending institution.
Kukreja is confident that all the new features such as the real-time credit bureau check for prospective customers, added financial products and mobile apps would help the company increase its revenue flow.
The portal has been conferred with the "Best Financial Website" award for two years in a row (2013 and 2014) at the prestigious India Digital Awards presented by the Internet and Mobile Association of India.