After buying an insurance policy from Life Insurance Corporation (LIC) of India, you can visit its official customer portal to enjoy various services related to your policy. Through the portal, you can pay the premium, check the policy status and due date and track your policies, be it a life insurance or health insurance. However, to avail of these benefits, the user must login first. Thus, it is important to get acquainted with the LIC login and registration process.
E-services Available on LIC of India Portal
After logging in on the LIC portal, the following online services can be availed of:
Online Loan
Premium Payment
Premium calculation
Bill Payment Inquiry
Online Payment
Policy Status Check
How to Register on LIC Portal 
To enjoy the services available on the LIC website, first you need to register yourself on the website. Later, you can use these credentials for login. Here are steps for registration:
Visit licindia.in and click 'Customer Portal' under Online Services. 
Go for 'New User' option.
Provide all the necessary details asked in the registration form and click  'Proceed'. 
Create your username along with the password and again submit.
Login using the credentials you just created and go for 'Add Policy'.
Enroll all remaining policies, if any.
In case you wish to avail the 'Premier Services', follow the below mentioned steps:
For Premier Services:
Log in using your username and password.
Take a print out of your registration form and put your signature on it.
Scan the form along with a KYC document ( PAN Card or Passport).
Upload the scanned images using the upload option provided.
Submit your request for premier services.
After verification of your request (usually 3-5 days), you will receive an email and an SMS, confirming your request.
Now, you are registered for premier services.
In case you are facing  problem with online registration, you can register offline by visiting the nearest LIC branch office  along with documents related to the policy. A customer care executive will help you with the process of registration.

How to Login on LIC Customer Portal
1. New Users
After buying a life insurance policy from LIC, you need to first register on their customer portal by submitting your policy details. Afterwards, you get the login credentials which you can use to login. To know the  registration process, Click here.
2. Registered Users
Follow the below mentioned steps to login on LIC e-Services portal:
Visit the official website of LIC of India.
Under the 'Online Services' section, click on 'Customer Portal'.
3. Next, click on 'Registered User'.
4. Fill in details i.e. Role (Customer/Agent), User Id/Email/Mobile, Password and Date of Birth. Click 'Sign in'.
3. Login Process If You Forget User ID
Visit the official website of LIC of India and click on 'Customer Portal' button under the Online Services banner.
2. Next, you will find the option of Registered User. Click on it to land at the login page.
3. At the bottom of the form, click on 'Forgot User ID'.
4. A new page will open. Enter your policy number, instalment premium amount (without tax) and date of birth.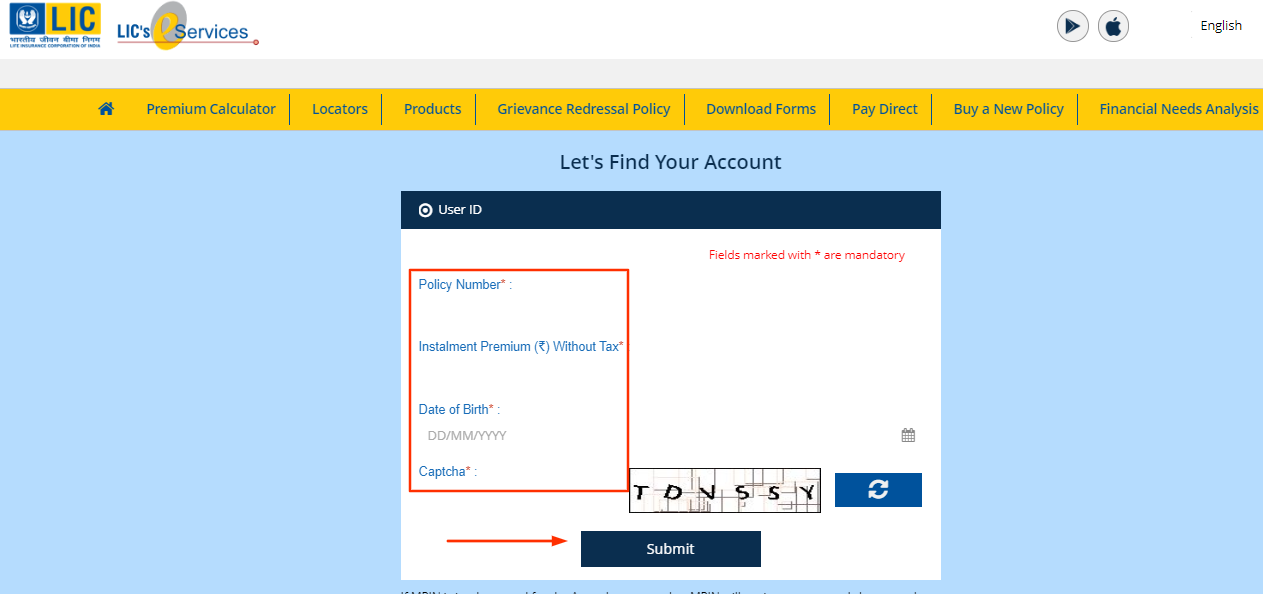 5. Submit the form and follow the steps that you will receive on your email id or mobile.
4. Login Process If You Forget Password
In case you have forgotten the password of your LIC online account, you can reset the same using the steps mentioned here:
Visit the website of LIC of India.
Click on 'Customer Portal' on the sidebar of Online Services.

Click on 'Registered User' option.
4. Click  'Forgot Password'.
5. On the next page, Enter your 'User ID, Date of birth'. Click Submit and follow the process that follows next.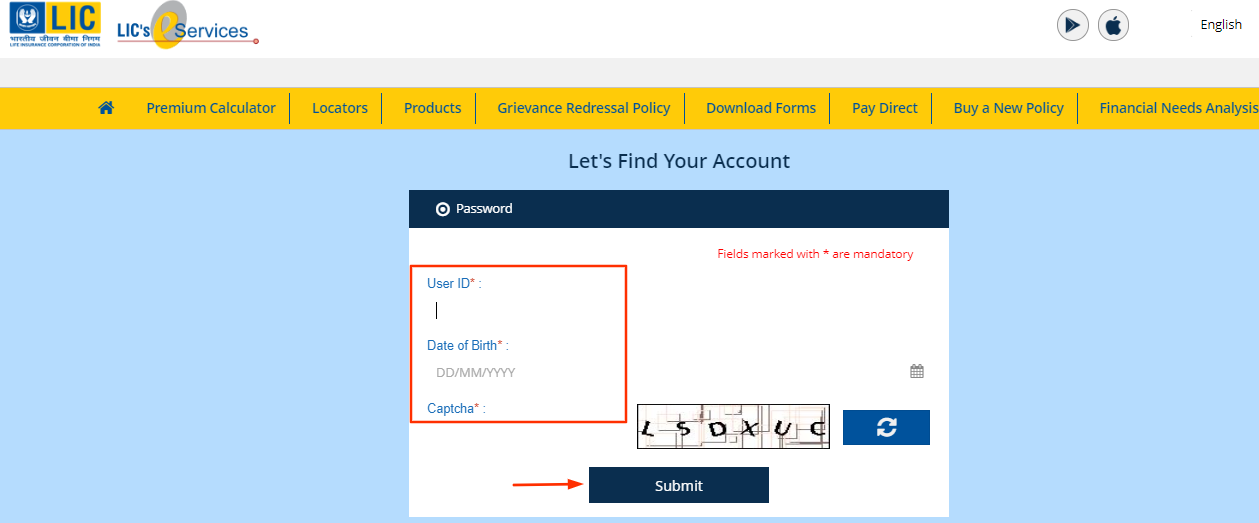 How to Use LIC Mobile App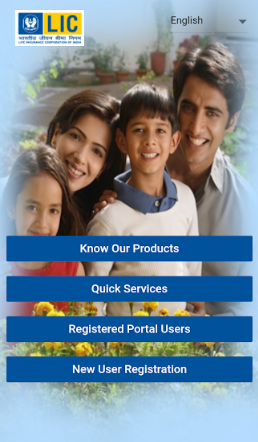 Besides the website, you can use LIC Customer mobile app for enjoying various services. This mobile app can easily be downloaded both on Google Play and App Store.
Steps to follow in order to use LIC Customer mobile app:
Download the app from Google Play/App Store and install in your mobile
If you are a registered customer, log in using your user ID and password
For unregistered customers, first register on the LIC website and then log in through the app
For registration, you can use either the website customer portal or you can register using the mobile app itself
Once logged in, you can navigate through the app and choose from the services available on the app
Note: If you encounter any problem while using the app, write a mail to portalsupport@licindia.com from your registered email-id and the company will revert with a solution.
Why Should You Use LIC Mobile App?
You can avail the following services using LIC Customer app:
Renewal premium payment
Know about plans
Requesting online loans
Get Do premium estimation
Statements for paid premium
Premium calendar
Estimate revival quotation for lapsed policies
Complaint registration
LIC agent login can also be done using the app

Inquiry about the claim and/or loan status
Benefits of Registering on LIC of India Portal
If you are a customer of LIC of India, it is beneficial to get registered on their online portal. The reasons are multiple, out of which some are listed below:
Easy-to-navigate User Interface
Availability to every online service available with LIC India
No need to wait for on-call customer care services
24×7 access to all the information pertaining to user's insurance policies
Quick premium payment without having to physically visit the office
Instant grievance redressal team
Free of cost services available
FAQs
Q1. Are my login details regularly updated at LIC?
Yes. LIC keeps a tab on all its users and their details. Thus, the database of registered policies is updated at regular intervals via verifying the same with respective banks. Also periodic auto-mailers are sent to all the registered policyholders regarding their registration status.
Q2. I'm unable to recover my LIC login details via online process. What to do now?
If the online option of detail retrieval is not helping, visit the nearest LIC branch office with your ID proof and registered mobile number.
Q3. Can I use the same login details for my spouse's policy?
No, your spouse needs to create a separate user account for this her policy.
Q4. How can I check my LIC premium account?
You can check the premium to be paid either online or through SMS (56767877). For online method, follow the below mentioned steps:
Visit LIC of India website
Click on Customer Portal under the Online Services side bar
A new page will open, log in using the Registered User button
On the new page, click on 'Policy Schedule', to check your premium details
Q5. How do I check my policy status?
To check your policy status you need to log in on the customer portal of LIC using your user ID and password. Now, click on the link 'Policy Status' and check the details thus displayed.
Q6. Is there any cost to be paid for LIC registration?
No, you can create your LIC account free of cost and LIC login page can be accessed anytime without paying for its use.
Q7. How can I find my LIC policy number?
There are two ways. First, directly check it in your policy document. Secondly, you can use the online method of retrieval by LIC login policy number. Simply login to your online account with LIC and there you can easily your policy number on the dashboard itself.
Q8. My LIC login is not working. What should I do now?
If you are not able to login to LIC customer portal via website or mobile app, you should call at LIC customer care number. There are two numbers:
022 6827 6827 (for LIC life plans)
18004259876 (for LIC health plans)
Q9. Do I have to provide my policy status at the time of registration?
Yes. At the time of registration, you need to provide your policy number for LIC login
Q10. Do I have to create separate accounts if I have more than one LIC policy?
No, you can add more than one policy details in your registered LIC account and use to check the details of all the policies.