How to Plan your Home Loan Monthly Instalment?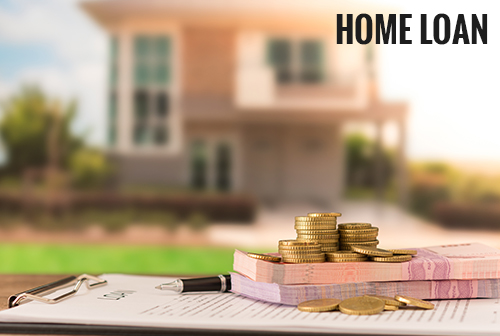 Are you an existing home loan borrower or are you planning to take one soon? If the answer to that question is yes, then you must know that home loan monthly instalments are a huge financial takeaway from your monthly earning. These home loan EMI deductions need to be managed appropriately so that they don't cause your financial life to go haywire. To know how to plan your loan EMIs, read on:
As our cities grow, the country's market attempts to serve the housing needs of hundreds of millions of prospective and existing homebuyers. These homebuyers are spread over the complete spectrum too, securing home loans for as low as 6 lakhs Rupees to as high as 1 Crore Rupees and more. Whatever are the homebuyers' needs, lenders such as banks and housing finance companies (HFCs) attempt to serve them. Loan amount is disbursed by the banks/HFCs to borrowers as and when required by the builders/developers/self and repaid by the borrowers to lenders through Equated Monthly Instalments (EMIs).
Once the vicious circle of home loan EMI's began, you need to cut down on your monthly expenses to repay the loan as any default in EMI may lead to bitter consequences and can even affect your credit score. It is better to plan your home loan monthly instalments (Home Loan EMIs) in a way that they do not pose any financial crisis to your household. However, there are a lot of factors need to be considered when planning a Home Loan EMI that can make or break the situation for you, some of them include:
Earnings: Your current day, take-home earning is probably the most significant factor which goes into deciding your home loan monthly instalment amount. If you have a stable job in a relatively stable industry, your lender and you can safely predict that with time your earnings will suitably increase. Thus, your EMI can be kept on a higher side; this may affect your bank balance initially but in a few years the EMIs will not seem a burden at all. If you are not already serving another loan, banks usually are inclined to keep 40% – 45% of your monthly earnings as your home loan EMI. However, if it seems to you that you are going to remain financially stable for a long period of time then you can go ahead and service heavy EMIs early-on in your loan tenure. Also make sure that your EMIs don't affect your investments and expenditures. Since banks usually consider 40-45% of your income when deciding on your EMI payments, an EMI amount which also lets you make at least 15% savings from your monthly earning is considered ideal. Your salary changes are uncertain. Moreover, if you are a businessperson or a self-employed professional then uncertainty looms over all the time over your monthly earnings. However, if your career looks stable to the bank / lender they presume that your earnings are going to increase over time, so they carve out an EMI schedule which asks for 40 – 45% of your earnings.

Expenditures: You should not only count-in your current expenditure while figuring out your EMI but also the increased spending you will have to do as your loan term progresses. Your current and potential future expenditures such as family expenses, possible medical expenses, kids' expenses, lifestyle expenses, personal expenses etc. should be factored-in while you and the lender decide on your EMI. Your dedicated EMI spending should also remain unaffected by surges in inflation over the years. So, play safe when deciding on your home loan EMI to keep paying on-time.
Repayment Capacity: As aforementioned, your repayment capacity depends on how much you earn, how much you spend etc. Bank's objective while calculating your home loan instalment is that you are able to repay your loan on-time. Your loan eligibility and repayment capacity is calculated accordingly only. Determined by your repayment capacity your EMI amount will also be decided. Repayment capacity is calculated through the monthly disposable/surplus income which a person can take out of his/her monthly earnings. Monthly disposable and surplus income can be calculated through factors such as your comprehensive monthly income/surplus excluding your monthly expenses, spouse's earnings, income stability, assets and liabilities etc.
Age: Age is certainly an important factor when planning your EMIs. Your age also influences your loan's rate of interest. If you are in your 20s' when you start a loan, then you can always afford to pay heavy EMIs and later in life when you have more responsibilities, EMIs feel less burdensome as your salary increases. However, this may not work if you start a loan in your 30s'. If you start a loan later in life, you will have to balance it well with your other spending too. Also, if you are taking a home loan early in your life then you have the option of going debt-free early however in this case, in your initial years a major chunk of your salary will go into your EMIs so there may not be desired savings.
Standard of living: Once your EMIs come into picture, your lifestyle choices are affected. Everything right from your outside dining to your travels is hampered since every month you have to take a chunk out of your bank account. This is why it is necessary to fix an EMI which you can service well while also not cutting much deeper into your lifestyle.
Loan Tenure: If you are a person who wants to pay big EMIs and finish the loan early so that the loan doesn't run for decades, then you will have to take out a major part of your salary as your EMI. However if this idea doesn't resonate with you, you can always have a loan tenure of 15 to 20 years and pay out the loan EMIs slowly and steadily. If you are comfortable with carving out EMIs from your salary for decades, then choose a long tenure for your loan. When people find their ideal home they have the tendency to stretch their budget or take a home loan which burdens their budget. Although, in both cases, things should be planned and managed.
Rate of Interest: Rate of Interest (RoI) of your loan shall not remain the same throughout your loan tenure if you have chosen a MCLR linked home loan. These days fixed rate loans are not preferred rather MCLR-linked home loans are preferred. Fixed rate home loans have a significantly high Rate of Interest (RoI) when compared to MCLR-linked home loans. However, MCLR linked loans are floating rate home loans which inherently means that the RoI on these loans will change when the bank chooses to change it. Thus, your EMI amount over the years will vary every time the RoI is changed and so, while planning your EMI amount and tenure you should be aware that in future you may have to pay increased EMI or pay the same EMI but for an increased tenure.
Overall Considerations: You should consider your present income, lifestyle, increase/decrease in income, ability to switch jobs, your increments, your career choices in upcoming years, your goals, future expenditures and retirement plans before planning your EMIs.
Also, increasing or decreasing your EMI amount invites charges such as prepayment charges by the banks. It is suggested by banks to keep your EMIs large initially – it may dig deep into your pocket, however in a span of a few years these EMIs will not be more than 10-20% of your earnings. Moreover, as aforementioned the bank doesn't keep your EMI above 40% – 45 % of your current in-hand earnings.
However since the expenses keep on adding such as a birth of a child, their studies, a new car/home, medical expense, parents medicals', other miscellaneous expenses, and never really go away, they can affect your home loan EMIs. Although, after leaving your 50 % – 60 % salary alone to serve your commitments, the bank doesn't know how you plan to manage your EMIs. It is you who has to decide whether your commitments will be met with the 50% of your salary or not.
You also have to take care of your investments. Your investments will also grow as your salary grows. Thus, your EMI shall be calculated accordingly: Let's say you want to invest 30% of your in-hand monthly earnings on investments and other short term, low cost and high-priority goals and your monthly expenses are 30 % of your salary, then you can keep 30% of your monthly earnings as your EMI and the rest, 10% can be buffer for uncertain and miscellaneous expenses.
Please note that when you invest, compounding money works for you rather than the bank so to offset the damage done to your savings by the loan EMIs, you should invest. If the home loan's EMIs look as if they are affecting your spending then your loan eligibility will be accordingly reduced. However, the lender institution tends to calculate your EMIs and loan tenure in such a manner that it doesn't affect your spending.
It is suggested by experts to only buy a house after you attain job certainty and stability in life. Set a goal and begin savings. Also make regular payments to maintain your credit scores too. Lending a loan later in your life will award you much clarity when taking the loan and your EMIs will be sorted. With a higher salary, EMIs will be affordable. Loan tenure will also be your prerogative. However, you will suffer the possibility of not owning a home for a long time if you take a home loan later in life.