How Home Loan EMI Calculators Can Help you Predict the Future?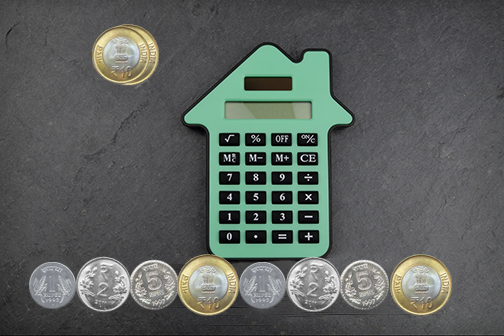 Knowledge is power. And knowing the future gives one the power to change it. This statement couldn't be truer than in the case of home loans. Knowing the right loan amount, tenure and EMI can do you a world of good and save you from a whole a lot of trouble!
Applying for a home loan is not just about filling the application form correctly. It involves shopping for interest rates, knowing one's eligible loan amount, and terms and conditions, among others. All this preparation helps you gain clarity on what such a substantial investment might cost you on a monthly basis.
The Equated Monthly Installment or EMI is the fixed repayment amount that you would need to pay on a specific date of every month, as agreed at the time of loan sanction. So, you should know exactly how much you would be paying over the next 20 years to avoid any financial stress later. At such moments, an EMI calculator can be of great help. Our Home Loan EMI Calculator can help you find the right EMI amount you can afford to pay without jeopardizing your financial security.
Benefits of using a Home Loan EMI Calculator
Finding your ideal EMI is key to your search for the right home loan. Once you have this figured out, you will be able to proceed with your search for a home loan that suits your needs and budgetary requirements and constraints. Let's take a look at the top three benefits of using a home loan EMI calculator:
Helps you plan finances: Using a calculator, you will be able to decide the amount of EMI you can comfortably pay month-on-month without stressing your wallet.
Aids in getting loan approval: Knowing your EMI amount will also tell you the loan amount you can afford. As a result, when applying for a loan by filling in the right amount, chances of your loan approval are higher.
Streamlines your budget for home purchase: Once you know the EMI and loan amount you can afford, you will be able to define the budget for your dream home. This will help you narrow down your house hunt considerably thus saving your time.
Keep in mind that while the EMI remains fixed, the amount being paid towards the interest and principal components gradually changes. As the loan period will progress, the outstanding principal amount will decrease. In addition, the interest payable at the end of every month will change owing to the decrease in the principal amount.
How does the Home Loan EMI Calculator Work?
It's very simple. Simply, enter the tentative loan amount and interest rate, and the tenure for which you intend to take the loan. Once all the figures are keyed in, our intuitive platform will tell you the EMI you would have to pay.
For instance, on entering Rs 40 lakhs as loan amount, 9.45% as interest rate and 20 years as loan duration, we get Rs 37,154 as EMI.
Once you have found out the loan amount feasible for you to pay, move on to the Home Loan Eligibility Calculator. Using this tool, you would know the loan amount you are likely to get sanctioned for by the banks. So, once you know the pocket-friendly EMI and the loan amount you are eligible for, your home loan application will sail through with ease.