Updated: 06-11-2019 11:07:50 AM
HDFC Life Insurance provides various types of life insurance policies. After buying a life insurance plan from HDFC Life, the policyholder needs to know the HDFC Life Insurance login and registration process in order to manage their policies online. This can be done for enjoying various e-services available on the portal like checking policy details, paying the premium, tracking policy status, etc.

E-Services Available on HDFC Life Portal
By registering yourself on HDFC Life portal, you can enjoy various e-services offered by the company. They are:
Premium payment
Filing claims
Escalations (Customer support)
Policy servicing
Branch locator
How to Register on HDFC Life Portal
If you are a first-time user, register yourself as a customer by following the steps mentioned below:
Visit the official website of HDFC Life and click on 'My Account' tab.
Register yourself by clicking on 'Register' tab.
A new page will open. Here, enter your policy number and date of birth. Then, click on 'Submit'.
An OTP will be sent to your registered mobile number. Enter the number and proceed.
Set your Secret Question.
Create a password for your account and you are done.
You can also register your account through offline mode by simply submitting the policy related documents and your personal details to the executive in the HDFC Life insurance branch office.
How to Login on HDFC Life Portal
1. New Users
After buying a suitable policy, you need to register yourself on its portal to avail various e-services. After registering online, you will get login credentials which you can use to login. To know the registration process in detail, Click here.
2.Registered Users
Visit the official website of HDFC Life and click on 'My Account' tab.
2. A new login page will open. Login using your Client ID/ Email ID/Mobile number, enter your password and and click on 'Login'. You can also login through your social accounts.

3. If You Forget User ID
If you happen to forget your client ID, you can refer to your policy document for the same or connect with their customer care center through the following mediums:
Call: 18602679999 (local charges apply)
Email ID: service@hdfclife.com/ NRIservice@hdfclife.com(only for NRI customers)
4. If You Forget Password
If you are not able to remember your password, follow the below mentioned steps:
Enter your Client ID/Email ID/ Mobile no. in the login input box and click on 'Forget password'.
A new page will open. Here, enter your Client ID/ Email ID/ Mobile number and click on 'Validate'.
On the next page, answer the Secret Question and click on 'Submit'.
An auto-generated email with the User ID and Password will be sent to your registered email ID.
How to Use HDFC Life Mobile App
Apart from web portal, you can also avail various services through its mobile application. Below are the steps you need to follow to use this application:
Download HDFC Life Insurance App from Google play store or iOS App store.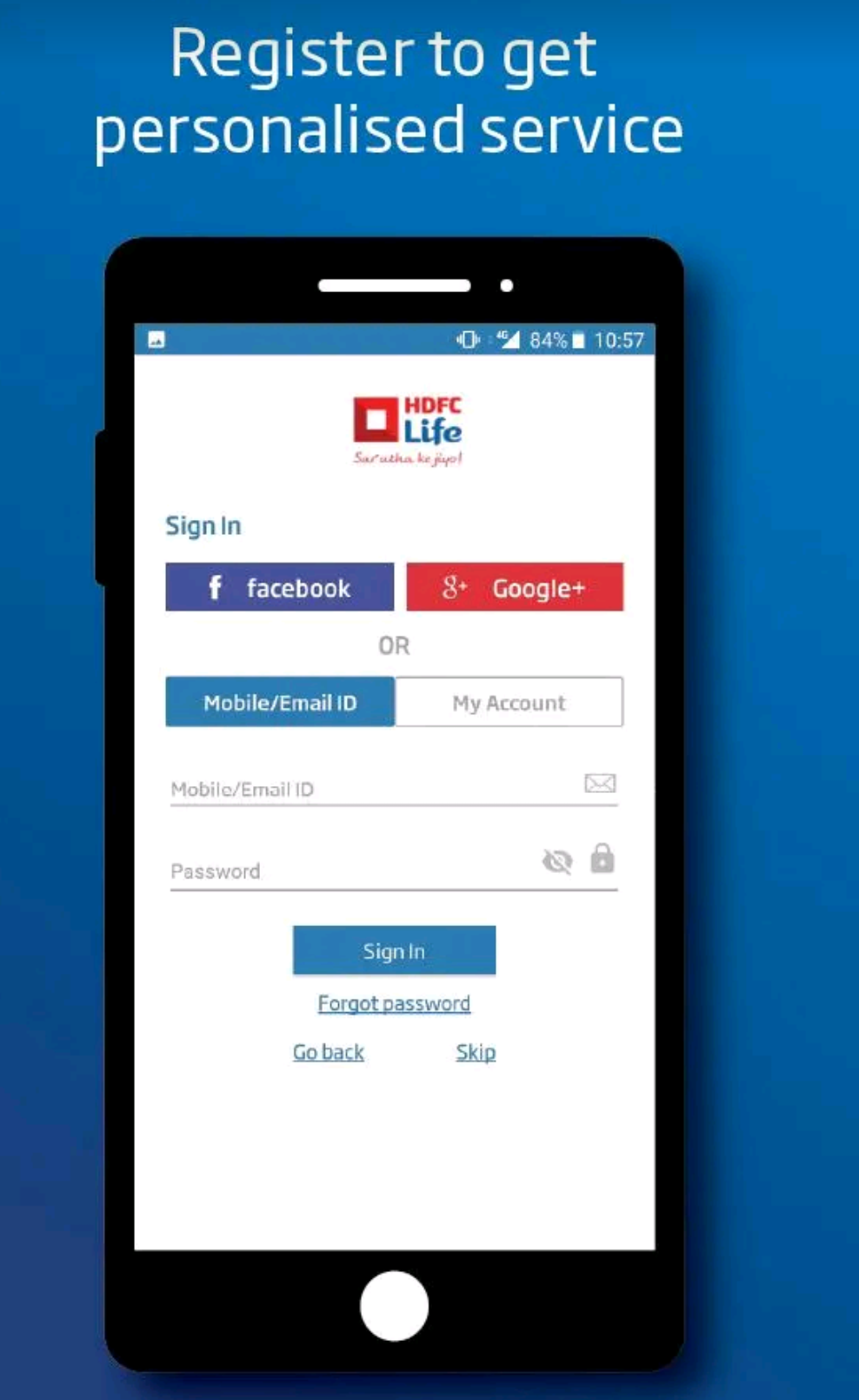 2. Sign into your account either with your mobile no./email ID or policy number. You can also login through your registered Facebook or Gmail account.
3. In case you are not a registered user, you first need to register on the HDFC Life website.
Why Should You Use the Mobile App?
The policyholder can enjoy the following services using HDFC Life Mobile App: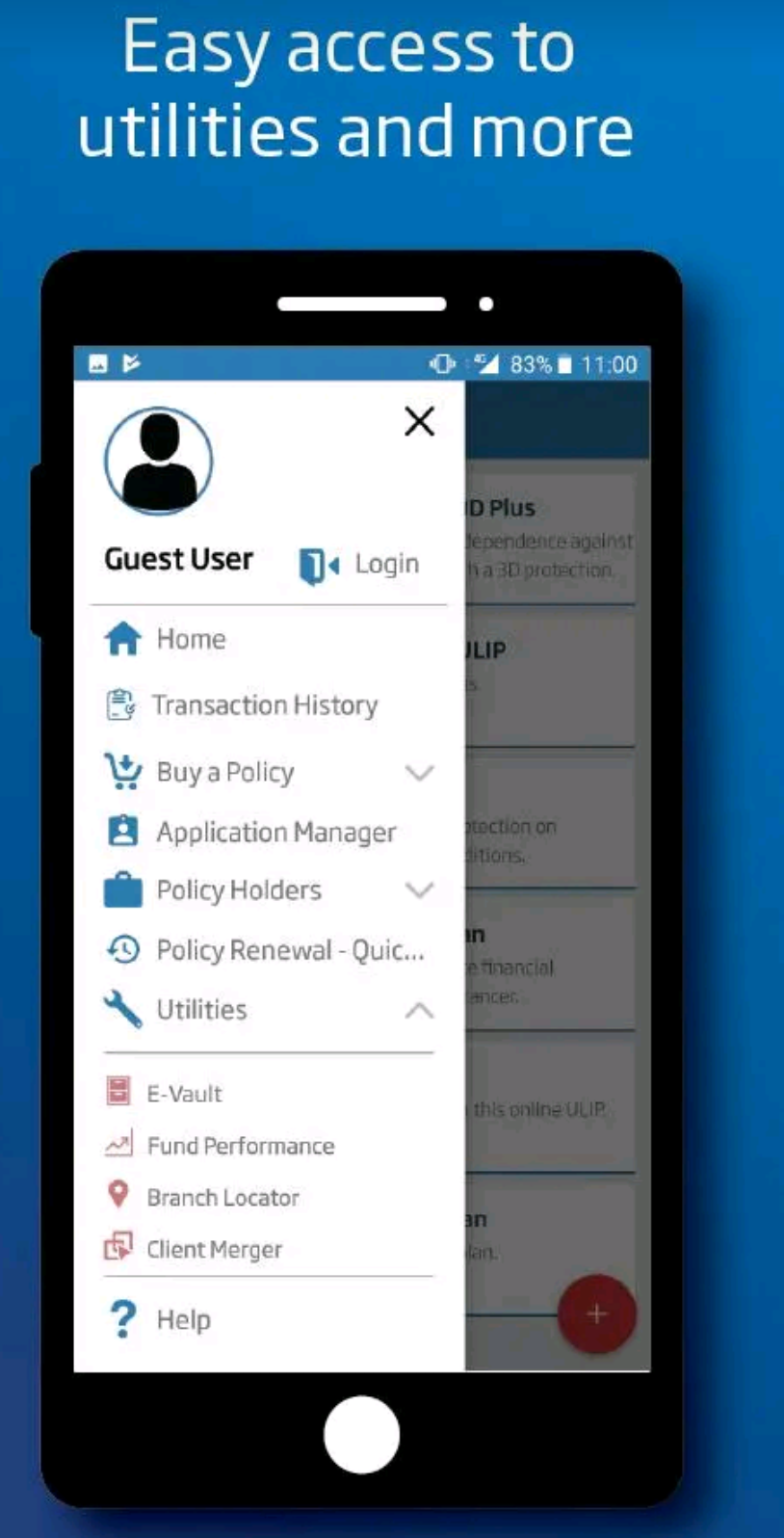 Renewal premium payment
Choose right plan through 'Help me decide'
Upload documents right from the application
Track NAV of different funds for all unit linked insurance plans
Important Aspects
Points to be considered regarding the login process:
If you have purchased a policy in the name of your children who are minor, then you have to register on behalf of them under your name
Married couples will not be allowed to register in the same account and have to register their polices individually
Benefits of Using the Insurance Portal
Some of the benefits of registering on the HDFC Life Insurance portal are:
Policyholder will be able to make online inquiries regarding the polices, thereby, saving time and effort
Insured will be able to keep a proper and continuous track of next premium dues
You can check claim status without the need to call their customer care or visiting the branch office
HDFC Life mobile App allows you to browse through various online life insurance plans, compare their benefits, purchase them and track till policy issuance.
FAQs
Q1. How do I get my premium receipts online?
You can download premium receipts from the E-Service section of 'My Account'.
Q2. What is a Login ID of My Account portal?
You can login to 'My Account' with your Client ID or with your registered email ID. The client ID consists of eight digits found at the top right side of your premium receipt.
Q3. What is the password to open a soft copy of the annual premium statement?
The password would be first 4 digits of your Client ID followed by your year of birth. You may also download your annual premium statement from the E-services section of 'My Account'.
Q4. How do I activate SMS alerts for my policy details?
You can activate SMS alerts from the Get Alerts section of 'My Account'. Select the mode of notification i.e. email or SMS alerts for transactions.
Q5. What if I entered an incorrect password?
In case you don't remember your current password, you can alternatively login by using the OTP option and registered client ID/email ID/mobile number.
Q6. How many login attempts will I get?
You will get 5 login attempts after which your account will be blocked. If you get your password wrong in the first go, use 'Forget Password' option and reset your password to login.
Q7. What if I don't remember the answer to my secret question?
In this scenerio, you can login using the OTP option sent to your registered email ID/mobile number. Once you are logged in, in 'My Account' select 'Change secret question and answer' from the drop down menu located at the top right corner of the home screen.