Published: 22-04-2020 11:21:37 AM
Fullerton India personal loan features flexible end use and can serve the financial purposes for both salaried and self-employed individuals. With online disbursals of loan amount of up to Rs.25 lakh, Fullerton India offers flexible repayment tenure, reasonable interest rates and other related facilities to the customers. In addition to this, Fullerton India personal loan login is very simple and easy. Customers can easily login and can avail different services offered by Fullerton India such as applying for a new loan, checking offers and benefits, repayment of loan, current status of outstanding loan and so on.
How to Register on Fullerton India Personal Loan Online Portal
Getting registered with Fullerton India personal loan is a simple and easy process. Following are the steps required to register at Fullerton India personal loan online portal:
Step 1: Visit the official website of Fullerton India
Step 2: Click 'Customer Login'
Step 3: Click on the 'Click Here for Registration' link
Step 4: To register sync with your Google or Facebook account.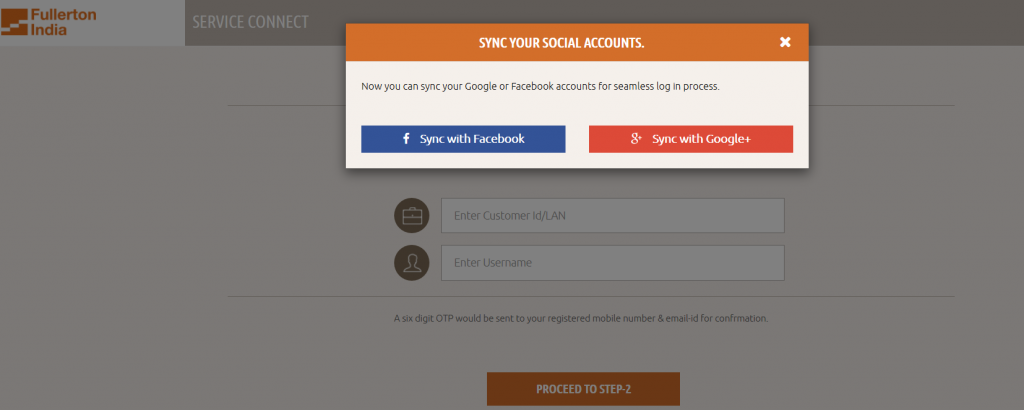 Step 5: Register using Customer ID or Loan Account Number and create a username of your choice. Then click "Proceed to Step-2" to complete the rest of the registration process.
How to Login at Fullerton India Portal
If you are already registered with Fullerton India, you need to follow the below mentioned steps to login at Fullerton India:
Step 1: Visit the official website of Fullerton India
Step 2: Click 'Customer Login'
Step 3: Enter Customer ID/Loan Account Number/Username and Password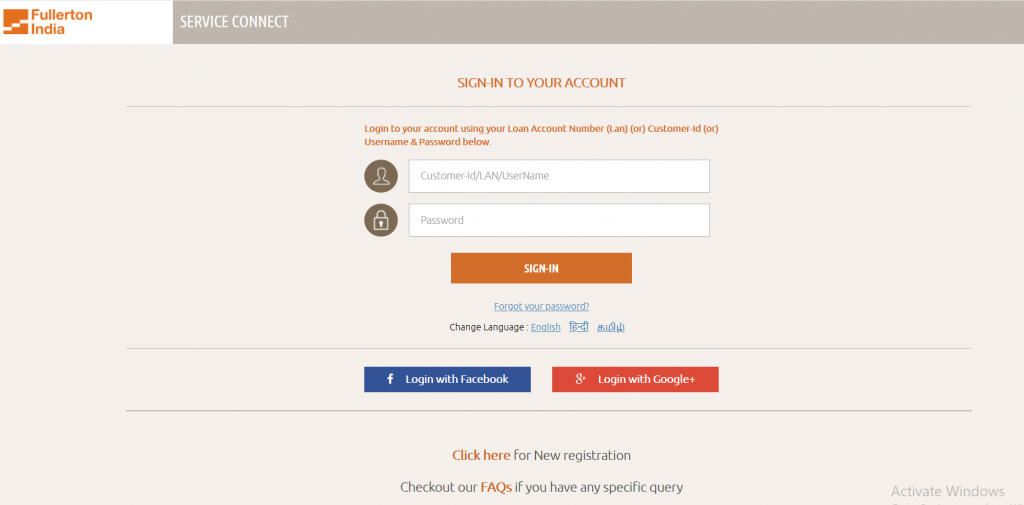 Step 4: Now you can proceed further by clicking 'Sign In' to avail services.
If you have Forgotten Password
In case you have forgotten password of your Fullerton India login, you are required to follow the below mentioned steps:
Step 1: Visit the login page of Fullerton India
Step 2: Click 'Forgot Your Password'
Step 3: Enter Username/Loan Account Number/ Customer ID
Step 4: Click 'Proceed to Step 2' and enter the details required to login again
Services Available on the Fullerton India Online Portal
You can access various services through the Fullerton India portal which includes the option to track the loan status, view or download the loan statement, pay bill, apply offers and benefits, etc. Some key personal loan services available on the Fullerton India portal are as follows:
View all banking transactions
View EMI amount and due date of outstanding loans
View and manage all your EMIs
Track your personal loan application status
View or download loan statement
Important Aspects
Mentioned below are some of the important aspects that are required to be considered while availing personal loan through Fullerton India:
Do not disclose any sensitive information related to your Fullerton India online banking account including but not limited to password, loan account number, User ID and OTP
Ensure you always logout of your net banking portal at the end of every session
Always set a strong password and change it at regular intervals
Do not access your online account using a public/open Wi-Fi network
FAQs
Q1. How to check Fullerton India personal loan status?
You can check Fullerton India personal loan status through online portal. You are required to login using your registered Username and Password, then proceed further to check your personal loan status.
Q2. What is the toll-free number of Fullerton India personal loan?
Customer can reach out to a customer care representative by dialing 1800-103-6001.
Q3. What is the email address to file complaints, requests or queries related to personal loan?
The official customer service email address of Fullerton India is namaste@fullertonindia.com where customers can file complaints, queries or requests related to personal loans as well as other products.
Q4. How can I login if I forgot my customer ID?
In case you have forgotten your customer id, you can use either your loan account number or username to login.
Q5. How can I repay my loan?
You can repay your loan through post-dated cheque or by ECS mandate deposited with your chosen bank.