SBI Revises Interest Rates of Their Fixed Deposit Schemes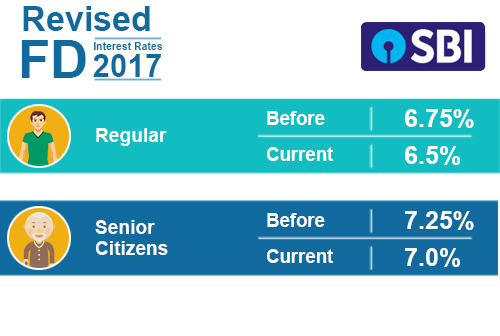 Soon after cutting the service charge on savings accounts, SBI has revised interest rates on fixed deposit schemes. The move has come after the decrease in repo rate by the Reserve Bank of India. These changes have come into effect from 1st October, 2017. The bank has slashed the interest rate on 1 year fixed deposit by 25 basis points and depositors will now be issued FDs at 6.5% interest rate instead of 6.75% interest rate. Senior citizens will get interests at 7.0% which was 7.25% before this rate cut. Below mentioned are the interest rates offered by the bank on all schemes:
FD Tenure
Interest Rate (%)
Regular Citizens
Senior Citizens
7 days to 45 days
5.50
6.00
46 days to 179 days
6.50
7.00
180 days to 210 days
6.50
7.00
211 days to less than 1 year
6.50
7.00
1 year
6.50
7.00
Above 1 year to 455 days
6.50
7.00
456 days to less than 2 years
6.50
7.00
2 years to less than 3 years
6.25
6.75
3 years to less than 5 years
6.25
6.75
5 years and up to 10 years
6.25
6.75
SBI Resident Indian Senior Citizen Pensioners will continue getting additional interest rate of 1% for staff and 0.50% for senior citizens. However, the rate will not be applicable for NRO staff. It is worth noting that these rates are applicable on deposits below Rs 1 Crore.
Banks such as ICICI Bank and HDFC Bank provide relatively higher interest rate on one year fixed deposit scheme. Both the banks currently offer 6.75% interest on the one year scheme.