Pros and Cons of Add-on Credit Cards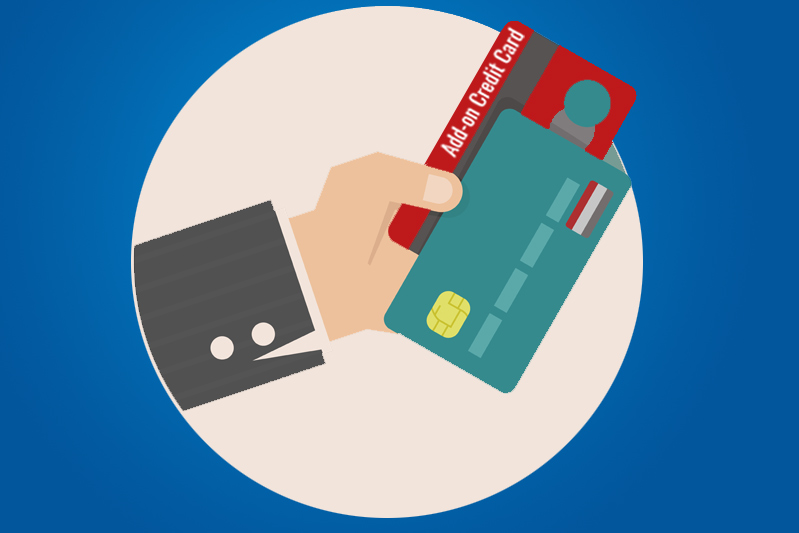 Add-on credit cards, also known as supplementary credit cards, can be taken by a primary cardholder to pass the privilege on to his/her family members like parents, spouse or children above the age of 18. Most of the banks offer add-on credit cards for free but only a handful of people actually avail this benefit. There is a limit on the number of add-on credit cards that you can get on your existing card along with other terms and conditions.
So, is it really a good idea to get add-on credit cards for your family members?
The answer to this question differs from one user to another and this is what we will talk about in this article. But before that, let us first get the basic understanding on add-on credit cards.
Add-on Credit Cards and How They Work
Add-on credit cards are not offered on all credit cards but only on premium or super-premium ones. Usually, banks let you take a few add-on cards for free, say up to three cards, but the number is limited after which you would have to pay joining and annual fee on every supplementary card you take. Here are some popular credit cards by leading banks and the add-on card fee on them-
| | |
| --- | --- |
| Credit Cards | Add-on Card Fee |
| Air India SBI Signature Credit Cards | Nil |
| American Express Platinum ReserveSM Credit Card | Rs. 1,500 |
| Citi PremierMiles Credit Card | Joining/Annual Fee communicated at the time of sourcing a supplementary credit card |
| HDFC Regalia First Credit Card | Lifetime Free |
| Standard Chartered Manhattan Platinum Credit Card | Nil |
Remember that all transactions made on supplementary credit cards will be directed to the single primary credit card account when it is about paying the dues. All information will also be recorded in the primary credit card so that it is easy for the primary card holder to keep a track of the transactions.
The credit limit set on all add-on cards collectively will be within the total credit limit on your primary card. Let us understand this with an example. Suppose you have a limit of 1.5 Lakh on your primary credit card and you have taken two credit cards- one each for your wife and son. Given that you have not set any limit on any of the cards, the two supplementary cards plus the primary card will have a total limit of Rs. 1.5 Lakhs. So, if your wife spends Rs. 40,000 on her card and your son spends Rs. 20,000 on his, then you will be left with a limit of Rs. 90,000 on your primary card. Some banks may also distribute the limit across all cards. In that case, the 1.5 Lakh will be equally distributed across the three cards in the values of Rs. 50,000 each.
Also Read: How Banks Determine the Limit on your Credit Card
The Pros and Cons of Add-on Credit Cards
Getting supplementary credit cards for your family members can be beneficial but at the same time, it has some drawbacks.
Pros –
Accumulate Points on All Cards
When payments are directed to your primary credit card, rewards earned on all credit cards will also be directed to the primary card. So, it is easier for you to earn more reward points. The accumulated reward points can be redeemed against gifts and merchandise or converted to air miles, if your bank allows you to do so. The more supplementary cards you have on your primary card, higher will be chances to earn reward points.
Hit Spending Milestones Quickly
A number of credit cards, especially the premium ones, offer milestone benefits which means that on reaching certain spending threshold you will be awarded bonus reward points or the annual fee may be waived off. When the entire credit limit is used by only one person, it may be difficult to reach that spending threshold but when it is distributed across two or three people there will be more spending, hence making it easier to reach the milestone.
Introduction to Credit for Secondary Users
Giving your kid an add-on credit card can work as a good introduction to credit. But you should also encourage him to monitor the spending on the credit card; make him understand the statement and reward points earned. Those who do not qualify for getting a credit card due to low credit score or any other reason would also find add-on cards beneficial. Although add-on cards do not help in improving or building the secondary user's credit score, they can be good for getting additional spending power and understanding credit.
Suggested Read: 5 Best Rewards Credit Cards
Cons –
Affects the Primary Card Holder's Credit
This is the major drawback of giving an add-on credit card to a family member. Since all the dues will be directed to the primary card holder's account, late payments or defaults will also affect the primary holder directly. So, if as the owner of the primary card, you do not keep a check on the total spending made by secondary users, it might end up trashing your own credit score.
Fees and Charges
Although most of the add-on cards come with zero annual fee, sometimes you might have to pay some fees and charges if you have availed the service without any such offer from the bank. This will come as an additional burden on you. Moreover, if the fees is too high it might overshadow the benefits you will avail on the card.
Suggested Read: Things to Know Before Applying for a Credit Card
Things to Keep in Mind before Getting an Add-on Credit Card
Since there are so many advantages and disadvantages of supplementary credit cards, these might suit some users while others might end up regretting. Hence, it is important to keep a few things in mind before getting an add-on card on your primary one.
Firstly, you should make sure that the person you are getting the supplementary card for is a credit responsible person. For example, if you are planning to apply for an add-on card for your son, it would be better if he has shown good money behaviour in the past. If you are not sure, it is advised to pre-set a limit above which he cannot spend so that you do not have to worry about him going crazy on your dime. You can do the same with other cards you are taking.
Secondly, you should ask your bank about the terms and conditions related to the add-on cards you are taking. If you are taking under the no annual fee offer, you should not have to pay any fees in the first year but you must ask the bank whether it is a one-time offer or the card is free for lifetime. Also, confirm any other fees and charges associated with the supplementary cards.
Add-on cards work very well when you have kids above the age of 18. It is a good way to teach them the basics of handling credit before they get a stable job and can apply for their own credit card. For kids who live away from their parents, it will also be useful in the times of emergency. Add-on cards are also good for supporting your parents in the post-retirement years, at least for covering any medical emergency.
Like any other offer, a number of terms and conditions will be involved when you take an add-on credit card. It is better to ask questions in advance and clarify everything than regretting later.