Best 5 Travel Credit Cards in India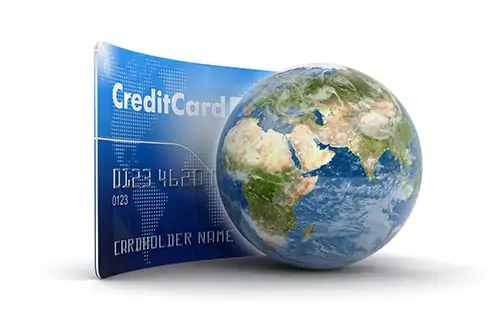 Credit cards come with a lot of advantages. You can easily leverage financial benefits using credit cards provided you know them inside out. At the same time, though, you can overspend one can get stuck in debt if one doesn't know properly to use them. Credit cards remove the burden of carrying cash all the time for varied purposes like travelling, shopping, buying household purchases etc. One needs to choose credit card very wisely as the features differ with the purpose.
Factors to consider before taking a travel credit card
Interest rates: As credit cards are essentially a short-term loan, so it's important to know and compare the interest rates they carry. The impact of interest rate kicks in when you don't pay off your bills on time and the amount due starts to compound every month.
Annual and joining fees: A lot of credit cards have a yearly fee or annual charge associated with them, especially in the case of premium cards. Before you choose a card, see if it comes with strings attached.
Reward points: All card issuers these days offer reward points or cashback benefits on their credit cards. Check if the benefits offered on a card are in sync with your expenditure routine or requirements.
So if you are gearing up for your favorite holiday destinations, always consider the credit cards which offer best travel rewards that can help you save money on booking airline, hotels and general travel expenses. Depending on the salary bracket, interest rate, annual charges and other factors, the following are the top five travel credit cards in India:
1. American Express Platinum travel credit card
This card offers great benefits to frequent fliers and you can access the benefits of lounges all over the world through Priority Pass.
Annual Fee:  The annual fee for the first year is Rs 3500. Second year onwards the fee is Rs 5000.
Key Benefits:
They offer welcome gift voucher of Rs 5000 Milestone Bonus Membership Reward Points which are redeemable for Indigo Vouchers (worth Rs. 4000)
On an annual spending of Rs 1.90 Lac, one gets an indigo voucher more than worth Rs 7,700.
On an annual spending of Rs 4.00 Lac, one gets an indigo voucher more than worth Rs 11,800.
Pro Tip: You can reap the maximum benefits if traveling by Indigo as most of the redemption is done by Indigo partners.
2. Axis Bank Vistara Credit Card
This offer special discounts on travel with the upcoming Vistara Airlines, dining and a multitude of other expenses by using this card. Also they allow you to make payments through easy EMIs in case you make big-ticket purchases that you cannot pay off immediately.
Joining fees and annual fees of Rs. 1500 for the Axis Bank Vistara credit card
2 CV points credit on every Rs. 200 spent with the value of 1CV point equal to Re. 1
Joining gift of 1 complimentary economy class ticket on Vistara Airlines is provided with the card
Additional complimentary benefits include purchase protection cover, air accident cover and complimentary lounge access at select Indian airports.
3. Standard Chartered Emirates Platinum credit card
This card is perfect for high-net worth people who enjoy exquisite things in life. You can discover true luxury and value on the go. Also get unmatched bonus miles and unique flying experience.
Annual Fee: The annual fee for this this card is Rs.3000
Key benefits
Become the member of Platinum Priority Pass program and get free access to more than 600 VIP airport lounges around the globe.
Earn 4 Emirates Skywards Miles for every Rs.150 spent; also get 27,500 bonus Skywards Miles on joining.
Get up to 10 million travel insurance in the cases of baggage loss, trip delays, air accidents, etc.
4. State Bank of India Elite credit card
SBI Elite credit card offers a host of premium facilities which adds superior flexibility and suave to its customer's wallets. It is worth opting for this card if you are frequent flier or a shopaholic.
Annual fee:  The annual fee for this card is Rs.4,999
Key benefits
Get welcome e-gift  worth Rs.5000 on joining, which you can redeem at Marks and Spencer, Westside, Shoppers Stop and Hush Puppies/Bata
Enjoy free movie tickets  worth Rs.6,000 every year
Earn up to 50,000 bonus reward points worth Rs.12,500. Also enjoy 5x reward points on dining, departmental and grocery stores.
Get the complimentary Priority Pass Program membership worth $99 annually and avail free access to airport lounges worldwide.
5. CitiBank PremierMiles card
Access to all premium airports lounges across India and across world is a complimentary benefit with this card. One also gets a benefit of earning extra miles on air ticket bookings and online shopping transactions made using this card.
Annual Fee: It comes with an annual fee of Rs 3000 from the 2nd year onwards and zero joining fees.
Key Benefits:
One earns 10000 miles on card activation and minimum spend of Rs. 1000 within 60 days of the card being issued.
One earns 10 miles for every Rs 100 spent on airlines and 10 miles per Rs 100 spent with partner merchants.
Every 100 miles earned in reward points is equal in value to Rs 45.
Additionally the card holder gets complimentary Air Accident Insurance worth up to Rs. 1 crores.
Conclusion
Just as you need to choose your clothes so that they fit you, choosing your credit card based on your requirements is equally important. In case you are a frequent flyer, a credit card that rewards your travel is a must, however, understanding the rewards structure on offer can definitely help you get the most out of your credit card.