Citibank Rewards Credit Card is designed for frequent shoppers. Users can earn bonus reward points, cash back, gift vouchers and so on. Additional details of the credit card are mentioned below.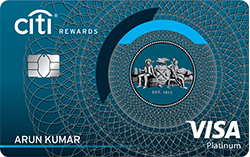 Best suited for
Welcome Offer
REWARD
SHOPPING
Fee
Annual Fee: ₹ 1000
Waived off on annual spends > ₹30000
Joining Fee: ₹ Nil
For Spends > ₹30000 Annually
Highlights & Rewards
Highlights
Get 1,500 bonus points on your first spend made within 30 days of card issue
Get 300 bonus points on card spends of INR 30,000 or more in a month
Annual Fee of ₹1000 gets waived off by spending ₹30,000 in a membership year
Rewards Value
₹125= 10 Reward Points (On Apparel & Departmental stores)
₹125 = 1 Reward Point (On Normal Spends)
1 Reward Point = ₹0.30
Apply now for Citibank Rewards Credit Card
Find your perfect Credit Card
Best Suited For – Shopping, Rewards and Dining
Cashback and Accelerated Reward Points

Exclusive Dining Privileges

Concierge Services and Travel Assistance
Get Citibank Rewards Credit Card Now
*Offers are from Paisabazaar's partner Banks & NBFCs.
Find Similar Credit Cards from Other Banks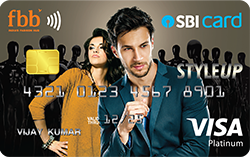 STYLEUP Contactless Card
Welcome gift of ₹500 worth Fbb gift voucher within 15 days of annual fees payment
10X Reward Points on your spends at Big Bazaar, Standalone Fbb and Food Bazaar outlets, and on all your Dining expenditures
Anniversary gift of 2,000 Bonus Reward Points every year
Know More
SimplySAVE SBI Card
Spend ₹2,000 or more in first 60 days and get 2,000 bonus Reward Points
Get ₹100 cash back on your first ATM cash withdrawal, within first 30 days of receiving card
Enjoy 10 Reward Points per Rs 100 spent on Dining, Movies, Departmental Stores and Grocery Spends
Know More
Eligibility and Documentation
| Criteria | Details |
| --- | --- |
| Occupation | Salaried |
| Minimum Income | Rs. 25,000 per month |
| Serviceable Cities | Click here for the list of eligible cities |
Along with your application form, you should also submit valid proof of identity, address and income. Given below is the list of documents that can be accepted.
Features
Welcome Benefits

Get up to 2,500 Reward Points on using their card within 60 days of card issuance

Reward Points

Earn 1 reward point for every Rs. 125 spent. Get 10X rewards on apparel and departmental store spends

Concierge Service

Citibank concierge service allows you to send flowers, arrange parties, make dining and movie ticket reservations as well as get travel assistance.
Suggested Reads: Concierge Services: A Perk for Premium Credit Card Users
Watch this video
Citi Rewards Credit Card is among the top credit cards in India for earning excellent reward points across all categories with extra rewards on apparel and departmental store spending. Here is a short video about more features of this credit card.
Fee and Charges
Title
Details
Annual Fee
Rs. 1,000 (waived off on spending Rs. 30,000 in the preceding year)
Cheque/ECS/ACH bounce charge
Rs. 500 per returned instrument
Extended Credit Charges
3.25% p.m. /39% p.a.
Outstation Cheque Charge (based on the value of the cheque)
Up to Rs. 10,000 – Rs. 50 per cheque
Rs. 10,001 to Rs. 1,00,000 – Rs. 100 per cheque
Above Rs. 1,00,001 – Rs. 150 per cheque
Reissue of lost, stolen or damaged card
Rs. 100
Cash Advance Charges
2.5% on the billed amount withdrawn*, subject to a minimum of Rs. 500
Railway ticket booking surcharge
1.8% of the transaction value
Fuel transaction charge
1% of the transaction amount, subject to a minimum of Rs. 10. Waived at Indian Oil Corporation outlets for transactions on Citi EDCs (electronic data capture terminals)
Overlimit Charges
2.5% of the amount (excluding fees, charges and taxes) over the credit limit, subject to a minimum of Rs. 500
Late Payment Fee

Rs. 300 for current balance less than Rs. 10,001
Rs. 600 for current balance* of Rs. 10,001 and up to Rs. 25,000
Rs. 950 for current balance above Rs. 25,000
Citibank Credit Card Customer Care Details
| Citibank Credit Card Customer Care | Details |
| --- | --- |
| Customer Care Number (when calling from India) | 1860 210 2484 |
| Number for calling Citibank from outside of India | +91 22 4955 2484 |
Check More Cards from Citi Bank
How to Apply for Citibank Rewards Credit Card
You can apply for Citi Rewards Credit Card through Paisbazaar.com following the steps given below:
Click here to start your credit card application process
Enter the relevant details and proceed
Now you will see all cards you are eligible for. Find Citibank Rewards Credit Card from the list
Check eligibility for this card by providing the required detail
If eligible, fill the detailed application form and submit
After a successful online application, you will get a call from Paisabazaar or Citibank to decide the right time and place for document collection. Once the documents are submitted, the bank will review them along with the application form. After successful verification, the card will be sent to your communication address.
Alternatively, you can apply for this credit card directly from Citi Bank's website or by visiting the nearest Citi Bank branch.
FAQs
What is the annual Fee charged on this credit card?
The annual Fee charged on this credit card is Rs.1000.
Can users get an annual fee waiver on this credit card?
Yes, users can get annual fee waiver on this credit card as long as they spend over Rs. 30,000 in a membership year.
Does this credit card let users make contactless Payment?
Yes, users can transact amount up to Rs. 2,000 using this credit card. Do note that contactless payment can be carried out at only those terminals that accept contactless payment.
Compare Similar Credit Cards from Other Banks
Credit Card
Annual Fee
Reward Points
Net Savings
Citibank Rewards Credit Card
Rs. 1,000
Users earn 1 reward point per Rs. 125 spent. 10x points are earned on apparel and departmental store spends
Rs. 5,483*

Rs. 11,245**

HDFC Freedom Credit Card
Rs.500
Earn 500 reward points as a welcome gift and 500 reward points on payment of renewal fee
Rs. 1,744*

Rs. 2,488**

Standard Chartered Super Value Titanium Credit Card
Rs.750
Earn 1 reward point for every Rs. 150 spent

Rs. 9,834*

Rs.12,930**

ICICI Bank Coral Contactless Card
Rs.500
Earn 2 PAYBACK points per Rs. 100 spent
Rs.10,636*

Rs. 15,772**

HDFC Platinum Times Credit Card
Rs.1,000
Earn 3 reward points per Rs. 150 spent
Rs.5,444*

Rs.8,288**
*On spending Rs.2 lakh annually
**On spending Rs.4 lakh annually
Other Rewards Credit Cards
People also looked for the following rewards credit cards:
Credit Card
Annual Fee
Key Feature
Paisabazaar Rating

Rs. 1,500

Earn 1 Membership Reward Point on every Rs. 50 spent. Offer not valid on Fuel, Insurance, Utilities and Cash Transactions

Customers earn 1,000 bonus Membership Reward Points if they use their credit card 4 times per month to transact Rs. 1,000 or more

3.9/5

Rs. 250

Earn 5X reward points on dining and fuel spends

Earn 1 reward point on every spending of Rs. 150 on all the other categories

3.5/5

Rs. 499

Earn 3 reward points on every Rs. 100 spent on Grocery and Supermarket spends
Earn 2 reward points are earned per Rs. 100 spent on other categories

N/A

Rs.1,000

Earn 1000 Reward Points on successful sign-up
Earn 3 Reward Point per Rs. 150 spent on retail

N/A