New to credit? Adopt these 5 financial habits to build a strong credit score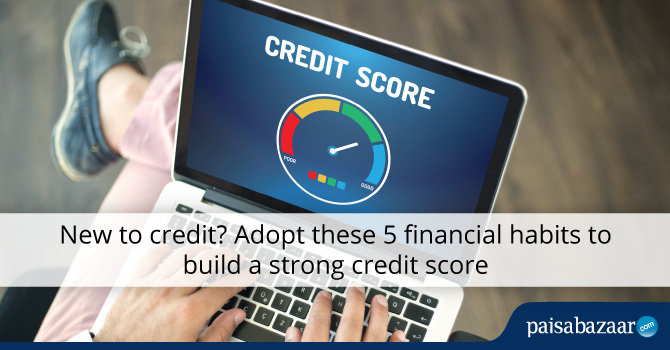 With more and more lenders laying emphasis on consumer's credit score to provide offers and set lending rates, the role of credit score is no longer limited to determination of one's credibility. Actions such as processing fee waiver/concession, or checking candidate's credit score before employment, are indicators of the growing importance of having a good credit score for everyone, including those who are new to credit or have no credit history.
For such new to credit consumers, adopting below mentioned financial habits can help assist in creation of strong credit score:
Disciplined and regular usage of credit cards
For a new to credit consumer, regular and disciplined usage of credit cards is a great way to build a strong credit score. Unlike loans wherein interest cost is attached with principal repayment, credit cards do not involve such mandatory finance charges till the time you pay the bills timely and in full. This makes credit cards more cost efficient option to build credit score. If you are new to credit, consider applying for a credit card from the bank with whom you already have an existing relationship.
You can opt for secured credit card in case you are unable to get a regular credit card owing to insufficient income or unserviceable location. These offer similar benefits as regular cards, but are issued against your fixed deposits (FD), with the credit limit of usually up to 90% of the deposit's amount, along with cash withdrawal limit of up to 100%. As the card is secured against your deposit, these are less risky products for lenders, which enables them to offer more flexible eligibility criterion than in case of regular cards.
To opt for the most suitable credit card according to your eligibility, spending habits and financial requirements, consider visiting online financial marketplaces to conveniently compare and choose the most optimal card for yourself.
Check your credit report periodically
Credit reports may often contain incorrect information due to clerical errors on bureau or lender's part, which can be identified and rectified upon periodic review. It's therefore prudent to develop the habit of checking your credit score at regular intervals. Failure to do so may result in fraudulent transactions and errors getting bypassed and damaging your credit score, thereby reducing the chances of next credit application's approval.
Limit your credit utilization ratio to 30-40%
Credit utilization ratio is the proportion of total credit card limit utilized by the consumer. For instance, if your total credit card limit is Rs.50,000 and the amount utilized by you is Rs.20,000, your credit utilization ratio is 40%. Since high credit utilization ratio depicts credit hungriness of borrower, lenders usually hesitate lending to borrowers frequently breaching the 30-40% mark of this ratio. In case you regularly end up breaching this mark, consider requesting your lender to increase your credit limit, or else, opt for an additional credit card to increase your total credit limit, and thereby lower your credit utilization ratio.
Pay your bills and EMIs timely and in full
Your credit score take a hit every time you delay or miss any credit card bill or loan's EMI payment. In the process of building your credit score, make sure you make your debt repayments timely and in full. Consistent and timely repayment leads to creation of a strong credit score, which thereby increases the chances of approval of next credit application. In case you tend to forget due dates, consider giving standing instructions (SI) to your bank so that the due amount gets automatically deducted from your account on/before the due date.
Avoid multiple and direct enquiries to lenders
Whenever you directly apply for a loan or a credit card, the lender fetches your credit report from the credit bureaus in order to evaluate your credit worthiness. Since such lender-initiated credit report requests are considered as hard enquiries, credit bureaus reduce your credit score by a few points upon receiving each such enquiry.
Therefore, in case you require a loan or credit card, avoid direct loan enquiries with various lenders, especially within a short span of time. Instead, consider visiting online lending marketplaces to compare and choose the most suitable lender, according to your eligibility and financial requirements. The credit report requests initiated through such online platforms are considered as soft enquiries, and therefore do not pull down your credit score.
<<The article was originally published in Eenadu>>